How to Buy Everything You Need for a Party from Trader Joe's for Less Than $100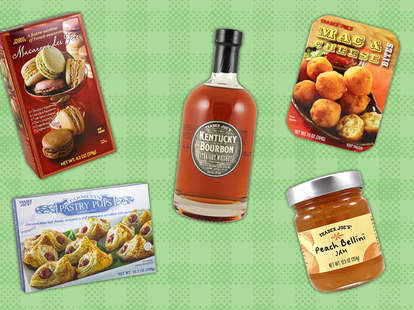 Trader Joe's is a paradise for anyone who's on a tight budget but isn't willing to forgo their foodie cravings and boozy indulgences. The grocery store sells a host of delicious snacks, alcoholic beverages and mixers for next to nothing, making it the perfect one-stop-shop for your next cocktail party. Whether you're celebrating a special occassion or going all out for the holidays, you can buy everything you need for a three-hour, 10-person cocktail party at Trader Joe's for less than $100.
Editor's Note: All of these products are subject to seasonal availability and price fluctuation, especially depending on location. Consider this a budgeting guide rather than an itemized spreadsheet.
Mark Yocca/Supercall
Stock the Bar
It's right there in the name; the most important element of a cocktail party is the booze. Thankfully, there's no better place on Earth to buy surprisingly decent alcohol for mere pennies than Trader Joe's. We recommend snagging three bottles of their famous "Two Buck Chuck" Charles Shaw wine ($2.49 a bottle/$7.47 total), ideally their Cabernet and Pinot Grigio. Then, pick up a six-pack of crowd-pleasing Mission Street Session Pale Ale ($6.99) to satisfy the beer drinkers.
For the star of the show, grab a bottle of the brand's own Kentucky Bourbon Straight Whiskey ($14.99) and Vodka Monopolowa ($9.99). Allow guests to mix their own basic highballs by providing a six-pack of Tonic Water with Natural Lime Flavor ($3.99), a four-pack of Vintage Cola ($4.99), one liter of Sparkling Natural Mineral Water ($1.25), six sliced lemons with some twists ($2.94) and eight lime wedges ($2.33). With all of that complimentary booze, your guests are sure to think you reached deep into your pockets.
Beverage Total: $54.94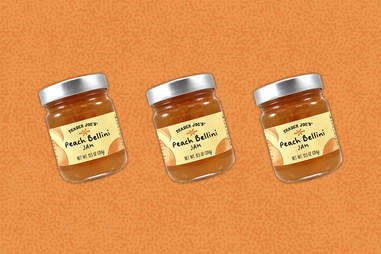 Mark Yocca/Supercall
Provide Light Nibbles
A fancy cheese plate with all the accoutrements is the fastest way to blow your budget. Instead, opt for one decadent, cheesy centerpiece by serving TJ's Brie en Croûte ($6.99), which is creamy brie cheese wrapped in pastry crust that's baked until warm, ooey and gooey. Bake it right before your guests arrive, and set it out on a plate surrounded by Stone Ground Wheat Crackers ($1.99). Spoon Peach Bellini Jam ($3.99), which is made with actual Prosecco, into a little serving dish so guests can offset the savory cheese with a sweet topping. Alongside the baked brie, serve a lighter Fresh Veggie Tray ($2.99) and Hummus Dip ($3.49) for a healthier alternative.  
Snack Total: $19.45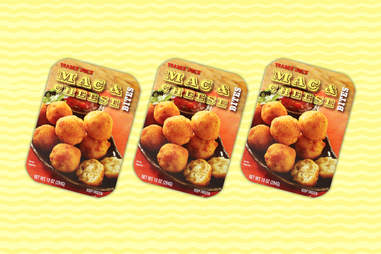 Mark Yocca/Supercall
Serve Hearty Apps
This isn't a dinner party, so your guests won't be expecting a full meal, but it's best to choose appetizers that are filling so no one leaves hungry or overly tipsy. Four warm appetizers from Trader Joe's frozen offerings—two of them being vegetarian—should do the trick. Our favorites are the Mac & Cheese Bites ($3.49), Vegetable Spring Rolls ($3.99), Parmesan Pastry Pups ($3.99) and the pièce de résistance, Scallops Wrapped in Uncured Bacon with Brown Sugar Glaze ($6.99). As all of these are frozen dishes, keep in mind baking times and temperatures to see what can be prepared together.
Appetizer Total: $18.46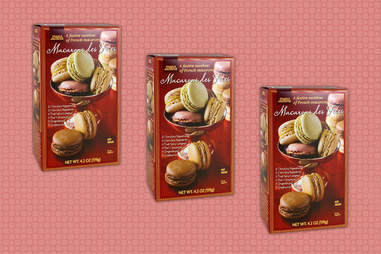 Mark Yocca/Supercall
Don't Skip Dessert
Not only does everyone love to finish on a sweet note, but dessert is the best way to politely tell your guests, "The party is over. There's no more food. Get out of my house." Choose something simple and light, like a box of Trader Joe's Macarons des Fêtes ($4.99), which includes a variety of flavors like Chocolate Peppermint, Pear Cinnamon and Gingerbread. If anyone insists on bringing something to the party, a dessert is a great option—but we of course would always opt for more wine.
Dessert Total: $4.99
Grand Total = $97.84