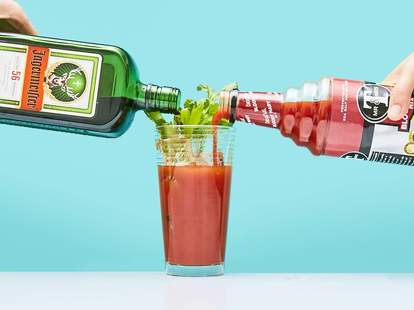 5 Unexpected Spirits That Really Work in a Bloody Mary
If you're a regular brunch imbiber, you've probably had your fair share of Bloody Marys. And chances are you've tried a gazillion different brands of Bloody Mary mixes, hot sauces and crazy garnishes to spice things up every now and then. While you've probably had a gin-based Bloody Mary (a Red Snapper) or a tequila-based Bloody Mary (a Bloody Maria), we doubt that you've had a Bloody Mary with any of the spirits listed here. We discovered the five weirdest, most unexpected spirits that work shockingly well in the savory cocktail.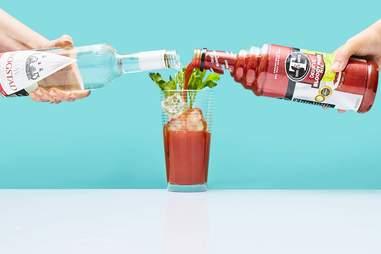 Marisa Chafetz / Supercall
Aquavit
If you're a fan of using gin as the base of your Bloody, then this Scandinavian spirit is destined to become your new go-to. Rather than using juniper as a botanical, aquavits are traditionally infused with star anise and caraway. While tomato and licorice seems like a questionable flavor pairing, it somehow works. In a Bloody Mary, the spirit lends an intense herbaceous kick. If you're using an aged aquavit like Linie, the spirit gives depth and woodsy notes to the savory cocktail. If you really want to boost the rich herbal flavors in the spirit, garnish this Bloody with a sprig of fresh dill rather than the usual celery stick.
Marisa Chafetz / Supercall
We'll admit that we were sceptical about this Bloody Mary. But after tasting it, we were immediately convinced. Inspired by a Bermudian take on the Bloody—which uses Goslings Black Seal Rum as the base—this variation works with just about any dark, molasses-y rum. In the cocktail, the semi-sweet tropical spirit works almost like fish sauce or Worcestershire sauce by bringing umami and depth to the drink without actually being savory itself. You can make an even more flavor-packed version by using Clamato instead of more traditional Bloody Mary mixes.
Marisa Chafetz / Supercall
Bourbon
Bourbon and Bloody Mary mix go together like ribs and barbeque sauce. The whiskey lends a unparalleled richness and a sweet, tangy spiciness to the cocktail. When making this Bloody, make sure to use a spicier mix that has an almost barbecued meat flavor, such as Ubon's Pit Master's Hot and Spicy Mix, or one that uses pickle brine as an ingredient, like McClure's. This Bloody definitely requires spicy pickled green beans, pickled okra and pickled asparagus for garnish. Add a piece of bacon for extra credit.
Marisa Chafetz / Supercall
Soju is a low-ABV spirit distilled from rice, sorghum or sweet potatoes that has a light, neutral flavor, similar to vodka. Using it in your Bloody Mary maintains that simple, streamlined, tomato-centric flavor. Most sojus contain just half the amount of alcohol that vodka does, so it's also a good alternative if you're not into hitting the booze too hard at brunch. For a more flavorful Bloody, rice-based sojus like Tokki will add an almost savory, creamy sake quality to your cocktail when paired with a few dashes of kimchi brine.
Marisa Chafetz / Supercall
This combo is definitely not for the faint of heart. A Jäger Bloody Mary will appeal to fans of herbal spirits like fernet and Malört, and bitter cocktails like the Hanky Panky. In the cocktail, the piney, viscous German liqueur adds weight, menthol notes and sweetness. It essentially works like gin or aquavit with triple the herbaceousness. Make sure to use a mix that is less sweet (watch out for hidden corn syrup) and less spicy so the drink remains balanced.