We love to experiment (as a brief look through Supercall's Signature Recipes will reveal), but when it's time to relax at home, we really prefer drinks that are simple enough to work with any spirit.
Jim Kearns, owner of New York's The Happiest Hour and Slowly Shirley, gets us. Kearns designed the bar menu at The Happiest Hour as a paradise for the indecisive drinker—it allows patrons to customize a list of house bases with their preferred liquor. Each drink is made to accommodate several suggested spirits, sort of like if you brought a bottle of booze to a soda fountain and began spiking the virgin drinks there.
While it's hard to find a single cocktail that works with any spirit across the board (short of a simple Highball), many drinks are more customizable than they may initially seem, as long as you follow a few guidelines. We talked to Kearns to get the inside scoop on the best drinks that work with any spirit.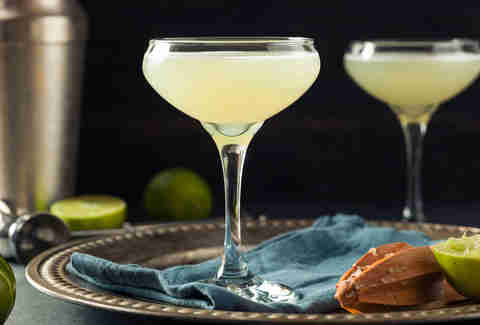 Sour
Shake together a spirit, sweetener and some sort of citrus, and you've got yourself a Sour—whether it's a Whiskey Sour, Gimlet or Vodka Gimlet, or a Daiquiri. "Any kind of a Sour will very easily trade out spirits," Kearns says. But if you're choosing between lemon and lime, he does offer one suggestion: "As a general rule, if you're using dark spirits, you usually want to go lemon." But, he's also cautious of setting any rules in stone, as there are always exceptions. Young bourbon, for example, often features fruity notes that work well in tropical libations that call for lime.
Daisy
After Sours grew popular, bartenders began experimenting with liqueurs and slowly augmented the Sour into a new type of cocktail: the Daisy. Kearns points to the Sidecar as a classic example because the drink utilizes Cointreau in addition to the classic Sour formula. "It's almost structurally identical to a Margarita, and a Margarita was arguably originally called a Tequila Daisy," he says. After you too have mastered swapping different spirits into the Sour format, you can slowly increase the complexity by swapping in different spirits and liqueurs for a custom Daisy.
Cola and Spirit
Old school sodas pair beautifully with many different flavors. "If you were to think of what a cola might have tasted like with any of a range of spirits, it probably would have worked with most of them," Kearns says. When mixing with a heavier soda like Coke, stick to darker spirits. "Generally I would say darker, more herbaceous, baking spice-based drinks tend to go well with brown spirits," he adds. At The Happiest Hour, the What the Doctor Ordered shows this pairing in action, uniting sarsaparilla, vanilla and wintergreen with a choice of rye, aged rum or scotch.
A Manhattan isn't quite as easy to mix up as a Sour or Daisy, but it's still a classic example of a customizable cocktail. You could easily go awry with a strong, stirred drink like a Manhattan, But Kearns says that if you look to history—as they do at Slowly Shirley with a Five Families-themed classics menu of Old Fashioneds, Manhattans, Martinis, Sours and Daisies—you can still find room to experiment with flavors that fit your personal tastes.

The Manhattan, for instance, inspired a lineage of variations like the Harvard—made with brandy—as well as missing link-type cocktails like the Martinez, which sits somewhere between a Manhattan and a Martini. Kearns explains that bartenders have been experimenting with these classics forever. "If you wanted a Martini but with whiskey in it, you'd be looking at a Dry Manhattan instead of a Martini," he says. "Once you swap enough things around, it kind of just becomes another cocktail, especially with classics."
"Savory tends to go better with things that are a little greener in flavor like tequila, mezcal, agricole rhum or gin," Kearns says. In a Bloody Mary, for example, the agave spirits would turn the drink into a smoky Bloody Maria, while botanical-packed gin would make a retro Red Snapper.
If you're craving something light and refreshing like the buoyant Mojito, pair it with a spirit that has equally bright flavors. Bright and fruity drinks get a boost from light spirits like gin, cachaça or light rum, so any of these would swap in to the classic, minty Highball pretty well. Gin is especially versatile. "Gin's kind of an all-purpose for lighter flavors and more citrus-based applications," Kearns says. This idea could easily apply to fruitier libations like the Clover Club.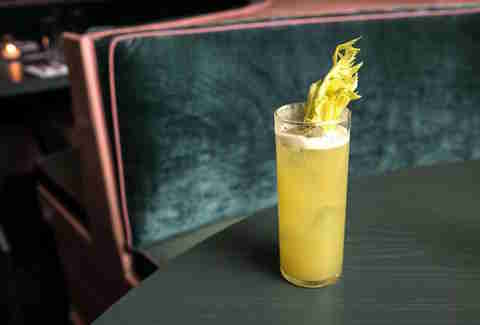 The Happiest Hour's Link Ray and What The Doctor Ordered
While The Happiest Hour's customizable bases may be more nuanced than your ordinary Sours and Highballs, their flavors operate on similar rules. Like the spiked cola above, the What the Doctor Ordered works with herbaceous flavors on top of dark spirits, while the brighter Link Ray (above) uses vegetal and tart flavors with light spirits. Between the two of them, you can make a drink with pretty much anything you've got on the bar.
Link Ray
Ingredients:
1.5 oz Jalapeño tequila, Ford's Gin or Rhum JM 80º
.75 oz Fresh lime juice
.5  oz Cane syrup
2 oz Celery juice
.5 oz Suze
Celery salt, for rim (5 parts kosher salt to 2 parts Terra Spice celery powder)
Celery stalk, for garnish
Black pepper, for garnish
Method:
Combine spirit of your choice with lime juice, cane syrup, celery juice and Suze in a cocktail shaker. Add ice and shake until thoroughly combined. Strain into a Collins glass half rimmed with celery salt and filled with fresh ice. Garnish with a celery stalk and freshly ground black pepper.
What The Doctor Ordered
Ingredients:
1.5 oz Rye, Aged Rum or Scotch
1.5 oz Root Beer Syrup*
Cherry, for garnish
Method:
Combine spirit of your choice with root beer syrup in a cocktail shaker. Shake with ice and strain into a Collins glass filled with fresh ice. Top with soda and garnish with a cherry.
*Root Beer Syrup (1 quart)
Ingredients:
3 filleted vanilla beans
1.5 oz Sarsaparilla bark
1 oz Birch bark
1 drop Wintergreen oil
1 lb Turbinado sugar
1 lb water
Method:
Heat all ingredients at 220 degrees until the solution reaches a boil and all sugar is dissolved. Let sit for at least 24 hours before straining.