They say your college years are the best years of your life, but we beg to differ. College is all about dirt cheap booze and disgusting—excuse us—"creative" budget mixers. But post college, it's all about actually good, actually sippable cocktails. Ease the transition from college to real world drinking with these classy alternatives to your favorite trashy college drinks. You'll learn how to adult in no time.
We hate to break it to you, but in the real world, trash cans hold trash—not beverages. Instead of making a recycling bin of Jungle Juice for your next party, make a real punch in a real bowl, with quality liquor and fresh juices. Our go-to is this ultra-boozy Revolutionary-era punch, which proves that the founding fathers could have drunk any frat bro under the table.  
While a Screwdriver will always be a safe bet, using whipped cream-flavored vodka to turn the brunchtail into a Creamsicle is a habit best left in the dorm room. You can still capture that dessert-like flavor by ordering a Harvey Wallbanger, a mix of vodka, orange juice and Galliano—a vanilla liqueur with a touch of herbaceousness. It's still sweet, but just funky enough.
If You Drank Gin and Juice, Try a Tom Collins
No shade to Snoop, but the basic Gin and Juice is ripe for improvement. Instead of mixing cheap gin with whatever fruit juice is around, opt for a Tom Collins, which tastes like grown-up lemonade. Not only is the mix of gin, simple syrup, lemon juice and club soda easy, spritzy and thirst-quenching; it's also a really respectable bar order that will make it seem like you know what you're doing.
If You Drank Vodka Gatorade, Try an Americano
Gatorade's bizarre hint of salinity makes it a terrible mixer, but if it was your go-to during college, you've proven that your palette can withstand unconventional flavors. It's high-time you try bittersweet liqueurs like Campari, which is at its most approachable in an Americano. The combination of Campari's grapefruit and orange notes with sweet vermouth and an orange twist—lightened by bubbly club soda—is a far cry from a Vodka Gatorade, but we promise your tastebuds will be on board. Once this becomes your new favorite, it's time to try a Negroni.
If You Drank Whiskey Ginger, Try a Presbyterian
There's nothing inherently wrong with the Whiskey Ginger, but it does scream, "This was the first drink I ever ordered at a bar and I have not deviated since." Take it to the next level by ordering a Presbyterian, which replaces the typical Irish or American whiskey with scotch. The simple swap elevates the drink to new, smoky heights, and its moniker doesn't instantly reveal you're ordering a basic Highball.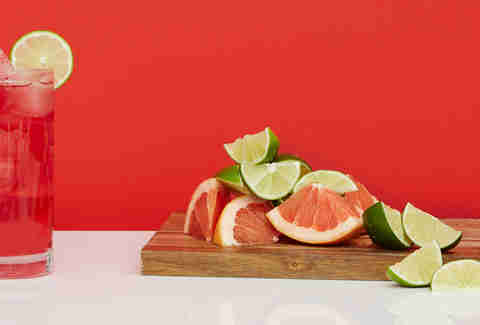 If You Drank Vodka Crystal Light, Try a Sea Breeze
We have to give credit where credit is due: The powdered packets of Crystal Light pink lemonade are the most convenient, travel-friendly mixers ever created. That being said, you'll garner eye-rolls at the bar if you start sprinkling it into some vodka like you used to at pregames. Instead, order a Sea Breeze, the most balanced member of the Breeze family, made with cranberry and grapefruit juice. This fruity, sweet and sour vodka-tail will gently wean you off that sachet of Crystal Light.
If You Drank Jack and Coke, Try a Mint Julep
Chances are, this was your drink of choice because the only way you could stomach whiskey was if it was buried in sugar. Inch forward into the realm of legit whiskey drinkers by sipping on a Mint Julep—a sugared, icy, bourbon cocktail that hits the spot long after Derby day.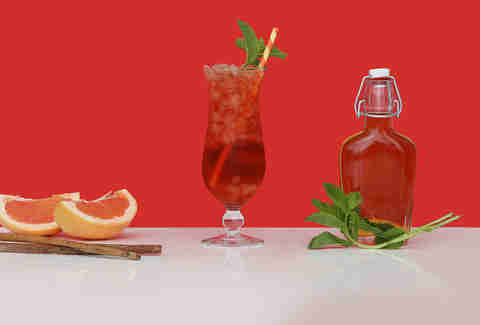 If You Drank Long Island Iced Tea, Try a Zombie
According to bartenders, ordering a Long Island Ice Tea says, "You are 21. You have never seen a craft cocktail. You are trying to get 'white girl wasted.'" We can't say that ordering a Zombie won't betray your true intentions, but it will show that you know the right way to go about it. A lethal mix of dark rums, 151-proof rum and absinthe—tempered only by lime juice, falernum and Donn's Mix (grapefruit juice and cinnamon)—the Zombie isn't playing around. It is, however, a way more delicious and balanced way of getting lit without a LIIT.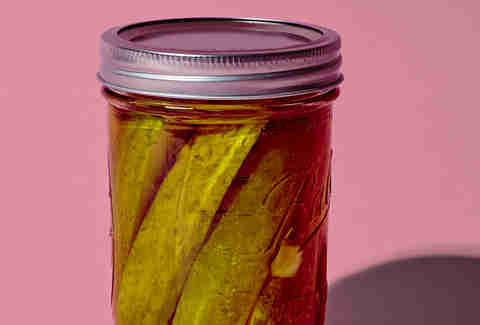 If You Drank Fruity Novelty Shots, Try a Pickleback
Say goodbye to your Dirty Girl Scouts, your Purple Hooters and your Stoplight shots—once you have a real job, friends don't let friends embarrass themselves with fruity novelty shots. But if the harsh burn of shooting straight booze is still too intimidating, opt for a Pickleback—a shot of whiskey chased with a shot of pickle brine. Though it may sound suspect, the Pickleback not only tastes good, but is a common shot order for real adults.
If You Drank Fireball Shots, Try a Hot Toddy
We admit it: We love Fireball. Even in our jaded old age, we've mixed it into cocktails and made our own version of it—at home, of course. At the bar, though, we're more inclined to order a Hot Toddy when the cinnamon craving strikes. A warming mixture of hot water, cinnamon, spices, honey and real whiskey, a Hot Toddy burns in all the right ways.
If You Drank Jägerbombs, Try a Hanky Panky
Say it with us: ADULTS. DON'T. DO. JÄGERBOMBS. No disrespect to Jägermeister—one of our favorite liqueurs for mixing into super herbaceous cocktails—but plopping Jäger into a glass of Red Bull and chugging it is just not something a grownup does. If you're still seeking that divisive, bitter, herbal flavor as a college grad, allow us to introduce you to Fernet Branca. A favorite amongst bartenders, fernet is just as brutal on the palate as Jägermeister and just as welcome in bittersweet cocktails. Our favorite is the Hanky Panky, a bracing, stirred blend of gin, sweet vermouth and fernet. Learn to love this cocktail, and you'll earn the hardcore drinking status your Jägerbomb-shooting college self only dreamed of.