6 Gadgets That Will Actually Make Your Party Better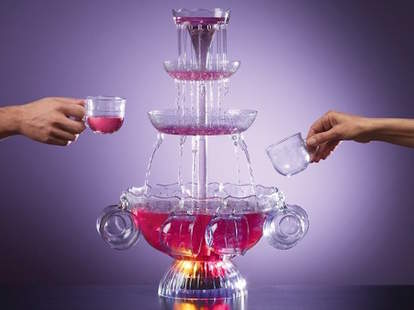 Courtesy of Amazon / Nostalgia
If you're someone that entertains often, you can never buy too many geeky kitchen and bar gadgets. Each one has a purpose that makes it easier for both the guests and the host to enjoy themselves immensely. From frozen shot glasses to a motorized beer pong game, these six gadgets will make your next party even more fun than the last.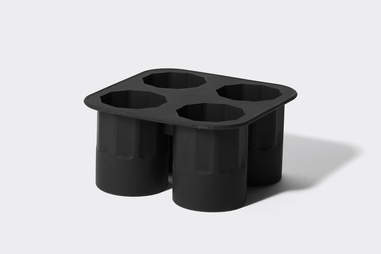 Courtesy Of Mako Barware
There's no need to serve shots in traditional glassware when you can serve them in these frosty, frozen glasses. Made out of pliable silicone, the Mako shot glass tray makes four shot glasses (you can store the ice glasses in the freezer while more freeze in the mold) that hold 1.5 ounces of liquor each. While slightly difficult—and extremely cold—to hold in your hand, these icicle shot glasses instantly chill any spirit, no pesky shaking required. Best of all, you can toss them in the sink to melt after you use them, and you won't have to wash any dishes after your guests leave.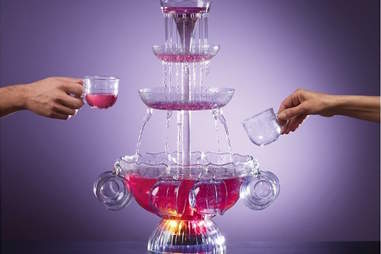 Courtesy of Amazon / Nostagia
Ridiculously flashy, this drink fountain is the perfect centerpiece to have on display at your next party.  Designed with three tiers that hold a combined 1.5 gallons of liquid, this monolithic fountain creates a cascading waterfall of booze that makes serving drinks much easier for the host. The fountain's statement piece is its illuminated base, which sends shimmering lights through the stream of alcohol. If you really want to wow your guests, showcase the fountain's luminescence with a vivacious hued punch that will send a rainbow of lights throughout your apartment—no strobe required.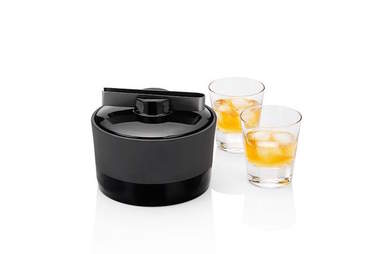 Courtesy of Amazon / Magisso
Made from clay, this ice bucket is naturally insulated to keep ice from melting (it also doubles as a vessel to store and chill food). Combining functionality with an aesthetically pleasing, minimal design, the Magisso ice bucket is the perfect way to store ice on your table and keep it readily available to partygoers without creating a mess—the bucket's porous material absorbs water inside and out. For best results, Magisso recommends wetting the bucket prior to use.
Courtest of Vinotemp
Hey, beer lovers. If you haven't already converted your refrigerator to a kegerator, this mini-beer dispenser is the gadget you need. With a capacity for one 5-liter mini-keg, it will keep even the thirstiest partygoers happy. With a sleek, streamlined design, the Vinotemp beer dispenser is small enough to fit on your countertop. Its built-in cooling system uses thermoelectric technology (besides being energy efficient, it's extremely quiet) and can be digitally controlled to your ideal temperature. While the system is optimized for CO2 cartridges, it can also be used with nitrogen chargers to create an ultra-heady, Guinness-esque pour.
Courtesy of Pongbot
No matter how much they like you, your friends are going to bail on your party early if there's not an activity to keep them entertained. While you could play cards or an enticing game of Truth or Dare, the most thrilling, boozy way to captivate your guests is with the Pongbot. Taking the game of beer pong to the extreme, the motorized five-cup Pongbot swerves its way across the table, forcing players to toss their ball at an unpredictable moving target—a difficult feat the more inebriated you get. With the Pongbot at your party, your friends will be forced to stay all night (unless they drive the Pongbot home).
Courtesy of Sharper Image
With the ability to create ultra-frosty beverages in minutes, you'll never use your refrigerator to chill brews again. Simply fill this device with ice, plug it in, stack your bottles inside, and you'll be sipping on an ice-cold libation crazy soon. Safe for pressurized bottles and carbonated beverages, this bottle chiller can be used to ice anything smaller than a standard-sized beer bottle (canned cocktails fit perfectly). With a timer and automatic shut-off, you can mingle with guests while your drinks chill out.