The 13 Coolest Beer Pong Tables Ever Made
College is a time for the future titans of industry to learn, expand their horizons and, to the dismay of many professors and parents footing tuition bills, master the art of beer pong. While some students are content to simply win a few games, other more creative beer pong enthusiasts are achieving some serious #BeerPongTableGoals. Here are 13 beer pong table ideas you'll want to plagiarize ASAP.
The 'Merica Table
You might think $130 for Spencer's Glowing Americana Beer Pong Table is a little steep, but you can't put a price on all the lit fun that is sure to come with it. Sporting American flags on both sides, with glowing red and blue fluorescent lights, this Fourth of July-ready table would make our founding fathers proud.
The Pool Table
There's nothing worse than having to choose between a cool, refreshing pool and playing pong. Luckily, with this beer pong table float, you'll never have to again. This buoyant table is not only regulation size and pool-ready, but it also sports eight cupholders and a cooler section in the middle for ice and beers. Party on.
The Infinity Table
This trippy beer pong table looks like it emerged from a portal to the future. A pattern of cleverly strung LED lights and infinity mirrors makes it seem like the center of the beer pong table descends into an infinite pit of darkness. It can't be easy to hit bounce shots when your brain can't stop thinking that any ball that hits the table will free-fall into another dimension.
The Sun Table
The only problem with beer pong at a party is that only four people can play at a time, right? Wrong. This genius design is four tables in one, allowing up to 16 people to comfortably play at once. Not to mention, the possibility of ping pong balls colliding between multiple games serves as a welcome challenge to true beer pong pros.
The Net Table
Is it just us, or does catching beer pong balls thrown by the opposing team get harder the longer you play? Not a problem anymore, thanks to PongCaddie. This $50 masterpiece of engineering takes all the inebriated inconvenience out of playing beer pong.
The Pokémon Table
Pokémon GO
may have come and gone, but our love for Pokémon, whether it be nostalgic or not, will never fade. This Pokémon battle stadium pays tribute to the pocket monsters that continue to bring us joy. Paint your pong balls partially red, twist your cap backwards, and shout the name of your favorite Pokémon before every toss. "Pikachu, I choose you!"
The Elegant Table
Fancy a game of beirut, Reginald? This elegant table is a work of art. Made with what appears to be a solid piece of buttery, blond wood, this table shows just how classy a game of beer pong can be.
The Sand Pong Table
Mold a beer pong table out of wet sand, and instantly become the life of the beach. Dig a moat around an 8-inch-by-2-inch slab of sand, and pile all the sand into the middle. Then, smooth it into a rectangle; voila, you have a pong table with ocean views.
The Z Table
Whether your college starts with a Z, you're in some sort of Zeta sorority, or your name is Zach, this Z-shaped table is for you. Come to think of it, it's also great for anyone named Nicole or Nick or Nancy.
The Harry Potter Table
Channel your inner chaser and put a magical spin on the classic drinking game with this Quidditch-themed pong table. Cups only count if the ball makes it through one of the three hoops. No snitches or bludgers to worry about.
The Pong Head
Don't build a beer pong table; be the beer pong table. If you're looking for an excuse to pelt your friends with ping pong balls, look no further than these blow-up Pong Heads, the inflatable beer pong table you wear on your head. Now, be a good sport, and keep still. No one wants a dancing pong table.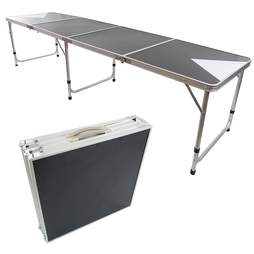 The Suitcase Table
Got a party to go to after work? Keep it professional with this beer pong table that folds into a briefcase. This eight-foot beer pong table folds into a 2-foot-by-2-foot case for easy portability. Your boss will think you're taking work home, when really you're just getting a head start on the weekend.
The Snow Table
Snow days don't have to mean staying indoors. Make the most out of the next blizzard by constructing your very own beer pong table out of snow. If you do it right, like these guys, the table can hold a lot of weight and won't melt any time soon. Plus, you won't have to worry about keeping your beers cold.