Monday Night Treat Yo Self: Dirty Martini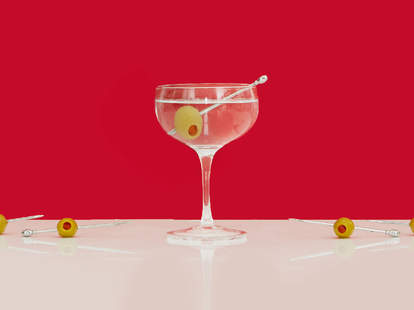 Matthew Kelly / Supercall
Mondays are hard. You just came off a relaxing weekend, which seemed way too short to even be real. Getting out of bed is an amazing feat in itself as you rub the sleep from your eyes and stumble toward the coffee pot. You go to work, begrudgingly slog through the day and let out a huge sigh of relief as you embark on the commute home. You made it—barely.
But here's the thing—it doesn't have to be this way. Rather than fearing Monday, you can make the start of the workweek your b*tch. Drink that coffee with vigor, sell that meeting with enthusiasm and eat the best desk lunch $10 can buy. Don't you feel better already? You're acting like a boss, so you should reward yourself like a boss. Forget about low-ABV drinks to ease into the weekdays. Instead, pour yourself a big, strong Dirty Martini to reward a day's work well done.
This briny twist on the classic cocktail will start your week with a bang, especially if you use a spicy or horseradish-flavored spirit to give the drink an extra kick in the pants. Treat yourself to a nice bottle of vermouth to feel extra special about that deal you closed (or feel better about going back to the drawing board). And garnish it with five olives for an extra delicious and mouthwatering pre-dinner libation. After one of these bad boys, Monday will feel like the best day of the week.
Learn how to make a perfect Dirty Martini.