10 DIY Spirits To Give as Gifts
Buying a whole bottle of booze for someone can be an expensive undertaking, especially if you don't want to come off looking cheap or lazy. But gifting a homemade bottle of booze is not only affordable, it shows you cared enough to create a thoughtful present and will win you major brownie points (plus, it's not that tough to make). You can use whatever bottom shelf spirits you have at home to craft these delicious DIY booze bottles, since it's all about the flavoring agents that go in them. Package your creation in a cute Mason jar with a bow, and you'll be everyone's favorite gift giver.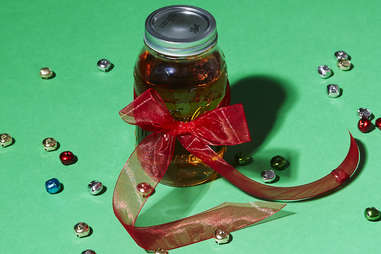 What does Christmas taste like you ask? Everything from hot chocolate to mulled wine to candy canes to shortbread cookies to Christmas trees. This vodka packs in all of those flavors, with cacao nibs, baking spices, minty syrup, a butter fat wash and piney juniper. It simply tastes like the holiday distilled into a glass, and it's sure to make even the staunchest of bah humbug-ers smile.
Take advantage of the bounty of apples that came in this fall to make this apple pie bourbon, which infuses caramelly bourbon with apple slices (we prefer tart Granny Smith), brown sugar, cinnamon, clove and vanilla beans. It's much easier—and more satisfying—then trying to bake a lattice pie from scratch.
Instead of buying an overly saccharine, artificially flavored chocolate liqueur, make this super simple, extra delicious DIY version. All you need is white rum, cacao nibs, demerara sugar, a vanilla bean and cinchona bark (available from specialty spice shops or online). The result is complex and drier than you'd expect, and superb in a Chocolate Martini.
Turn up the heat on basic tequila by infusing it with spicy peppers. You can customize the burn by picking different types of peppers and infusing it to taste before straining. For a mildly spicy tequila, use one de-seeded jalapeño for one hour; for a medium spicy tequila, use one de-seeded cayenne pepper for one hour and 20 minutes; and for a mind melting spicy tequila, infuse two whole Thai chilis for two hours.
You don't need a copper still to make gin at home; all you need is a bottle of vodka and some botanicals. This citrus gin infuses grapefruit, lemon and orange zest with classic gin botanicals: juniper berries, cardamom and peppercorns. Infuse in a dark, cool area for three days, strain and enjoy.
Those who belong to the cult of the bacon need this meaty bourbon in their lives. Cooked maple bacon—spiced with cayenne, brown sugar and black pepper—is infused with bourbon, along with the leftover bacon grease. The jar is then frozen, which separates the fat from the booze to be scraped off, but leaves all the flavor (a technique called fat washing). Use it in a bacon-flavored Old Fashioned, or this Bacon and Egg sandwich-inspired cocktail.
Fans of coconut rums like Malibu will love this creamier, natural alternative that uses an entire coconut. Crack open the shell, cut the coconut meat into chunks, shred it and blend it with simple syrup and white rum. The decadent liqueur can be used in tiki drinks in place of regular white rum, or sipped on the rocks for a sweet treat.
Few edible or drinkable items inspire the intense devotion of Nutella, with people putting it on everything from ice cream to grilled cheese sandwiches. This liqueur uses the hazelnut spread, along with sweetened condensed milk, heavy cream and vodka. The result is intensely rich, and would make for an excellent replacement for Irish cream or chocolate liqueur in cocktails.
This cinnamon-spiced whiskey is essentially Fireball for grown-ups. Unlike the popular spirit, this cinnamon whiskey puts more emphasis on the "whiskey," part, infusing quality bourbon with cinnamon sticks, cinnamon extract and simple syrup. It's higher-proof than Fireball, with a nuanced cinnamon flavor that doesn't taste like liquid Red Hots.
The only way to properly end a meal like an Italian is with a glass of vibrant, neon yellow limoncello. If you don't mind zesting 10 lemons, making this ultra sweet liqueur is incredibly simple. Just Infuse the zest in Everclear and simple syrup for five days, then say salud and enjoy.