The classic Highball cocktail is perfect in every way. Its mix of spirit and soda water is not only refreshing but also low-calorie, and it contains zero added sugar (if you use a straight liquor). While we could never tire of this classic drink, sometimes we crave something just as simple with a little more pizzazz. Enter flavored seltzer, the easiest way to upgrade a simple Highball into something tropical, citrusy or just plain fruity. Because the taste of flavored seltzers are often very mild, it makes pairing them with straight booze more difficult than you might think. So we did the heavy lifting for you. Here, seven tasty flavored seltzer and spirit combos you need to try.
Recommended Video
The Best (and the Rest): Best Easy Ramen Hacks and Winter Beers
Coconut seltzer is the unsung hero of the flavored seltzer world. But as with anything coconut-flavored, it inspires some divisive opinions—you either love it or you hate it. If you're pro coconut, you will absolutely dig the combo of crisp, effervescent Coconut LaCroix with either rum or spiced rum, depending if you want something classically tropical or something a little bolder.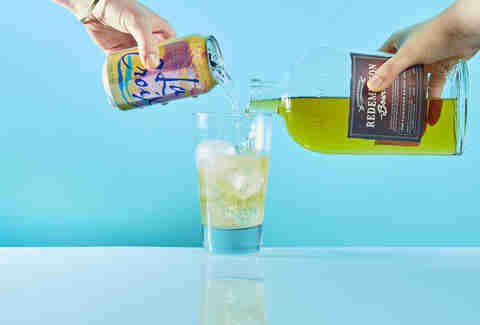 Bourbon + LaCroix Pamplemousse
If you're a LaCroix Boi who just can't get enough of that fresh Pamp, then this pairing is for you. Bourbon's sweet notes pair surprisingly well with LaCroix Pamplemousse's tart, citrusy, grapefruit kick. Mix this up when you're feeling like a party on the inside but need to look all-business on the outside.
Mezcal + La Croix Pamplemousse
That Pamp just won't quit, and the fact that it appears twice on this list is a testament to its popularity. The cult favorite is a perfect match for another summer favorite: mezcal. The agave spirit plays well with the grapefruit seltzer and reminds us of a smoky, sugar-free Paloma.
Jägermeister + Canada Dry Mandarin
Bittersweet Jäger is one of our favorite underrated cocktail ingredients, and its deep, herbal notes perfectly compliment the flavor of bright orange. Canada Dry's Mandarin seltzer is pleasantly mild with a round citrus flavor that tempers the robust Jäger and brings out its sweeter notes.
Jägermeister + Poland Springs Black Cherry
Jäger was the unsung hero of this experiment as the only spirit that made it onto the list twice. Black cherry does the opposite of mandarin, bringing out Jäger's deep spice notes for an easy Highball that's surprisingly sophisticated.
Gin + Dasani Pomegranate Blueberry
Gin is rife with all kinds of herbal, spicy, fruity botanicals, which sing when mixed with Dasani's new Pomegranate Blueberry seltzer. Bursting with red fruits, the seltzer is full and robust. Because gin is so flavorful and diverse, the seltzer doesn't overwhelm the juniper spirit like it did with other liquors.
Cachaça + Dasani Pear Kiwi
Brazil's funky sugar cane spirit deserves a match that's just as fun, fruity and ready for summer sipping. Dasani Pear Kiwi is the one. The seltzer is fruit-forward and naturally sweet. Cachaça's grassy notes play well with the green fruits, and together they make for the ultimate warm weather Highball.