11 Syrups Every Home Bartender Should Know How to Make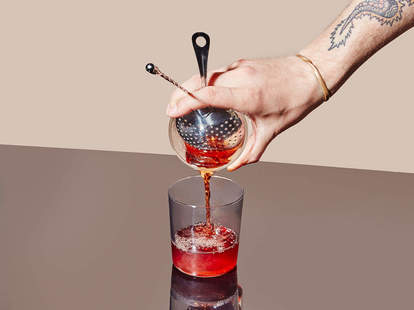 Matthew Kelly / Supercall
Simple syrups are simple (it's right there in the name), but oh-so important. All it takes is sugar, water and a heat source to make one of the most ubiquitous cocktail ingredients out there. Whether it's a Daiquiri, Absinthe Frappe or one of your own creations, cocktails wouldn't be the same without a little simple. But cocktail syrups go way beyond the classic formula, so it's good to have a few recipes in your back pocket if you crave a more interesting happy hour. If you want to expand your bar with fresh new flavors, here are the simple syrups that every bartender should learn to make.

It's good to always have classic, blank-slate simple syrup in the fridge. The mix of equal parts white sugar and water is as easy as it gets, and it's a straightforward way to add sweetness to a drink.

Demerara sugar is less processed and less refined than standard white table sugar. That gives it more character and a deeper, more molasses-like flavor. Made with a 1:1 ratio of demerara sugar and water, it's the ideal choice for rum and tiki drinks.

Heating up a heavily hopped beer doesn't sound like it would lead to anything tasty, yet IPA syrup proves it should be done. It's made by heating 12 ounces of IPA with one cup of sugar and reducing it. IPA syrup sweetens up beer cocktails without taking away too much of the beer flavor, and it's versatile in non-beer cocktails like the Tropicália Pimm's Cooler from The National in Athens, Georgia.

Maple simple syrup is made by heating a cup of water with half a cup of maple syrup and half a cup of sugar. It's cozy without being overwhelmingly maple and is an easy way to put a twist on standard whiskey cocktails like the Old Fashioned.

It's pretty much always a good choice to double down on the bourbon in your bourbon cocktails. Bourbon simple syrup has a sweet caramel flavor that enhances everything you love about the spirit.

The past couple years have been all rosé everything, and simple syrup is no exception. Rosé simple is made from wine and sugar, and it results in a light pink, sweet-yet-not-overbearingly so syrup. Throw in some herbes de Provence and swap the sugar for honey to make a more complex version. Add it to any light drink to give it sweetness and that irresistible pink hue.

The world's oldest sweetener belongs in your lineup of simple syrups. It's made with the same one-to-one proportion as straight simple syrup, but with honey instead of sugar. Honey syrup mixes into cocktails better than viscous straight honey, and can also be used to make infusions like honey whiskey.

Agave nectar is the Goldilocks of cocktail ingredients: It's sweeter than sugar and less sweet than honey. Like honey, though, its viscosity can make it difficult to seamlessly incorporate into drinks. Solve that problem by making a simple agave syrup with a 1:1 ratio.

Blueberries scream summertime, and blueberry syrup puts those summer vibes into your glass. It's made by simmering equal parts sugar and water with fresh blueberries and a touch of lemon zest. Add it to a Bourbon Buck (which is like a Moscow Mule, but with bourbon) and you'll have a drink reminiscent of blueberry pie.

Cinnamon is often all it takes to give a drink an extra little oomph to make it stand out, but putting dry, powdery cinnamon into a cocktail often doesn't yield the best results. That's where cinnamon syrup comes in. To make it, heat a half cup of water and a cup of sugar until it's fully dissolved, then remove it from the heat. Toss in a couple cinnamon sticks and let them steep until cool and there you have it.

It doesn't matter if you're a whiskey fan, a tequila fan or a vodka fan—everything tastes good with a little strawberry. You can make it with fresh strawberries if they're in season, or with strawberry purée. Either way, your fruity drinks will never be the same.