6 Ways to Upgrade Your French 75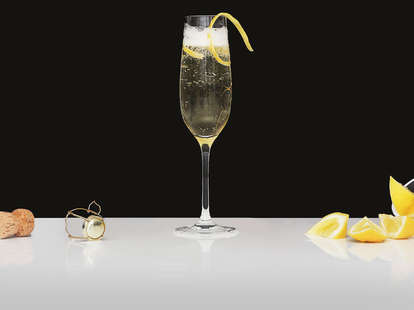 Matthew Kelly / Supercall
Matthew Kelly / Supercall
Ever since it first made its debut in the 1920s, the French 75 has been an effervescent favorite of bartenders and patrons alike. And what's not to love? The combination of herbaceous gin, lemon juice and sugar is bright but complex, while a topping of Champagne ties everything together better than your grandmother's favorite Persian rug. It's close to cocktail perfection.
There are times, however, when a classic drink, no matter how perfect, needs a little extra oomph. Here are our favorite ways to upgrade your French 75 without undermining its fantastic foundation.
Swap Out the Base Spirit
In the midsts of the Great War, before the French 75 was, officially, the French 75, the most popular drink amongst French and American military servicemen on leave in Paris was a cocktail made with cognac, sugar, Champagne and lemon juice. Today, Arnaud's French 75 Bar in New Orleans continues to make their French 75s with a cognac base, arguing that it is a far superior tipple to the gin drink we all know and love. We recommend using Louis Royer Force 53 for a deceptively refined, overproof variation on the cocktail, and, although we never thought we would drink it any way but neat, Hennessy's new Master Blender's Selection works magic with citrus and Champagne.
Swap Out the Sweetener
Instead of using simple syrup for your French 75 opt for a syrup with a little more pizzaz. A gomme arabic-based syrup adds weight and body, or opt for an oleo-saccharum for an extra lemony kick. You could even get funky and make an earl grey tea syrup, which pairs perfectly with the botanicals in gin and the brioche notes of a good Champagne.
Make It Fruity
Although a classic French 75 is refreshing year round, adding fruit-based liqueurs allows you to customize the cocktail to a particular season. For an autumnal spritz, add half an ounce of pear eau de vie and a bar spoon of honey syrup instead of the simple syrup. During that nebulous time between February and March (when you still need something cozy but there's hope for the spring) replace the gin with two ounces of Greenhook Ginsmiths Beach Plum Gin Liqueur. In the sweltering dog days of summer, add a quality raspberry liqueur for an egg-free, sparkling variation on the Clover Club cocktail.
Make It Floral
Everyone loves flowers, whether they're on your table or in your drink. Adding three-quarters of an ounce of St-Germaine (the Hamburger Helper of liqueurs) to your French 75 creates a dazzling concoction that's perfect for a New Year's soirée or a sunny afternoon on the patio. And replacing traditional gin with Barr Hill's honey-enhanced gin from Vermont morphs your French 75 into a floral aperitif with notes of orange marmalade and freshly baked sourdough baguette. It's perfect with a big, yeasty traditional Champagne like Moët & Chandon.
Make It Bitter
If you've ever had a Negroni, you understand the magic that happens when gin meets amaro. Adding citrus and sparkling wine only adds more complexity and mystique to an already alluring pair. Forget the ubiquitous Italian amaros; instead, go for the more obscure French varietals like Suze and Bigallet China China for a citrus forward, gentian sensation. Or try a Swiss amaro from Tempus Fugit like Gran Classico, which has orange peel, rhubarb and wormwood—delightful when paired with a robust Old Tom style gin or botanical heavy London dry gin.
Serve It on the Rocks
According to cocktail Historian and writer David Wondrich, the French 75 was originally served in a Collins glass over ice, not "up" in a coupe or Champagne flute. Serving the drink "long" has many advantages. As the ice melts and dilutes the drink, it mellows out the pungent gin, and, with more room available in a Collins glass, you can add more Champagne. Who doesn't want more Champagne? We prefer building the drink with crushed ice or pebble ice. Use a swizzle stick to mix it directly in the glass to create a frosty spritz that can be savored over time.