10 Essential Bottles You Need For Your First Home Bar
Building the perfect home bar is no small task. Before you can start working on your cocktail-making skills, you have to choose a functional yet stylish bar cart, round up all the glassware and tools you'll need, from shakers to jiggers, and pick up some bar books for tips and recipes. But the undeniably most important part of building an enviable, working home bar is the selection of bottles available at all times. So to make sure your bar is stocked and ready to churn out a variety of delightful cocktails, here are the 10 bottles you should always have handy.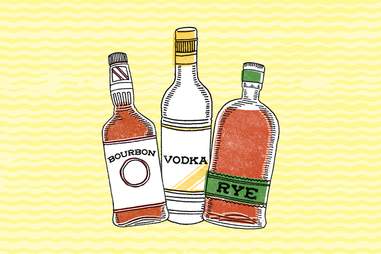 Mark Yocca/Supercall
Bourbon or Scotch
One of the most important things to have on your bar is a bottle of something sippable. While that can come in many forms, more often than not you and your guests will yearn for an easy-drinking whiskey. If you prefer ultra-smooth whiskies, go for a bourbon like Evan Williams Single Barrel ($30) Buffalo Trace ($29). If you like something with more weight and intense flavor, try scotch. We like Laphroaig 10 Year ($50) or The Famous Grouse ($22), a blended scotch whisky that is great on its own and can be used in a variety of cocktails as well.
Rye Whiskey
While bourbon and scotch can make plenty of delicious cocktails, nothing quite compares to a whiskey cocktail sporting a hefty pour of rye. Not only does it have the power to stand out even when mixed with strong flavors like citrus and sweeteners, but it brings something to the table that the other two typically do not—namely a wickedly good spice. There are plenty of powerhouse rye whiskies to choose from nowadays, but thankfully you don't have to spend an arm and a leg to get a good one. One our favorites is the super-affordable and versatile Old Overholt ($17), which makes a fantastic Whiskey Sour or Smash. Another solid choice is Redemption ($24), which oozes baking spice goodness.
Vodka or Gin
Having a clear spirit around to mix with is also an important factor when building a functional home bar. Whether you prefer to start with vodka or gin, this is the first step to being able to mix a number of well-known classics, from the Martini and Gimlet, to the Tom Collins and Bloody Mary (yes, gin makes a fantastic Bloody). But instead of reaching for bottom-shelf stuff, make sure your cocktail tastes great by spending a bit more on a bottle of good-quality stuff. For vodka, try artisanal brands like Barr Hill ($40) or St. George All Purpose Vodka ($30). And for gin, go for a classic London Dry like Beefeater ($20) or Broker's ($20)—many classic gin cocktails are built around their juniper-forward flavor.
Mark Yocca/Supercall
Light Rum
One of the biggest cocktail trends of the past couple of years is all things tiki. If you're ready to jump on the tropical drink train, the ingredient that should be on top of your list is rum. The incredibly versatile spirit can be used in all manners of beach-worthy punches, classic Polynesian drinks and traditional staple cocktails like the thirst-quenching Mojito. Go for one that has a bit of personality, like the lightly-aged and complex El Dorado 3 Year ($15) from Guyana or the sweet and nutty Flor De Caña Blanco Reserva ($25) from Nicaragua.
Aged Rum
Go down the tiki rabbit hole, and you'll likely find yourself wanting to expand your collection of rums to something with a little more age, depth and viscosity. This will ensure you're able to mix up plenty of Mai Tais and Dark 'n' Stormys when the craving hits. It will also allow you to play around with swapping out whiskey for rum in drinks like the Manhattan and Old Fashioned, and give you all the boozy tools you need to make the most amazing Daiquiri you've ever tasted. Can't decide between all the diverse and downright delicious rums out there? You'll be in safe hands with Plantation Rum O.F.T.D. Overproof ($30) or Damoiseau VSOP ($43).
Blanco Tequila
You never know how versatile a bottle can be until it's sitting on your home bar. Once you're faced with finding new and creative ways to use up a bottle of tequila, you realize how much of a godsend the agave spirit really is. Not only will there be copious amounts of Margaritas and Palomas in your future, but you'll also fully realize its potential in Bloody Marias, twists on the Old Fashioned and in a spate of other concoctions. Invest in a beautifully made tequila like Espolón Blanco ($23) or Olmeca Altos Plata ($23), and you may even find that you like sipping the spirit on its own or with a side of tart and refreshing Sangrita.
Mark Yocca/Supercall
Sweet Vermouth
As great as whiskey is on its own, adding a little bit extra can transform the spirit into a knockout cocktail. Be sure to keep your bar stocked with sweet vermouth, so you can take bourbon from neat to Manhattan or gin from zero to Negroni with ease. There are plenty of options for sweet vermouths on the market now, but if you want the traditional flavor, go for Carpano Antica Formula ($16 for 375ml). If you want something a little more modern, try bitter-twinged Vya Sweet Vermouth ($14 for 375ml) instead.
Dry Vermouth
Just as sweet vermouth is important to a spate of classics, dry vermouth is a necessary ingredient for cocktails ranging from the Martini to the Bronx. Add a little soda water and a slice of lemon to a measure of the aromatized wine, and it also makes a wonderfully refreshing summer spritz. We recommend investing in the inexpensive but tasty Cinzano Extra Dry ($8) or the floral and fun Lo-Fi Dry Vermouth ($25). Whatever you do, just be sure to keep both your dry and sweet vermouths in the refrigerator after opening them—otherwise it will oxidize, making your drinks taste a little off.
Cointreau
Once liqueur gets involved, the home bartending fun can really start. Orange liqueur Cointreau ($20 for 375 ml) is a staple in many a cocktail, and its sweet, citrusy qualities are a wonderful way to add some zest to drinks. Once you secure a bottle, use it to whip up a Sidecar or Cosmopolitan, and experience all the wonders of this beloved liqueur.
Wildcard liqueur
Though you can make so many wonderful cocktails with the basic booze on this shopping list, you also want to keep yourself and your guests inspired with something a little...different. And there's almost no drink category so expansive and fascinating as liqueurs. You could go the way of Italian amaro and slide a bottle of bitter Campari ($26), Aperol ($20) or Cynar ($27) onto your bar cart to make it seem even more sophisticated. Or you could even grab a whimsical bottle like elderflower-tinged St-Germain ($35) that's both flavorful and visually stunning. If none of those flavors strike your fancy, however, peruse the selection at your local liquor store until you come across something that does. Whether you choose an herbal Chartreuse ($58) or a chocolate- or- coffee-flavored bottling, this is the bottle that will inspire you to break out of your cocktailian shell and mix up something new and exciting.