Spicy Tequilas (and Tequila Cocktails) from Tingling to Nuclear
Matthew Kelly / Supercall
Your next party is going to be hot. How hot? As hot as your guests can handle. Because you're setting up a spicy tequila bar.
Creating a DIY spicy tequila bar is simple once you've made the proper preparations. We recommend infusing tequila at three different levels of heat and mixing up three peppered salts with varied spiciness. Sweet, savory and spicy garnishes will let guests customize their cocktail even more.
So snap on some gloves so you don't burn your skin (we're not kidding, this is important), grab some chile peppers and get ready for a caliente cocktail hour.
Step One: Make Your Spicy Tequilas
The key to a great spicy Margarita is great spicy, pepper-infused tequila. It's easy to make your own: Get three 32-ounce Mason jars, a couple bottles of blanco tequila and three chile peppers with varying Scoville Heat Units (we chose jalapeño, cayenne and Thai (bird's eye), but follow your burn-inducing bliss). Slice the top off the chiles, cut them in half, remove the seeds (or keep them in if you like it really hot), and drop them into tequila-filled Mason jars. For a mildly spicy tequila, we used one de-seeded jalapeño (2,500-8,000 SHU) and let it sit for an hour. For a medium spicy spirit, we let one de-seeded cayenne pepper (30,000-50,000 SHU) infuse for one hour and 20 minutes. And, for our seriously spicy tequila, we used two Thai chiles (50,000-100,000 SHU) complete with their seeds, and let them infuse for two hours in the tequila. Because each pepper and palate is different, we suggest tasting every 20 minutes. Strain the pepper out when each tequila has reached the spiciness you desire.
Step Two: Stock Up on Mixers
Some guests may take their tequila straight, but most will want to mix it into cocktails. Squeeze enough lime juice to fill about two or three 16-oz Mason jars (about 30 to 50 limes) depending on how many RSVPs you receive. Buy grapefruit soda for Palomas, agave nectar for Margaritas, and dry vermouth and orange bitters for Martinis. For guests who want to keep it simple, buy plain soda water.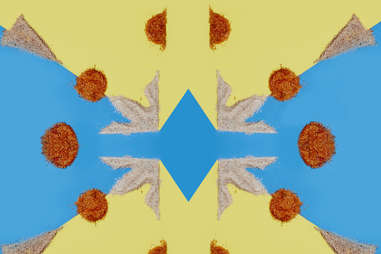 Step Three: Prepare Your Salt Selection
A spiced, salted rim is the key to putting your tingly Margarita over the top. These three salts have varying levels of intensity so your guests can choose their own spicy adventure.
Chile Salt (Hot): 3 tbsp kosher salt mixed with 1 tbsp ancho chile powder.
Lime-Cayenne Salt (Hotter): 2 tbsp kosher salt mixed with the zest of one lime and 1/8 tsp ground cayenne pepper.
Thai Chile Salt (Hottest): 2 tbsp kosher salt mixed with 1/8 tsp Thai chile powder.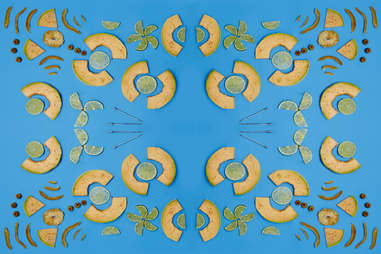 Step Four: Set Up Your Garnish Bar
The garnish bar is where your guests can really go wild. Stock it with sweet selections to cut the heat, as well as savory and spicy options for guests who want even more of a kick.
Dried and Candied Fruit: We love candied grapefruit peel and dried pineapple rings. The sweet and zesty flavors are delicious foils for the Margaritas' vegetal tequila.
Chile-Lime Cantaloupe: Peel and cut a cantaloupe into one-inch pieces. In a bowl, combine the juice of a lime with 1 tbsp honey, 1/4 tsp salt and 1/4 tsp crushed red pepper. Add the cantaloupe pieces to the bowl and stir to combine.
Citrus Wedges: Slice lime, grapefruit and orange wedges. Guests who want their drink even hotter should feel free to dip the wedges in the spicy salts for extra heat.
Olives: You can buy olives that are pre-stuffed with things like pimentos, cheese and anchovies. But it's easy and more fun to make them from scratch. We suggest buying pitted mission and manzanilla olives and filling them with a variety of ingredients. Feta, manchego and blue cheese are delightfully creamy and salty. Almonds provide a crunch. Jalapeños kick the spice up another notch. Chop each ingredient into small pieces and stuff away.
Spicy Marinated Olives: You can also marinate your own olives. Combine three cups of olives, the zest of half a lemon, the zest of half an orange, three fresh thyme sprigs, 1/4 tsp of crushed red pepper and 1 1/2 cups olive oil in a medium saucepan and simmer for two minutes. Remove the pan from the heat and let the olives cool. They can sit in the refrigerator for up to two weeks.
Step Five: Ready, Set, Drink
Now that you have your basic components, it's time to party—spicy style. On a long bar or table, set out the three jars of infused tequila, a bottle of plain blanco tequila (for guests who don't want the spice) and your mixers. Place the salts in shallow dishes with slices of citrus nearby so guests can easily rim their glasses. Fill an ice bucket with fresh ice and set out shakers, jiggers and bar spoons. Set out highball glasses, coupes and old-fashioned glasses. Gather the garnishes together at the end of the table along with toothpicks and small serving spoons. Label each component of the bar with index cards, mini chalkboards, Post-It notes, bar napkins or simply write everything directly on a paper tablecloth. If your friends are fairly familiar with mixology, let them loose. If, on the other hand, they need some guidance, set them up with recipe cards for a basic Margarita, as well as these:
Spicy Paloma
This version of the Paloma gets a kick from the jalapeño-infused tequila and a chile salt rim.
INGREDIENTS
2 oz Jalapeño-infused tequila
.5 oz Fresh lime juice
Grapefruit soda
Pinch of chile salt
More chile salt, for rim
Candied grapefruit peel or dried pineapple ring, for garnish
METHOD
Rim a glass by first rubbing the edge with a lime wedge, then rolling it in chile salt. Pour the tequila, lime juice and a pinch of salt into the glass. Add ice, top with grapefruit soda and stir. Garnish with candied grapefruit peel or dried pineapple ring.
Smoky Spicy Margarita
Add cayenne-infused tequila and a lime-cayenne salt rim to a classic margarita and you have a fiery beast on your hands. Tame it with a juicy cantaloupe garnish.
INGREDIENTS
2 oz Cayenne-infused blanco tequila
1 oz Fresh lime juice
.5 oz Agave nectar
Lime-cayenne salt, for rim
Chile-lime cantaloupe, for garnish
METHOD
Shake tequila, lime juice and agave nectar with ice and strain into a cayenne-salt-rimmed glass filled with ice. Garnish with a chile-lime cantaloupe spear.
Spicy Tequila Martini
This cocktail is rated spice hounds only. Take it a step further by dipping the olives in Thai chile salt.
INGREDIENTS
1.5 oz Thai chile-infused blanco tequila
.75 oz Dry vermouth
Dash orange bitters
Spicy marinated olives, for garnish
METHOD
Pour tequila and vermouth into a cocktail tin and add ice. Stir well and strain into a chilled coupe glass. Garnish with as many spicy olives as your palate can handle.