5 Ways to Chill a Drink Without Diluting It
There's no denying ice's all-important role in the world of cocktails. It chills, it dilutes, it looks like a sparkling jewel. But sometimes you just want the chill factor without all that other stuff. Luckily, there are hacks for that. Whether it's a neat spirit, an individual cocktail, a big bowl of punch or simply a bottle of booze, here are the best ways to cool your drink down without watering it down.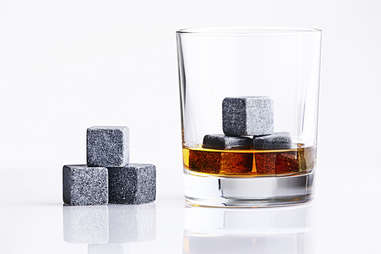 Use Whiskey Stones in Your Straight Spirits
Have your drink on the rocks, literally, with frozen whiskey stones ($12). These non-porous soapstone or granite cubes are both elegant and effective. Or, for even more chilling power, opt for their stainless steel counterparts ($14).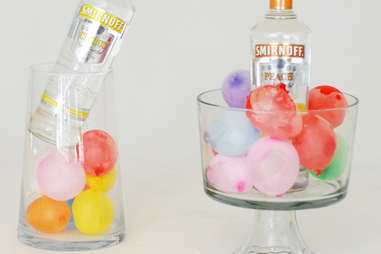 Freeze Water Balloons
This whimsical hack from blogger A Subtle Revelry will keep big batch cocktails cool and festive. Fill small balloons with water, tie them off and freeze them. Then, arrange them in a transparent bowl around a pitcher of drinks or bottles of booze or mixers. Not only will the balloons look great but they'll also keep your glassware dry, even after the ice melts. Plus, when that does happen, you'll have the supplies for an impromptu water balloon fight.
Make an Ice Bucket out of Ice
Get meta with your chilling by making an ice bucket from actual ice. Blogger Sugar and Charm details how to create this showstopping centerpiece, studded with frozen fruit and flowers, by placing a weighted bucket in a larger bucket filled with water, and freezing. When it comes time, simply separate your ice bucket from the metal buckets with some warm water. Then, drop in your bottle, or if you're feeling daring, pour in a big batched cocktail, like Sangria.
Freeze the Glasses
If you're trying to chill a cocktail quickly, just freeze your glass. Simply wet one or two paper towels and squeeze out the excess liquid. Then wrap the damp towels around the inside and outside of the glass, and carefully place it in the freezer. In just a few minutes, the glass will be nice and chilled, with an enticingly frosty exterior.