Best New Twists on the Rusty Nail
The Rusty Nail is a classic after-dinner drink made with two parts blended scotch and one part Drambuie. While it's hard to mess up the two-ingredient classic, there's definitely room for experimentation. Get inspired to use up the rest of that bottle of honeyed, spicy-sweet scotch liqueur by mixing Drambuie into these Rusty Nail variations.
Rusty Bob
Swap out blended scotch for bourbon and you have yourself a Rusty Bob. It's a lighter, more vanilla-forward drink with a sweeter, distinctively American finish.
Smoky Nail
The traditional Rusty Nail features blended scotch, but the Smoky Nail calls for a peated scotch from the Islay islands, a region whose whiskies are known for their iconic smoky flavor. The resulting cocktail is smokier, bolder and more complex than the sweeter original.
Clavo Ahumado
If your smoky spirit preferences lie south of the border, try using mezcal in place of scotch (Clavo Ahumado translates to "Smoky Nail" in Spanish). While a little unconventional, mezcal and Drambuie work surprisingly well together. The agave spirit gives the drink a vegetal edge while maintaining the lightly smoked integrity of the original.
Rusty Ale
Fans of Boilermakers and Depth Charges may find a new favorite beer-tail in the Rusty Ale. Beer—ideally an English- or Irish-style ale—takes the place of the Rusty Nail's blended scotch for a tall, spritzy version of the classic cocktail. Simply pour a shot of Drambuie into the bottom of a pint glass, and top with beer. You'll have a sweet, malty cocktail perfect for sipping.
Railroad Spike
This cocktail was created by bartender Anthony Caporale and served at the 2014 Manhattan Cocktail Classic Gala, where the Wall Street Journal named it one of the five best drinks. It is made with four parts cold-brew coffee and one part Drambuie, and it's served in a highball glass filled with ice. While the original Rusty Nail is a perfect digestif, this mix of bitter coffee and Drambuie is destined for boozy brunch.
Donald Sutherland
While Donald Sutherland is Canadian, we're still not sure why he's the namesake of this Rusty Nail variation made with Canadian rye whisky in place of scotch. Perhaps it's because it's as smooth as his velvety voice, or maybe its inventor just really enjoyed Sutherland's performance in boozy classics like Animal House and MASH. Either way, the lighter, spicier take on the drink is worth your time, much like pretty much any film featuring Sutherland himself.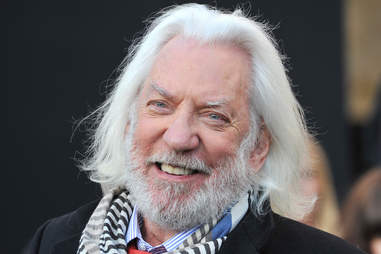 Featureflash Photo Agency