Supercall Labs: Can You Taste the Vodka in Vodka Sauce?
No one is quite sure how vodka sauce came to be. Some say it was conceived in Italy, while others claim it was invented on American soil. And then there's the theory that vodka distillers passed the recipe along to chefs as a marketing ploy to get people to buy more of the neutral spirit.
That last rumor got us thinking: As delicious as vodka sauce is, is the vodka really necessary? Does it actually affect the flavor of the sauce?
So we put on our lab coats—which also happen to conveniently double as aprons—and readied our prep stations.
In this edition of Supercall Labs, we test the boozy limits of vodka sauce. We prepared three batches of vodka sauce, all of which followed the exact same recipe except for the amount of vodka. We tested a batch without vodka, a quarter cup of vodka and a full cup of vodka to find out exactly how the spirit alters the flavor of the sauce. Here are our findings: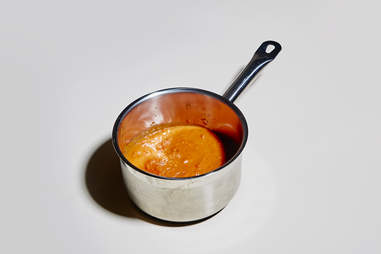 No Vodka
We wanted to find out if vodka actually does anything to enhance the flavor of the sauce, so we made the first batch without any booze at all. The sauce turned out well, but it was extra rich from the cream and butter. It was tasty and balanced for what is was, but the dairy lingered just a bit too long on the palate. We wondered if the vodka would help to cut the richness of the sauce.
.25 Cup Vodka
We traditionally make our vodka sauce with a quarter cup of vodka, so we knew this version would taste good. One Supercall tester commented on how the vodka appeared to cut the sauce's rich aftertaste, while others said that it somehow made the sauce taste even creamier. But we all agreed that the addition of vodka improved upon the sauce.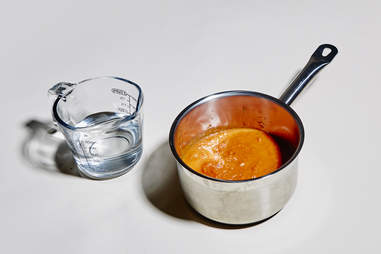 1 Cup Vodka
The flavor of the sauce changed significantly when we added four times the amount of vodka. It was bold with a sharp bite. The spirit seemed to enhance the tomatoes' natural acidity. For the Supercallers who weren't creamy tomato sauce fans in the first place, this was the standout choice.
The Verdict
Vodka clearly does have an impact on vodka sauce. Without it, the sauce would not have its signature flavor. The addition of vodka cuts the richness of butter and cream, brings out the sweet flavor of the tomatoes, and joins forces with crushed red pepper to impart a tangy bite.
Though all three sauces were deemed to be tasty (none of us would kick any one of them out of a pasta bowl), the traditional sauce with a quarter cup of vodka was the winner. To try it for yourself, whip up a batch of our Ultimate Vodka Sauce.