How to Set up the Ultimate Bloody Mary Bar
It's your turn to host Sunday brunch, and even though you've mastered the classic Bloody Mary, your picky friends make batching out a pitcherful challenging. Some like it extra spicy, others insist on heaping spoonfuls of horseradish, and then there's that one friend who isn't interested in a Bloody unless it's topped with a salad bar's worth of garnishes. Instead of trying to appease them all with a single batch, go down in the Brunch Hall of Fame by hosting a mix-and-match, build-your-own Bloody Mary bar. The best part? They'll do all the work and you'll take all the credit.
Step One: Make Your Mix
Start by making a big match of Bloody Mary mix, but leave out the hard stuff. There are a lot of different Bloody Mary mix recipes to get creative with, but to please the masses stick with our go to recipe, which includes the usual suspects: tomato juice, citrus, celery salt, Tabasco, Worcestershire sauce and horseradish. Set out two bottles of booze for your guests to pick from: classic vodka or tequila for Bloody Marias. Provide a jigger, and let your guests know that two ounces is the standard pour for a Bloody.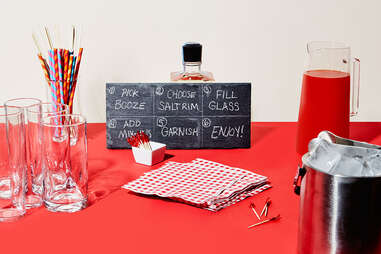 Step Two: Set the Scene
Flex your artistic muscles and create a step-by-step instruction board on how to build the most Insta-worthy Bloody ever. We went with an industrial-chic chalkboard look, but feel free to experiment with whatever's in your craft closet. Set out pint glasses, straws, napkins, ice buckets, and toothpicks or small skewers for the garnishes.
Step Three: Get Saucy
The beauty of the Bloody is how endlessly customizable it is. Since debates over the superiority of Frank's Red Hot or Cholula have threatened more than just friendships in the past, set out a sauce caddy with multiple hot sauces of varying degrees of heat, along with Worcestershire (or Maggi if you have it) and horseradish. If your friends are serious hot heads, include a few extra spicy hot sauces, like El Yucateco Chile Habanero hot sauce, or the borderline painful CaJohn's Lethal Ingestion, made with ghost peppers.
Step Four: Set out a Salt Station
A seasoned rim is a simple way to take your Bloody Marys to the next level, both in flavor and appearance. There are dozens of seasoning options out there, but we think celery salt, smoked paprika salt and Old Bay salt are winners. For a more whimsical, super trendy rim, you can even go crush up Flamin' Hot Cheetos into a dust (and leave a few whole ones alongside for snacking on). Place your salts in shallow dishes for easy rimming and label them accordingly.
Step Five: Stock Your Garnish Garrison
As the internet has proven, you can get away with topping Bloody Marys with almost any food item and calling it brunch in a glass. We recommend setting out an array of garnishes, but don't go too overboard. For a bright burst of citrus, set out bowls of lemon and lime slices along with classic celery stalks and savory snacks like peppers, pickles and olives—stuffed or unstuffed. If you really want to go crazy, offer mozzarella cheese cubes, pepperoni slices and big ticket items like crispy bacon strips and poached shrimp. Just try not to eat all the bacon before your guests arrive, no matter how good the kitchen smells.
Step Six: Commence Bloody-Marying!
Encourage everyone to experiment and have fun! Want to make a smoked paprika salt-rimmed, bacon-topped, olive-laden Bloody Maria? Go for it. Does a citrusy, super-spicy, shrimp-garnished Bloody Mary pique your interest? Dive in. Prefer a crisp, classic celery stalk in your minimalist Bloody with a simple celery salt rim? You do you. The first rule of a Bloody Mary bar is that there are no rules.