How to Throw a Ladies of the '80s Cocktail Party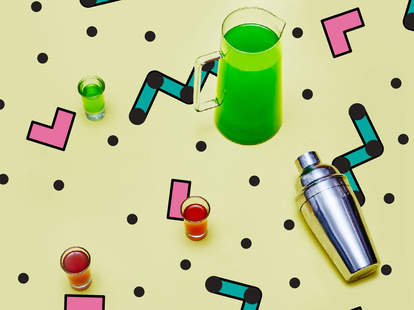 Tease your hair up high, lay the bright blue eyeshadow on thick and break out the leg warmers, because you're about to throw the ultimate cocktail-fueled Ladies of the '80s party. Just for the occasion, we came up with three fun and easy themed cocktail stations inspired by three '80s greats: Pat Benatar, Cyndi Lauper and Madonna. Here's how to set up your own boozy blast from the past (mixtape not included).
Cocktail Station #1: Hit Me With Your Best Shot
This Pat Benatar-inspired station is all about a 1980s favorite: shooters. These neon-hued, mini mixed drinks are perfect for knocking back between songs before returning to the dance floor.
The Set Up
Before the party, prepare three pitchers of shooters without ice for your guests to choose from. While pretty much any cocktail can be scaled down to shooter-size, some of the most popular and most fluorescent options include the Purple Hooter (2 parts vodka, 1 part lime juice, 1 part Chambord), the Melon Ball (2 parts vodka, 1 part Midori, 1 part pineapple juice) and the Alabama Slammer (equal parts sloe gin, Southern Comfort, amaretto and orange juice). Refrigerate the pitchers.
The Presentation
Just before your guests arrive, set the pitchers out along with tall, skinny shooter glasses, shakers, jiggers and a big bucket of ice. Instruct your guests to measure out two ounces of a mix into a shaker, shake with ice and strain into a shooter glass. Or, if you'd rather pour the shots for your guests, do your best Tom Cruise in Cocktail impression by mixing two servings at once in the shaker, setting two glasses side by side, and aligning the two thin slots on a Hawthorne strainer with the the glasses. As you pour, two separate streams of liquid will fill both glasses simultaneously. Cue the hoots and hollers.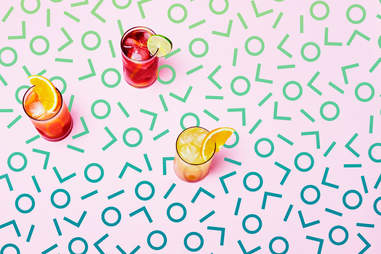 Cocktail Station #2: Girls Just Want to Have Fun
"When the working day is done, oh girls, they want to have fun." There's no better way to toast the end of the working day like a true Cyndi Lauper fan than with a sweet, fruity, suggestively named Sex on the Beach—except with a full-blown Sex on the Beach bar.    
The Set Up
Made with vodka, peach schnapps, orange juice, cranberry juice and Chambord, the Sex on the Beach is a simple, tasty tipple and easy for anyone to make—even after a couple of shooters. Before the party, secure all of your ingredients (as well as a bottle of white rum as an alternative to vodka), and prepare garnish bowls of orange slices, maraschino cherries and lime slices.
The Presentation
Set out the Chambord, peach schnapps, vodka and white rum, along with pitchers full of the juices, jiggers, shakers, highball glasses, ice and garnish bowls. Not only can your guests make a classic Sex on the Beach (1.5 oz vodka, .5 oz peach schnapps, 1.5 oz orange juice, 1.5 oz cranberry juice and .5 oz Chambord) but also a Fuzzy Navel (3 oz peach schnapps and 3 oz orange juice) and a Woo Woo (1 oz vodka, 1 oz peach schnapps and 2 oz cranberry juice).
Cocktail Station #3: Material Girl
Our Madonna-inspired station is all about the glitz and glamour. Here, your guests will be able to make their own gold-flecked sparkling spritzers worthy of the Material Girl herself.
The Set Up
Chill a few bottles of sparkling wine—Champagne if you really want to splurge, but domestic sparkling, cava or prosecco will also work—buy some raspberries and blackberries, and get a bottle of Goldschlager, that gold flake-flecked cinnamon liqueur. Prepare a small jar of simple syrup and buy edible gold glitter or sprinkles.  
The Presentation
Set out Champagne flutes, jiggers, Goldschlager, bowls full of the berries, a shallow dish of simple syrup and another of edible gold sprinkles. Pop a bottle of bubbly and have your guests rim their Champagne flutes—first in the simple syrup, then in the sprinkles. Then, pour .5 oz of Goldschlager into the flute, top with Champagne and drop in a few berries. You'll be left with a sparkly drink that's fit for Instagram, but, since this is an '80s party, opt for a Polaroid instead.