How to Throw a Gold Medal-Worthy Caipirinha Party
A simple mix of lime, sugar and cachaça, the Caipirinha is one of Brazil's greatest treasures (along with the Amazon rainforest, sunny beaches and a certain style of undercarriage waxing). The three-ingredient masterpiece is about as simple to make as a Jack & Coke, requiring only a bit of muddling to achieve the perfect balance of sweet, sour and vegetal flavors.
Now is the perfect time to celebrate this easily adaptable summer masterpiece. The best way to go about it? With a full-blown Caipirinha bonanza. Whether you're planning a 2016 Summer Games party or just looking for an excuse to drink with your friends, here are a few tips for bringing Brazil to your home bar. Believe us, it will only make watching rhythmic gymnastics that much better.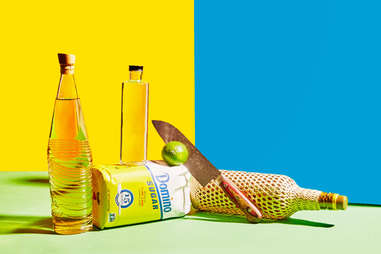 Step 1: Stock the Essentials
First things first: There can be no Caipirinhas without limes, sugar and cachaça. The limes can be cut into eighths ahead of time—each Caipirinha requires half a lime, so be sure you have enough to go around. We'd recommend about three whole limes per guest, allowing for some mess-ups and the occasional spent lime. As far as sugar goes, there's no need to get fancy. Just set out a sugar bowl and teaspoon so guests can add as little or as much as they want to their drink.
The cachaça is where things gets a little more interesting. Just like rum, there are both aged and unaged options to choose from, and each one will lend different flavors to a Caipirinha. Instead of choosing between the two categories, provide both a classic unaged bottling like Leblon or Novo Fogo, as well as an aged cachaça, like Ypioca or Avuá Amburana, and let your guests decide.
Step 2: Gather Your Tools
While plastic cups are often the go-to for parties, Caipirinhas demand a sturdier vessel. Muddling the limes and sugar together can result in split plastic cups and a huge mess. We recommend going all glass for your party, with plenty of old-fashioned glasses. You'll also want to have at least two muddlers and a few spoons dedicated to mixing, so the sugar spoon doesn't end up a wet, sugar-caked mess.
While other accessories like julep straws, T-shirts that read "We Put the 'HA' in Caipirinha" and Brazilian flag toothpicks are always encouraged, the third most important Caipirinha-making accessory after muddlers and glassware is an ice bucket filled to the brim with ice cubes. No one wants a warm Caipirinha.
Step 3: Master the Classic
Once all of the essential ingredients and tools are secured, it's time for you, as the host, to master this easy formula: Cut a lime into four chunks and muddle with half a teaspoon of sugar in an old-fashioned glass until the sugar dissolves. Fill the glass with ice. Add two ounces of your chosen cachaça. Stir. Know it. Love it. Teach it to your guests.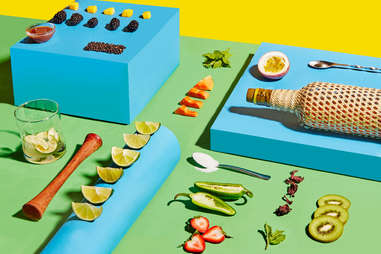 Step 4: Channel the Amazon's Bounty
Now that you have the classic Caipirinha down, it's time to introduce your guests to the wide world of Caipirinha customization.
Set out bowlfuls of mango, papaya, passion fruit (a common Caipirinha addition in Brazil) and tamarind paste—unless you can find it fresh. For mixability, you may want to puree the mango and papaya. Kiwi, blackberries and strawberries are also great to have at the ready.
Next up: the aromatics. Offer guests herbs like mint and cilantro (both delightful in a classic Caipirinha), as well as peppercorns. And, for a serious showstopper, add dried hibiscus flowers. They'll give any drink a lovely ruby hue and also lend a unique flavor. Just keep in mind that a little goes a long way.
Step 5: Color Coordinate
Even if you're rooting for USA! USA! during the Games, you can still invoke the spirit of Brazil in your party decor. Drape your table in green, yellow and blue tablecloths to represent the Brazilian flag and stack your ingredients on a tri-level podium (aka stacks of books covered in cloth) to channel an Olympic awards ceremony. You can even prepare makeshift gold, silver and bronze medals out of tinfoil to award the three best Caipirinha variations at the end of night.
Step 6: Get Down to Business
When the time finally comes for your party people to mix and match ingredients, encourage creativity and innovation. Their efforts could, after all, be rewarded with a gleaming gold medal. If you anticipate some hesitation from your guests, write the instructions for a basic Caipirinha on a chalkboard and include a list of your favorite pairings. They'll be samba dancing in a cachaça-fueled haze in no time.