How to Throw an Awesome Party in a Tiny Apartment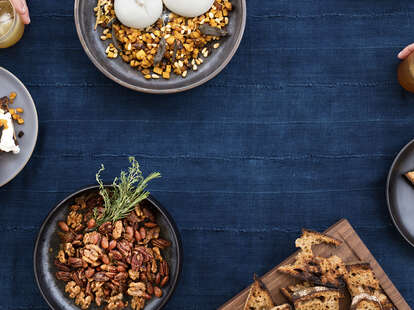 For anyone living and working in a bustling metropolis, the idea of throwing a party is more stressful than a job interview, a family visit and a garbage strike, all rolled into one. Between planning the menu, finding time to prep and figuring out how to fit everything and everyone into a teeny tiny apartment, most people opt to just meet people out at a bar.
But hosting doesn't have to involve complicated five-course dinners and days of kitchen prep. It simply takes a little planning, the right tools and a few nuggets of expert advice from W&P Design founders Eric Prum and Josh Williams, who literally wrote the book on the art of simple entertaining.
Here, the authors of Host share their essential tips for throwing a stress-free cocktail party in a city apartment.
Take Advantage of Your City
Instead of viewing the city as an obstacle, think of it as a metropolis of opportunities filled with greenmarkets and niche stores. "Quality ingredients speak for themselves," Prum and Williams say. "Whether you're sourcing fresh fruits for cocktails or getting the best cut of meat for a roast, there are specialty markets in neighborhoods all over most cities. They are incredible resources."
Keep It Casual
"Don't get too hung up on throwing a traditional dinner party, because it's really not how people entertain anymore," Prum and Williams say. "A lot of us don't have dining room tables, so many of the recipes in Host are designed to be eaten standing up or sitting on the couch." A meat and cheese board is easy to throw together and is always a crowd pleaser. Handheld bites like crostini are easy to eat, and most of the prep work can be done ahead of time. Salty, crunchy snacks will whet guests' cocktail appetites while keeping them from imbibing too much on empty tummies.
Be an Equipment Minimalist
In a tiny apartment, multipurpose tools are king. "One of our favorites is a big walnut cutting board that also acts as a serving platter," Prum and Williams say. "You can chop on one side, flip it over and present charcuterie or larger format dishes on the other." It's also important to keep your bar neat and uncluttered. Prum and Williams recomend that everyone have a cocktail shaker, muddler, jigger and three types of glassware including old-fashioned glasses, Collins glasses and coupes. "With these six things, you can make and serve just about any cocktail," they say.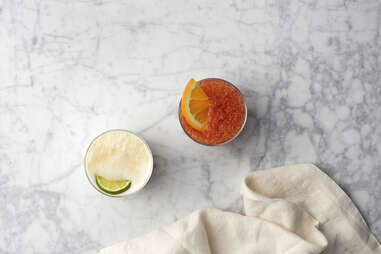 Batch out Cocktails in Advance
No one wants to be stuck behind the bar for the entirety of their own party, so Prum and Williams suggest batching out cocktails ahead of time. "It's important to go for something refreshing because those types of cocktails are almost always crowd-pleasers," they say. "Pick recipes that don't have any sparkling elements to them. You can't really pre-batch a Gin & Tonic because it will be flat before the guests arrive." Instead, make a few big pitcherfuls of Margaritas, Southsides or Jungle Birds.
For more party throwing tips, recipes and hacks for busy hosts, browse through Supercall'sentertaining section, and check out Prum and Williams' Host for yourself.