How to Throw the Ultimate Halloween Party
Put the trick-or-treaters to bed, put on your most terrifying costume and invite a few ghoulish guests over—it's time for a Halloween party to end all spookfests. Make your friends a few frighteningly good drinks and top them with diabolical garnishes, batch up a spirited punch and reuse all that holiday candy. Here's a few great ideas for the best Halloween shindig this side of the witching hour.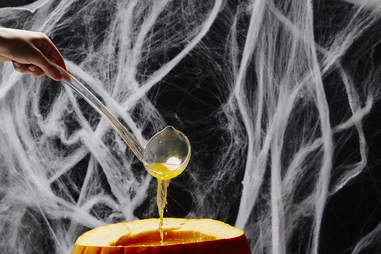 After a run to the pumpkin patch, you could carve your massive orange gourd into a Jack Daniels-o'-lantern, or you could transform it into a Halloween-perfect punch bowl. Don't let the original contents of the pumpkin go to waste either. Fill the makeshift bowl with a bourbon punch made with pumpkin purée.
No matter what drinks you mix for your Halloween guests, you can spookify them with terrifying ice. Cool your cocktails with things like lychee-grape eyeballs and frozen spiders.
Skip the individually wrapped candies and satisfy your sweet tooth with a sugary cocktail. There are plenty of options for every type of tippler, from drinks spiked with classic chocolate liqueur to bright pink rosé floats.
Raiding the kids' trick-or-treat haul after they've gone to bed is a grown-up Halloween tradition, but there's a boozier way to enjoy your candy. If you do a little prep work before your party you can make your own Tootsie Roll-infused rum for sipping and vodka-infused gummy bears for snacking.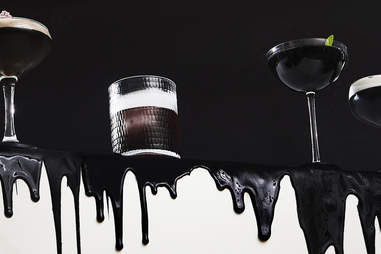 Tap into your inner goth with a few striking black cocktails. Activated charcoal, black limes, charred coconut husks and squid link lend their drab hue to a variety of drinks that hide vibrant tastes beneath their dark cloaks.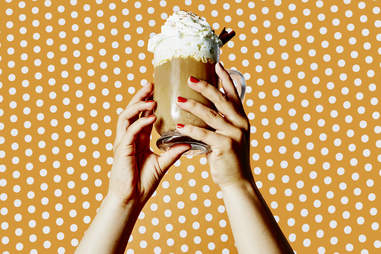 It's spooky how addictive the Pumpkin Spice Latté is, creating hordes of zombie-like pumpkin spice-addicts that roam the cityscape in search of foamy espresso beverages. Set yourself apart from the crowd by making this homemade version, spiked with bourbon, of course.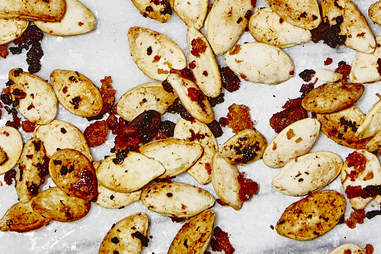 After you've yanked the guts out of your pumpkin to make a punch bowl or jack-o'-lantern, reuse the innards by roasting the seeds in a savory-spicy-sweet mixture, made all the better when spiked with the same bourbon from your Halloween punch. With bacon bits mixed right in, these seeds are a next-level festive snack.
Need some terrifyingly good small talk fodder for your party? Beef up on these haunted bars. From New York to Key West to Los Angeles, there are plenty of taverns that boast spectral regulars. Dim the lights, fill your guests' glasses and regale them with tales from the country's most spirited bars (get it?).