Though it sounds a lot like Sangria—that delightful Spanish amalgam of wine-and-fruit—Sangrita comes from the other side of the world (Mexico) and contains absolutely zero alcohol. It's a mix of fruit juices, spices and hot sauce designed to be sipped alongside straight tequila. And it's so good that it deserves its own party.
Old school Sangrita requires a full day of prep. First, you make a salad with fruits like pineapple, nectarines, pomegranate and papaya, and then you dress it with lime juice and chamoy, a pickled fruit sauce. Once the salad is eaten, you reserve the juices. Then, at the end of the day, you pour the juice (aka Sangrita) into glasses and drink it with tequila.
But you don't have to make it that way. Sangrita is easy to throw together with pre-made fruit juices and spices. It also happens to be endlessly adaptable and the perfect way to introduce the tequila adverse to the joys of sipping the agave-based syrup straight, which is why a Sangrita bar should be on the menu at your next party. Here's what you need to set one up.
Step 1: Stock up on Tequila and Glassware
The most important part of the Sangrita drinking experience (aside from the Sangrita itself) is the tequila. Start preparing for your Sangrita soiree with a trip to the liquor store. Stock up on your favorite tequilas—we'd recommend at least two 750ml bottles per six guests, one blanco and one reposado. Remember that you'll be sipping the tequila by itself and bypass the José Cuervo in favor of a 100-percent agave option.
Another item you'll want to stock up on is glassware. Though shot glasses are the most common Sangrita vessels, any rocks glasses you have will also get the job done.
How to Build Your Own Sangrita Bar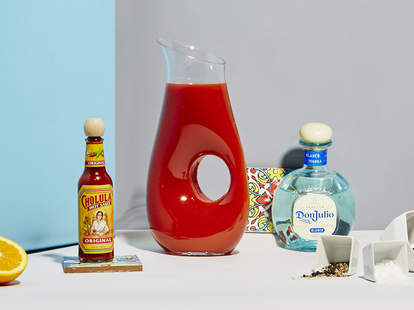 Step 2: Gather Your Sangrita Ingredients
Now that you've stocked up on tequila, it's time to prepare a buffet of Sangrita ingredients. Lynnette Marrero, beverage director at The Llama Inn in New York City and co-founder of Speed Rack, recommends drawing inspiration from seasonal fruits and vegetables, or opting for fruits native to tequila's home of Jalisco.
Here are a few ideas:
Fresh fruits and juices: tomato, orange, grapefruit, lemon, lime, pineapple, mango and pomegranate (or homemade grenadine)
Savory additives: salt, chili powder, soy sauce, Maggi seasoning sauce, vinegar, Tajín, Worcestershire sauce, salt and pepper
Herbs: fresh cilantro and mint
Spice: jalapeños, cayenne, Cholula and Tapatío
Step 3: Guests, Meet Sangrita
Before you throw your guests head first into the wide world of Sangrita preparation, introduce them to the agave accompaniment with a pre-made batch. Stir up a small pitcher of Sangrita—either with or without tomato juice, depending on your preference—and hand out the first round along with shots of tequila as people arrive.
Step 4: Teach Them How to Sangrita
Now that your guests are hooked on the spicy-fruity palate cleanser, it's time for them to create their own. Give everyone a small pitcher, Mason jar or pint glass and take your guests through Sangrita methodology, noting that the finished product should be a balance between the sweet fruit juices and other savory and spicy flavors. It shouldn't taste like a Bloody Mary shot (even if the name does translate to "little blood"). "Some Sangritas get too savory," Marrero cautions. "When you look at classics, they vary greatly by region and have a touch of sweetness to them."
Start your guests off with a base of fruit juice. Tomato or orange are the typical juices of choice, but you can also opt for grapefruit juice for a tarter, more bittersweet Sangrita. Or, for a more tropical flavor, go for pineapple juice. Then, encourage your friends to layer in the flavors, starting slowly with the savory sauces and spices, until they achieve their ideal blend.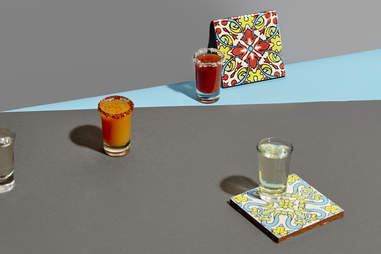 Step 5: Have a Sangrita Off
To serve, fill shot glasses with tequila, and if you want a little extra spice, rim the Sangrita shot glasses in a blend of spices—salt, a little chile pepper and Tajín, for example. Have guests dry shake a few ounces of their proprietary Sangrita blend in a shaker before pouring it into the glasses. Once everyone has a shot of tequila and another of Sangrita, raise your glasses in a toast (¡Arriba, abajo, al centro, pa'dentro!) and sip away, alternating between tequila and Sangrita until both shot glasses are empty. Then, refill tequila glasses, try new Sangritas and keep the party going. Once everyone has tried at least a sip of every Sangrita, take a vote and award the top Sangrita maker with his or her own bottle of tequila. Congratulate yourself on a party well hosted.