Sponsored By

13 Ideas to Plan the Perfect Night In
Sponsored By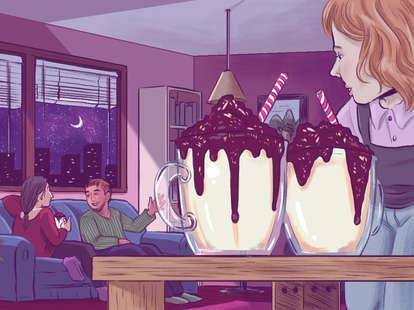 Contrary to what you may hear from some of your rowdier friends, there's nothing wrong with staying in for the night. Far from copping out, or giving up, staying in is a valid—sometimes superior—choice, and, more importantly, it's also something you can actually be good at. Whether you're circling the wagons with a few close friends, settling in with your significant other—or, why not?—flying solo, there's a right way and a wrong way to do a night in.
After all, spending the night at home puts you in control of the playlist, the guest list, the menu, the schedule, and the dress code (which can range from casual to... pajamas). There's a lot to get right. Below you'll find a collection of ideas, tips, and must-have items for staging the ultimate indulgent night at home, whether it involves a small group of friends, your S.O., or some well-earned "me" time.
Read on, and turn even the most acute Fear of Missing Out (FOMO) into Joy of Missing Out (JOMO).
Make it a fondue night
This is kind of a retro move that's fun, off-the-beaten path, and, most importantly, delicious. It's also communal, and will get your friends involved, mixing it up, and ooh-ing and ahh-ing at the extreme cheesy goodness.
Whip up a delicious, decadent homemade meal
They say the kitchen is the most sociable room in the house. This tip doubles down on that concept, and results in a sensational meal as well. It's a win-win. Variations on the theme: get a pizza stone, or a sushi roller, and make dinner prep the most highly enjoyable, interactive part of the night.
Settle in with one of these delicious Baileys Original Irish Cream Liqueur after-dinner drink recipes
Baileys Hot Chocolate
A perfect, uncomplicated, delightful treat. Goes well with: fires, desserts, loved ones.

Baileys Irish Coffee
Baileys Original Irish Cream Liqueur takes the classic winter warmer to the next level.
Get your hygge on
Not familiar with hygge? Pronounced "hoo-guh," it's a Danish term that means "a quality of coziness and comfortable conviviality that engenders a feeling of contentment." Hygge is all about indulgence, relaxation, and "warm companionship." Hygge is a pair of wool socks and a blanket by the fire. Hygge is a warm glow. It was one of the words of the year for 2016, and it's exactly what you're going for tonight.
Don your most comfortable clothes
If you're sailing solo for the night, or hanging with your S.O., this could mean your favorite bulky sweater and fur-lined slippers, a plush bathrobe over flannel PJs, or your best lived-in jeans and a T-Shirt. Whatever works. If you're with a few close friends, get as fully comfortable as their expectations will allow. This is a foundation to your perfect night in.
Break out the softest, thickest, warmest blankets you own
Pull them out of storage if you need to, but have one or two at the ready for yourself or any companions who want to take the comfort level to 11.
Go really retro with a pillow fort
Why not? You can probably surpass the engineering achievements of your younger self, and this is a fun way to change up the night, not to mention have a blast catching up with a few old friends.
Set up candles to set up the mood
Choose scented, unscented, or a combination of the two. Keep in mind scented candles will have a big say in the type of atmosphere you're creating: So maybe you want something sweet and subtle (and not cloying)—say, lily, or a cinnamon-and-orange combo, or plum. For a savory note, there are bourbon-vanilla candles out there as well. It's up to you, and the person or persons involved in your night in. If you have a fireplace, you don't need us to tell you to that a roaring fire will also set the mood for a perfect cold-weather night in. If you don't, candles remain a great option to produce a Barry White-worthy atmosphere in a snap.
Three words: DIY face mask
Okay, that was one acronym and two words. But if you're gonna indulge, why not go all the way and turn it into a mini-spa night?
Make it a screen-free night
If you're on your own, dock your smartphone, close your laptop, and keep the TV dark for a few hours. It'll feel like a mini-detox. If you're with a couple of friends or your S.O., go screenless for the entire night—it'll make for a better time, with everyone present and engaged, face-to-face. Or, you can always go the opposite route, and…
Download the instant, unlimited-access app for your favorite premium cable channel
Every show. Every season. Now… It's a beautiful thing. But lest you get overwhelmed by the near-infinite options...
Research your viewing options ahead of time
Don't spend the entire night switching from one streaming service or premium channel to the next in search of the perfect thing to watch. Before you know it, it'll be 11pm and you still won't have picked anything. Do a little research beforehand and either narrow it down to a manageable few options or straight-up make your selection. Another option: purposely leave yourself an episode or three of your favorite show to catch up on.
Pick up an instant-print camera—or a smartphone photo printer
Boom: instant souvenirs from the night. You could take the everything-old-is-new-again route and pick up a vintage 20th century analog camera, or you can choose from the wide array of modern instant-print gizmos. Either way, you experience the magic of being able to hold your photographs in your hand just minutes after snapping them—and that never gets old.

Please drink responsibly.
BAILEYS Irish Cream Liqueur. 17% Alc/Vol. Imported by Paddington, Ltd., Norwalk, CT.