If you're a frequent bruncher, the Mimosa probably makes a regular appearance during your weekend imbibing. But, despite the cocktail's simplistic perfection, it can also be quite boring. We've already mixed things up by swapping in different juices, liqueurs and bitters. Now, to take it a step further, we swapped out the Champagne for unexpected sparkling beverages to see what worked best with orange juice. From hard cider to sparkling Japanese sake, here are six Champagne substitutes you'd never think would work but are actually delicious. Brunch will never be the same.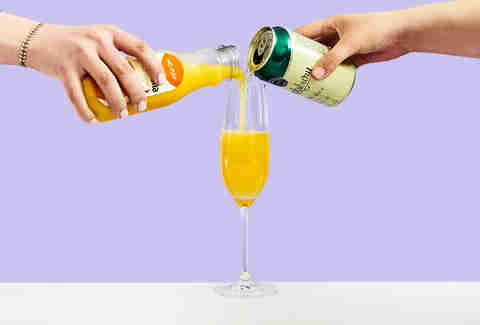 Sparkling Hard Cider
The only caveat with this effervescent mixer is that you must really like the cider that you're using. If you can't drink the cider straight on its own, there's no point in adding it to your orange juice. Although the tangy acidity and farmhouse funk of a good, dry apple cider dominates the cocktail, this Mimosa is still extremely quaffable.
Spiked Seltzer
Extremely light and crisp, the combo of OJ and spiked seltzer is downright chuggable. We were big fans of Smirnoff's Orange Mango spiked seltzer, which adds a touch of tropicality and creaminess that pairs perfectly with orange juice. But use caution because these Mimosas are so easy to drink that you'll empty your glass—and that bottle of Champagne—before you even realize it.
Sparkling Sake
While this is one of the more unusual choices for a Mimosa topper, it doesn't make the cocktail any less delicious. Paired with orange juice, sparkling sake has an almost bubble gum thing going on—but in a good way. The drink becomes sweeter and extremely fruity. With a touch of fermented rice funk on the finish, this is definitely not a Mimosa for traditionalists or those that are put off by unfamiliar flavors.
Miller High Life
Also known as the Beermosa or Manmosa, this Mimosa variation is our favorite of the lot. It was much drier than some of the other variations we tried. It isn't for everyone—one Supercall staffer said that the aroma reminded them of "stale beer pong basements"—but those who like it love it.
Colt 45
Although this Mimosa seems like it would be a disgusting combination, it is surprisingly delicious. In fact, it was one of our favorites. Malty, sweet and refreshing, this Mimosa is like a Beermosa with double the pizazz. Unlike the Beermosa, the drink has a weight to it, so you can't drink it too fast. If you don't have any qualms about buying a Colt 45 from your local deli, it's an exceptional substitute for beer or Champagne.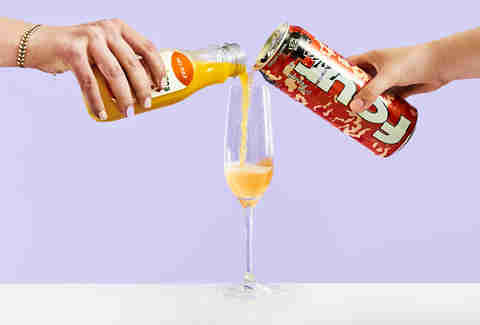 Four Loko
Another oddball, this high-octane malt liquor creates a Mimosa that is absolutely crushable. While there are multiple flavors of Four Loko to choose from, our favorite flavor for a Mimosa is the peach. On the nose, this Mimosa variation beams with aromas of tropical fruit and suntan lotion (in a good way). Sipping this concoction gives off major peach ring vibes and a cotton candy sweetness.