5 Ways to Make a Mojito If You Don't Have Fresh Mint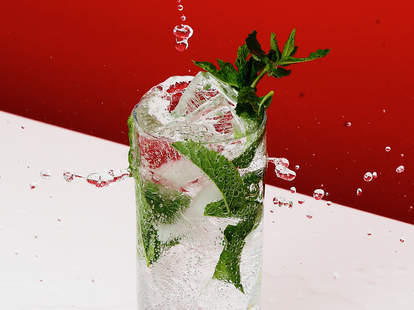 The ultra-refreshing, thirst-quenching Mojito is like summer in a glass. But the star of this delicious white rum cocktail—fresh mint—can make whipping up batch after batch challenging. Even if you have the forethought to stock up on herbs before a Mojito craving hits, you'll soon find that a big bunch goes quickly. And by the third round you could be looking at empty stems. But that doesn't mean you should abandon your Mojito mission. Opt for one of these five alternatives to fresh mint instead. They won't taste exactly like a classic Mojito, but they'll definitely hit the spot.
Swap in Other Fresh Herbs
Don't have fresh mint but a garden full of other fresh herbs? Thyme, rosemary, basil and tarragon can brighten up the mix of rum and lime just as effectively. If you really want to get crazy, consult our handy guide for pairing these herbs with other types of citrus, like tangerine and tarragon.
Make a Mint Syrup With Mint Extract
Lots of baking recipes call for mint extract, so chances are you have it lying around your cupboard. If not, it can be found at just about every store, even the ones that don't carry fresh produce. Mint extract is too concentrated to dash right into your cocktail, so use it to make a mint-flavored simple syrup instead. Just add a teaspoon of the extract to a cup each of water and sugar, and heat on the stove until sugar is completely dissolved. Try to find an organic, pure mint extract instead of regular peppermint for a less artificial taste.
Matthew Kelly/Supercall
Use Mint-Flavored Liqueurs or Spirits
If you'd rather not mess around with the stove, replace simple syrup altogether with a mint liqueur, like crème de menthe or peppermint schnapps. Be sure to use only a half ounce so as not to overpower the rum, and go for a clear-hued variety instead of neon green (unless that's the color you always believed Mojitos should be). Alternatively, try a mint-flavored rum, like Don Q's or Bacardí's "Mojito" branded offerings, or even a different mint-flavored spirit entirely, like Stillhouse Mint Chip clear whiskey or mint-flavored vodka.
Add a Few Dashes of Mint Bitters
Bitters give subtle depth to any cocktail, and mint bitters are aan amazing way to bring out that bright minty flavor without knocking your cocktail over the head with it. Add a few dashes of Fee Brothers Mint Bitters to your drink for a classic peppermint flavor, or you could even try The Bitter End Thai Bitters, which have the essence of mint, galangal, lemongrass and kaffir lime, for a more complexly flavored, East Asian-inspired Mojito.
Break Out the Candy Canes
If all else fails and you have nothing in your house but lots of candy from last Christmas, go ahead and pop those candy canes into your Mojito. Crush up about eight average-sized candy canes and add them to saucepan with two cups of sugar and a cup of water. Over medium heat, simmer until candy canes and sugar dissolve, and you're left with a translucent dark pink mixture. Using a half ounce of the syrup in your Mojito will turn the cocktail reddish and make it taste like a winter wonderland instead of a beach vacation. Garnish with equally holiday-appropriate ingredients, like cranberries, chocolate bitters and, of course, a mini candy cane.