All hail the Pickleback. A mind-blowingly good pairing of whiskey and pickle brine, the unorthodox shot has amassed a cult following, especially in its birthplace of New York City, where bartenders are already bored with the basic briny back. Now, mixologists looking for a new way to chase the whiskey down are experimenting with different pickling liquids and blends. Here are a few of our favorites to try right now.
Pickled Beet Juice
If you have to ask whether beets go well with vodka, you've clearly never dined with a Russian. The earthy, tangy, bright purple juice from a jar of pickled beets is perfect paired with a shot of smooth, ice cold vodka. For a more complex shooter, take inspiration from Dirt Candy, where the chefs infuse their pickled beets with East Asian flavors like toasted coriander, chili peppers and Thai basil.
Kimchi Juice
Funky Korean kimchi (fermented cabbage) is usually an acquired taste for Westerners thanks to it's mildly spicy, enigmatic flavor (Is it fishy? Garlicky? Gingery?) and it's mouth-puckeringly sour aftertaste. Fat Buddha Bar harnesses that pungent flavor and uses its juice to cut through fiery whiskey shots—Korean cuisine uses kimchi as a palate cleanser for good reason. You can make your own by raiding the Asian market and straining the juice right from the jar.
Pickled Pineapple Brine
Fruity pineapple takes on a wonderfully tart and tangy edge when pickled, and the brine is almost good enough to drink on its own. At Boulton & Watt, bartenders pickle pineapple with spicy habanero peppers to create a balanced mix of sweet and heat, which they then cut with refreshing mint. The go-to pairing at the bar is Irish whiskey, but it would also work with blanco tequila.
Pico de Gallo Juice
At Chilo's in Bed-Stuy, Brooklyn, the bartenders steal leftover pico de gallo from their backyard taco truck for their speciality "Pico-backs," shots of tequila or mezcal chased with a shot of strained pico de gallo juice. To embolden the mild tomato and onion blend, bartenders add spicy Tabasco sauce and fresh lime juice to the strained mix. Make your own pico de gallo or grab a jar from the store, and add as much hot sauce as you can handle.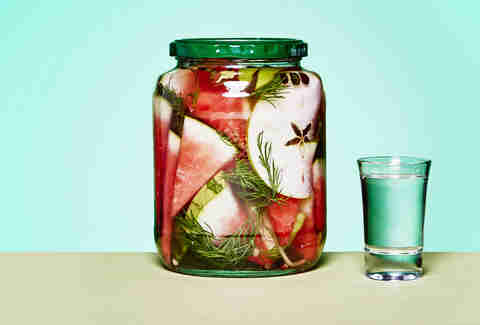 Pickled Watermelon Brine
Chef and bartender Sasha Pogrebinsky of The Starlight in Brooklyn looked to his Eastern European heritage for inspiration when he created the pickled watermelon shot. "My people pickle everything," Pogrebinsky says. "Hell, we look at an old shoe and secretly think, 'Can I pickle that?'" The pickled watermelon fortunately tastes far better than an old shoe—the brine retains watermelon's signature sweetness, and it gains salty and herbaceous flavors from staple European herbs like dill and parsley. The vegetal flavors make it a perfect chaser for tequila, but just be sure to save some juice for the morning after—Pogrebinsky says the brine is also a miracle hangover cure.