The Best Cocktail For Every Color of the Rainbow
Occasions like holidays, college reunions and sporting events call for festive-colored cocktails, but the worst thing you can do is force it with overly saccharine, neon drinks. Experimenting with curaçao because your school color was blue or trying to whip up a Midori and Campari libation to match the reds and greens of Christmas is too great a risk in the hands of a cocktail novice. Instead, expand your drinking horizons by learning how to make this color wheel of classics. Here, nine delicious cocktails to master, one for every color of the rainbow.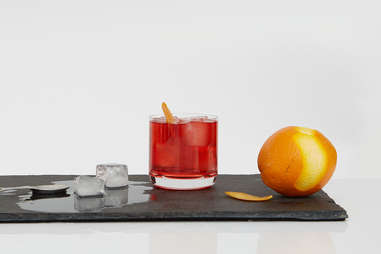 Matthew Kelly/Supercall
Thanks to Campari, there are a slew of delicious crimson cocktails, like the
Boulevardier
and the
Americano
, but the Negroni is the classic red original. Made with a sharp combination of
gin
, sweet vermouth and the
Italian aperitif
, the Negroni has a uniquely bitter taste that isn't for the faint of heart. If you're looking for a romantic red cocktail, look no further than this gin classic.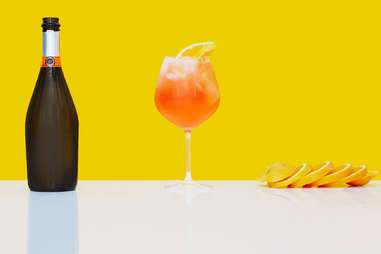 Matthew Kelly/Supercall
With little to no competition in the orange division―although there are delicious
carrot juice cocktails
to be made―the Aperol Spritz is a clear favorite. Made from a combination of orange, gentian, rhubarb and more,
Aperol
is the ultimate spritzy aperitif and a lighter, sweeter cousin of Campari. If you're in need for an orange cocktail, this bubbly combination of Aperol,
Prosecco
and soda is a crowd-pleaser, no matter the occasion.
Matthew Kelly/Supercall
It was between the Mimosa and the
Piña Colada
for the yellow drink of choice, but we gave it to the brunch staple for its versatility and drinkability throughout the year—it's good 24 hours a day, seven days a week (but please be responsible). Enjoyable on the beach, as a day drink or at breakfast, the Mimosa edges out the yellow
tiki classic
(but just barely).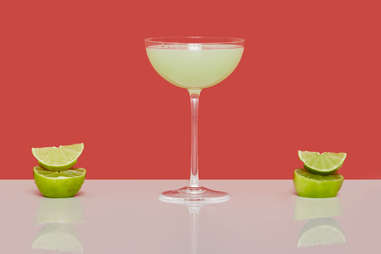 Matthew Kelly/Supercall
You probably thought you were going to see the
Midori Sour
as an easy pick for green, but that's only because you've never tasted the Last Word. Hailing from
Prohibition
-era Detroit, the classic mixes bitter Chartreuse, gin, maraschino liqueur and lime for an easy-to-make drink that's vastly
underrated
. Next time you need a green drink, whip up a Last Word to show off your cocktail history skills.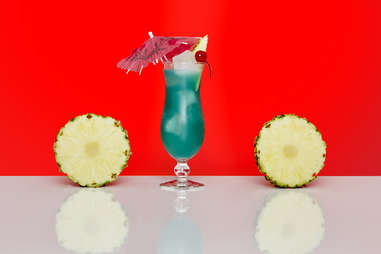 Matthew Kelly/Supercall
Although blue curaçao can be found in full-throttle blue cocktails like the
AMF
,
Blue Martini
, and other
particularly festive drinks
, the Blue Hawaii is our go-to blue drink that won't send you over the edge with too much alcohol and will never go out of style. An honorable mention goes out to the
Gun Metal Blue
, a lesser-known product of the great Nick Bennett that has all the makings of a classic.
Matthew Kelly/Supercall
More of a light lavender but purple-y enough, the Aviation gets its unique look thanks to crème de violette, a violet flower
liqueur
made from either a neutral spirit or brandy base. The Aviation resurfaced when David Wondrich included the cocktail in his book
Imbibe
! and reattached crème de violette to the classic recipe after its omission from
The Savoy Cocktail Book
, which sent the cocktail to "purgatory" for nearly 40 years. Historical lore aside, the Aviation is purple, delicious and one of a kind.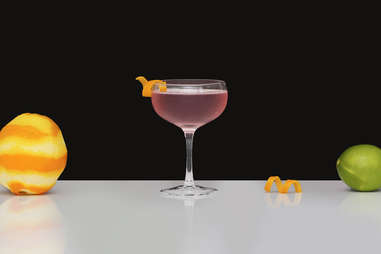 Matthew Kelly/Supercall
If you are looking for a pink cocktail, especially for a
Sex and the City
viewing party, the Cosmo is a no-brainer. Carrie Bradshaw's drink of choice is actually quite refreshing when made with fresh, tart cranberry and lime juices in lieu of sugary mixes. So if you've already written off the drink as too sweet or "too girly," guess again.
Matthew Kelly/Supercall
The bane of bartender biceps everywhere, the Ramos Gin Fizz is a frothy, protein-packed cocktail. It contains an egg white that requires 12 minutes of shaking to fully emulsify, which is why your bartender stares daggers at you every time you order one. If you're looking for a
Labor Day cocktail
or want to fuel a bachelorette party pregame, give your arms a workout by shaking a few of these guys in preparation. No other white cocktail comes close.
Matthew Kelly/Supercall
Black cocktails
are always visually stunning and great for creepy occasions like Halloween, but the darkest classic is the Black Manhattan. Albeit more of a dark brown than a black, the Black Manhattan swaps the sweet vermouth of your classic
Manhattan
recipe for Averna Amaro, which makes it slightly sweeter and tempers the rye's spiciness.