RumChata liqueur, a dairy free horchata flavored cream liqueur, is incredibly useful behind the bar. It can be used in place of cream or egg whites, shaken into a number of cocktails or even sipped straight. And if you were ever in a college bar, you'll know it is also great for shots—many, many, many kinds of shots. Here is literally every RumChata shot on the internet. Now you don't have to spend five hours on Pinterest searching for RumChata shots.
This shot-tail was designed for maximum enjoyment and jiggly fun, with RumChata as the main ingredient and a touch of whipped cream-flavored vodka to boost its creaminess.
Cinnamon Toast Crunch Shot
Yes, this RumChata shot does in fact taste exactly like the cereal. A mixture of equal parts Fireball whisky and RumChata, it is loaded with creamy cinnamon flavor.
Essentially a spoonable Jello Shot, this shot-tail mixes RumChata with Jell-O pudding mix (either vanilla or chocolate is most common) instead of gelatin. Extremely creamy and rich, this is best reserved as a boozy dessert.
Pumpkin Spice RumChata Pudding Shot
A variation on the RumChata Pudding shot, this shot uses Pumpkin Spice Jell-O pudding mix rather than vanilla or chocolate.
Jelly Donut Shot
A mix of equal parts RumChata and Chambord—a French black raspberry-flavored liqueur—this shot tastes exactly like a jelly filled donut (hence the name). While you can mix the two ingredients for a more homogenous flavor, the shot looks best when it is layered and has a distinct split of red and white colors.
RumChata Banana Pudding
Another pudding shot variation, this one is made with banana-flavored Jell-O pudding. Although you can serve the shot without a garnish, we find that it's best topped with a dollop of whipped cream and a dash of nutmeg.
Bananas Foster Shot
If you're a fan of the classic New Orleans dessert, chances are you're going to love this shot. Made with gold rum, banana liqueur and RumChata, it's sweet, tropical and extremely potent.
Black And White Cookie Shot
To replicate the flavor of the black and white cookie in shot form, this shooter mixes RumChata with chocolate flavored vodka (we like 360's Double Chocolate Vodka) and chocolate liqueur.
Salted Caramel Shooter
Made with RumChata liqueur and caramel-flavored vodka, this bold shooter is rounded out with a dash of sea salt.
Pineapple Upside Down Cake
With a bold pink hue, this shot mixes RumChata with whipped cream vodka, pineapple juice and grenadine. We find that the drink tastes best with fresh pineapple juice and a homemade grenadine.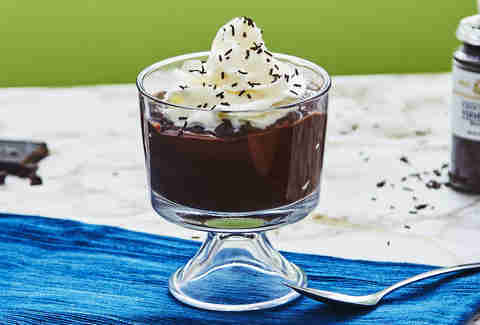 Roman Holiday
Made with equal parts amaretto and RumChata, this shot is sweet and nutty. The drink is best shaken and served ice cold.
RumChata Cheesecake Shot
Yet another RumChata pudding shot, this one calls for cheesecake flavored Jell-O pudding. With a layer of crumbled graham crackers at the base of the shot glass, the shot-tail tastes nearly identical to the dessert that inspired it.
Fruity Pebbles Shot
Made with RumChata, blue curaçao and grenadine, this shot is a vibrant purple hue. If you really want to up the ante, rim the shot glass with crushed Fruity Pebbles.
French Kiss Shot
This shot is made with all equal parts RumChata, Tequila Rose liqueur—a strawberry cream liqueur with a tequila base—and grenadine. Layered and served with a whipped cream garnish, it is for fans of really sweet shots that barely taste like alcohol.
Santa's Panties
It is a bit confusing why this shot-tail, made with grenadine, Kahlúa and RumChata, is named after Santa or his panties. If you can get past the name, this creamy, coffee-flavored shot is definitely worth drinking.
RumChata Mini Stout
Designed to taste like a Guinness, this shot mixes Irish whiskey with RumChata and coffee liqueur. Dark, rich and heavy—just like the beer—this is a shot that's best reserved for colder weather when you need a drink that will warm you on the inside.
Bad Grandma
This shot-tail is similar to the Salted Caramel Shooter with one additional ingredient: butterscotch liqueur. With a taste that's akin to a Werther's Original, it is instantly apparent where this shot gets its name from.
Blueberry Cobbler
No, this drink is not blue, but it does taste like the summertime dessert. Made with blueberry flavored vodka, RumChata, Jack Daniel's Tennessee Honey and Bacardi Oakheart, it tastes like pie crust, fresh berries and melted ice cream.
Jack-O-Chata
Made with RumChata, Jack Daniel's Tennessee Honey and butterscotch schnapps, this shot tastes honeyed and buttery, with a big hit of cinnamon spice.
Banana Cream Pie
This shot-tail mixes equal parts RumChata and banana liqueur. Just like its name implies, it tastes nearly identical to the iconic, whipped pie.
Blueberry Muffin
Made with equal parts RumChata, blueberry schnapps and Frangelico, this shot tastes like a blueberry muffin paired with a glass of whole milk.
Whipped RumChata
To make this shot-tail, top a shot of RumChata with caramel liqueur-infused whipped cream. Not only does the garnish make the shot even more delectable, but it also boosts up the alcohol just enough for you to taste the difference.
Golden Cinnamon Grahams
Made to taste like the cinnamon-dusted breakfast cereal, this shot blends RumChata with Goldschlager in equal measures. It is also sometimes referred to as a Spiceberg Shot.
Irish Slammer
Essentially a Depth Charge, this shot is a mix of RumChata and Irish Whiskey, dropped into a pint of Guinness or stout. Chug it before the cream in the liqueur curdles.
Hot Lips
This shot-tail was designed to make your lips burn. It's made with three parts RumChata, one part vanilla vodka and a splash of Hot Damn! Schnapps, which sets the drink ablaze (though not literally).
Fuzzy Antler
With equal parts Jägermeister and RumChata, this shot will please anyone who likes Fernet-Branca straight.
Doctor J
Made with RumChata, orange vodka and whipped cream vodka, the Doctor J tastes like a cinnamon dusted orange creamsicle.
Pumpkin Bomb
Another take on the Depth Charge, this shot and a beer combo mixes RumChata with pumpkin beer. The result is like a more complex, less sweet, beer-forward version of a pumpkin spice latte.
Honey Chata
Made with equal parts RumChata and Jack Daniel's Tennessee Honey, the Honey Chata tastes like Honey Grahams cereal milk. It is also sometimes referred to as a Honey Badger Shot.
White Lightning Shooter
While you can use unaged whiskey in this shot—which is often called white lightning—just about any whiskey will do. A mix of equal parts RumChata and whiskey, this shooter is as potent as it is delicious.
Balanced Breakfast Shooter
Made with Jack Daniel's Tennessee Honey, blueberry-flavored vodka and RumChata, this shot tastes like blueberry pancakes.
Red Velvet Shot
Designed to taste like the red-hued cake, this shot mixes RumChata with Frangelico and a splash of grenadine. Chase it with a sugar-coated lemon wedge.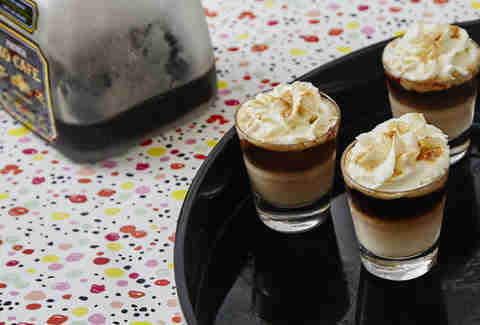 The Spice Abides
Like a spiced take on the White Russian (hence the Big Lebowski reference), this shot is made with RumChata, Kahlúa and vanilla vodka. All the ingredients really tie the shot together.
Coconut Cream Pie Shooter
Almost like a mini Piña Colada, this RumChata shot mixes the creamy spirit with coconut rum and whipped cream vodka.
VanillaChata
With equal parts vanilla vodka and RumChata, the VanillaChata tastes like melted vanilla ice cream.
Cinnamon Roll Shot
If you want your shot-tail to taste like the gooey, vanilla icing-loaded breakfast staple, this is the RumChata shot for you. With spiced rum and RumChata, the drink is big on creaminess, alcohol and cinnamon flavor.
RumChata Marble Cake Shooter
This is another RumChata shot inspired by a classic cake—Marble Cake, which mixes vanilla and chocolate cake mix into a swirled, marble-esque pattern. Made with whipped cream vodka, chocolate liqueur and RumChata, the shot is seriously decadent.
Apple Pie Shot
While there are no apples involved in this shot, nor any apple liqueur used, the drink still manages to taste like apple pie. With equal parts flavored whiskey—either apple or cherry—and RumChata liqueur, this shooter couldn't be easier to concoct or toss back.
Buttered Chata
Also known as the RumChata Butterworth shot, this shooter mixes equal measures of RumChata with butterscotch schnapps or Buttershots schnapps.
Apples and Jacks
Made with equal parts Apple Pucker liqueur and RumChata, this shot tastes like a cinnamon-spiced apple pie with vanilla ice cream. If you don't want the shot to be a milky green color, use apple brandy instead of Apple Pucker.
TiramiShooter
Served shaken and ice cold, this RumChata shot mixes the liqueur with Patron's XO Cafe—a coffee liqueur with a tequila base. Rich, layered and heavily spiced, this shot might be even better than the dessert it's named for. Sometimes it is also referred to as a Café Olé Shot.
Confetti
Yet another cake-inspired shot, this shooter mixes two parts RumChata with one part cake flavored vodka. Garnished with rainbow sprinkles, it's like drinking liquid birthday cake.
RumpleChata
This RumChata shot tastes like something you would drink at a ski resort to warm up after a day on the slopes. Made with equal parts Rumplemintz and RumChata, it is bracingly minty, sweet and creamy all at once.
Loopy Fruits Shooter
This shot gets its psychedelic hue from blue curaçao, which combines with RumChata and raspberry liqueur to make a Froot Loops-flavored delight.
Root Beer Float Shooter
Made to taste like a root beer float, this shot-tail mixes RumChata with root beer-flavored vodka and whipped cream vodka. Like many other RumChata shots on this list, it is incredibly rich and sweet, but ridiculously easy to shoot.