San Pellegrino Aranciata and Limonata have been around forever—an Aranciata used to be my "special treat" drink at my childhood Italian restaurant, 20-plus years ago—but over the last few years, the brand has released more and more flavors. Grapefruit flavored Pompelmo, blood orange flavored Aranciata Rossa; all distinctive, all delicious and all great for mixing into cocktails.
What makes them so good to mix with? There's real fruit juice in them, for one. Sprite doesn't really taste like lemon and lime, it tastes like…Sprite. But a Limonata is convincingly lemon-y. It is a bright, tart sparkling lemonade. Citrus is key to so many cocktails, and having a soda on hand that's not too sweet and not too tart makes for dead-simple drinks that are a lot more sophisticated than a Jack & Coke. (With all due respect to Jack & Coke.) Here are six refreshing summer drinks to make with just two or three ingredients and no juicing required.
Recommended Video
Thrillist's Best (and the Rest): What You Actually Need to Know About Natural Wine
Tart, slightly bitter grapefruit soda and white rum: It just works. The rum slides in all stealth-like so you barely know it's there. We'd call this perfect backyard drinking.
Make it: Stir 1.5 ounces white rum with 4 ounces of Pompelmo over ice. If you're feeling fancy, a little sprig of mint makes for quite a nice garnish.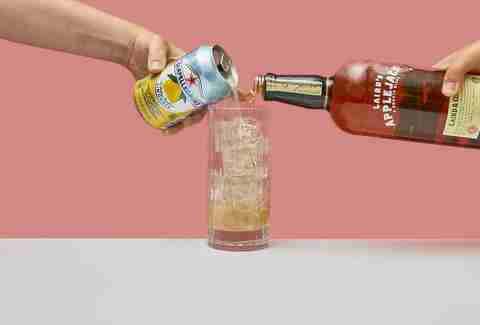 Applejack + Limonata
All-American applejack is great for summer drinking, especially when poured together with the bright, snappy Limonata lemon soda. Like a Tom Collins with zero shaking or juicing.
Make it: Stir 1.5 ounces Laird's Applejack together with 4 ounces of Limonata over ice. Maybe add a lemon wheel or two in there.
Vodka + Aranciata
Or, the lazy man's Screwdriver. No need to make fresh orange juice if you have the orange soda Aranciata. We're using a little extra soda for this one to make it nice and easy-drinking. Or pour together a pitcher—3 ounces of vodka per can of Aranciata—and you have brunch drinks for a crowd, pronto.
Make it: Stir 1.5 ounces vodka and 6 ounces Aranciata over ice. A thin half-moon slice of orange wouldn't be the worst idea.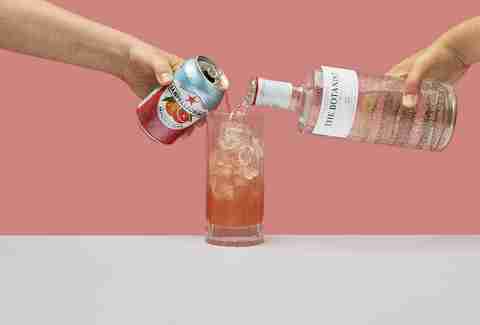 Gin + Aranciata Rossa
No blood oranges this time of year, so why not grab the blood orange-flavored Aranciata Rossa? It's sweet and robust and a great pairing for herbaceous gin. This makes for quite the classy pre-dinner aperitif.    
Make it: Stir 1.5 ounces of gin with 4 ounces of Aranciata Rossa over ice. (If you have the soda nice and cold, you could even serve this without ice in a cocktail coupe.)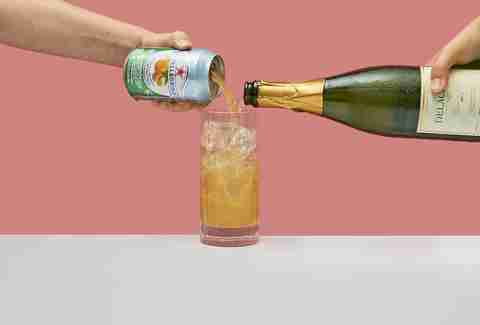 Champagne + Clementina
This is like a better Mimosa, thanks to the distinctive flavor of clementine. We think the best ratio is equal parts of Clementina and sparkling wine, so feel free to eyeball this one. (And no, you don't actually have to use Champagne. Any bubbles will do.)
Make it: Chill the soda and bubbles in advance, and pour equal parts into a flute (3 ounces of each is a nice, brunch-y portion, and you'll get four drinks from one can).
Red Wine + Melograno e Arancia + Dark Rum (10-Second Sangria)
Sangria is such a classic party drink, so let's make it as simple as possible. The orange-and-pomegranate soda is fresh and juicy, and takes well to red wine and a little booze. We're using dark rum but light rum, brandy and vodka would all work fine, too. Honestly, pretty much any combination of wine, booze and citrus sodas counts as a Sangria in our book. Go wild.
Make it: Stir 2 ounces of red wine, 4 ounces of Melograno e Arancia, and half an ounce of dark rum over ice. Throw some berries in there if you want.