When to Shake, When to Stir, and When to Do Everything In Between
There are a lot of ways to mix ingredients with spoons, shakers and blenders, but it's not always clear which method is best for which drink. Instead of wasting your precious booze by shaking a Martini or stirring a Whiskey Sour—yes, those are both wrong—follow this guide on how to properly mix your cocktail.
Shake Citrus, Eggs or Cream
If your recipe calls for citrus, eggs or cream, it's time for your daily arm workout because you've got to shake those ingredients. Shaking creates the proper light texture with all three because it infuses air into the mixture as the ice dilutes it. It also helps incorporate these liquids that don't mix easily with alcohol. As any kid who has shaken a bottle of soda knows, you don't shake anything carbonated unless you want a bubbly explosion on your hands—literally.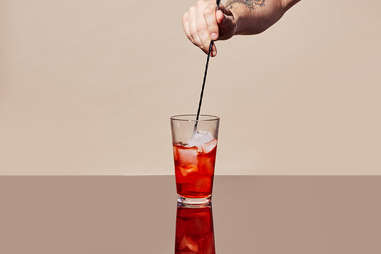 Spirits are (relatively) similar in density, so there's no need to vigorously shake them to incorporate them into a homogenous mix. In fact, shaking would disturb the spirits' natural texture or "bruise" it. It also dilutes the cocktail less than shaking, which is important when all you want is a stiff Manhattan or Martini.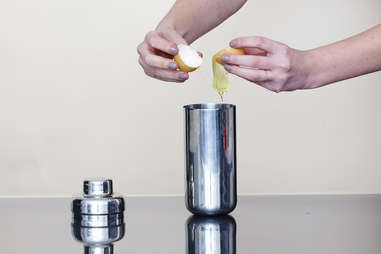 Ice slows down aeration. While this isn't a problem when shaking a basic citrusy Sour, it is when it comes to incorporating egg whites into a drink, which take so long to aerate that your drink would be over-diluted by the time you finished a standard shake. If you're making a cocktail that requires fluffy egg whites, like a frothy Flip, you need to shake the egg white with the rest of the ingredients without ice, followed by a repeat shake with ice added.
Hard Shake When You Need More Aeration but Less Dilution
Aeration and dilution are usually pretty tight bedfellows. But if you want an extra fluffy texture on your Sour without watering it down, you can attempt—and here we stress "attempt" because the technique is notoriously difficult—to hard shake the drink.
Roll When You Need Heavy Mixing and Little Aeration
Pretty much the opposite of hard shaking, rolling allows you to really mix ingredients without adding too much air. A Bloody Mary, for instance, would get gross and frothy if shaken and wouldn't mix well enough if stirred, but a properly rolled Bloody is a thing of beauty.
Throw When You'd Like a Slightly Aerated, Spirit-Forward Drink
OK, we know it seems like we're splitting hairs here, but throwing a cocktail is a technique that fits somewhere between rolling and shaking. It aerates a cocktail more than rolling but less than shaking. It still works for drinks that are normally stirred like a Negroni, but makes the drink slightly lighter in texture without bashing the ingredients to bits by shaking. Honestly, the only way to truly understand the difference is to roll, throw, stir and shake the same drink.
Rinse When Using Extremely Potent Ingredients
Sometimes all a cocktail requires is a whisper of an especially potent ingredient like peaty scotch or intensely flavorful absinthe. Rinsing a glass with that ingredient—adding a small amount to the glass, rolling the glass around to coat it, then discarding the liquid—infuses the cocktail with the hint of that spirit without overwhelming the mix.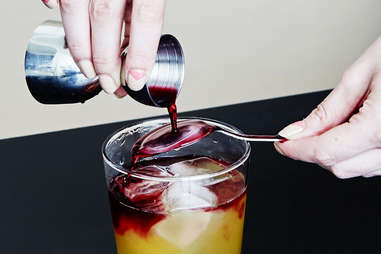 Float When You Want a Show-Stopping Cocktail
Like rinsing, floating adds just a smidge of an ingredient to a drink to completely transform the overall taste, but it also creates a lovely layering effect with ingredients of different colors. It's also helpful in lighting a drink on fire because you can float an overproof spirit on top of an otherwise flame retardant drink.
Blend When You Want a Slushy Texture
Throwing all your cocktail ingredients into a blender seems like an easy mixing hack until you realize how hard it is to achieve the perfect texture. While no arm strength is required to blend a drink, you do have to know what you're doing. Use crushed ice and a quick blitz in the machine to achieve the perfect slushy texture without turning the entire concoction to pure, watery liquid. Also, blenders are required for boozy milkshakes (unless you've got a fancy pants milkshake maker, that is).