5 Sweet Vermouth Substitutes for a Manhattan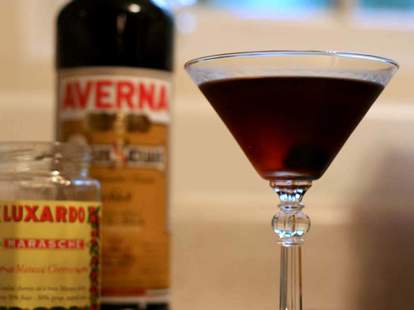 Drinking a lot of Manhattans can get boring after awhile. But if it's your go-to drink and you don't want to cheat with another cocktail, the easiest way to breathe new life into the classic is to swap out the measure of vermouth for something more exciting. From bitter amaros to dessert-ish drams like port wine, substituting the vermouth in your Manhattan can inject mystery and bold new flavors into the staple. Here, the five best sweet vermouth substitutes for a brand new Manhattan.
Named for its creator, Salvatore Averna, this Sicilian amaro is the most commonly used spirit in a Black Manhattan—a variation on the classic that substitutes amaro for vermouth. While other amaros can be used (see below), the original Black Manhattan cocktail—created by Todd Smith at Bourbon & Branch in San Francisco—specifically calls for this robustly bitter Italian liqueur.  With notes of sage, juniper, rosemary, anise and bitter orange, Averna adds a dark, intense depth to a Manhattan. The liqueur's soft silkiness on the palate creates the type of cocktail that should be sipped slow and enjoyed before a meal to awaken the appetite.
If you're a fan of bitterness, this is the vermouth substitute for you. Infused with 13 different herbs, barks and botanicals, including artichoke leaves (the spirit's name is derived from the botanical name for the spiny plant, cynar scolymus), Cynar has a distinctive vegetal flavor and earthy bitter bite. When using this amaro in place of vermouth, we suggest adding a dash of orange bitters—for a touch of floral fruitiness to lighten it up a bit—and a bright, honeyed, sweet bourbon like Makers Mark. The brand also makes a 70-proof version of their classic recipe for those who want an extra bitter and boozy Manhattan.
Created in 1870, Punt e Mes strikes the perfect balance between the bitterness of an amaro and the sweetness of an Italian vermouth. Essentially an aromatized wine, Punt e Mes is made with a dry white base that is infused with more than 10 different spices and herbs, including orange peel and quinine. In a Manhattan, the spirit adds depth, bitterness (no Angostura needed) and flavors of purple plums, both sour and black cherries, cinnamon, tobacco and blood orange.
Port
For a luxurious Manhattan that could double as dessert, we like to swap out the measure of vermouth for port. Depending on how sweet, velvety and viscous you want your cocktail to be will determine the port that you use. For a lighter Manhattan that is closer to the original cocktail, with a bright acidity and vivacious fruitiness, we recommend using a younger ruby port. A tawny port aged 10 to 20 years will create a decadent dessert-tail that is the Manhattan equivalent of a velvet smoking jacket-beclothed evening spent in front of a roaring fire with a Cuban cigar. Vintage ports will add flavors of prunes, tobacco, leather, earth and wood to a Manhattan. For the perfect ratio, we suggest concocting a Suburban, a classic riff on the Manhattan from The Old Waldorf-Astoria Bar Book that mixes rum, rye whiskey and port.
Lustau East India Solera is a rare breed of sherry. A blend of 80-percent Oloroso and 20-percent Pedro Ximénez sherries, Lustau's East India Solera is aged for an additional three years (after blending) in warmer, humid climates to create a richer, sweeter sherry—and to replicate the effects that sherries experienced on their transatlantic journeys in the 17th century. With similar characteristics to a tawny port, this sherry creates a Manhattan that teters on the line between sweet and savory. The sherry adds flavors of raisins, dark chocolate, tobacco, walnuts, toffee and plum preserves.