6 Tailgating Hacks for Your Cocktail-Fueled Tailgate
Football season's back, y'all, and you know what that means: It's tailgating time. This year, skip the beer funnels and Gatorade coolers full of jungle juice. Instead, class up your game day celebration by throwing a cocktail-gate.
Don't be intimidated. Throwing a cocktail-fueled tailgate is just as easy as any other tailgate—you just need a few cool tricks and tools. Here, some of our favorite hacks for throwing the world's classiest cocktailgate.
First thing's first: You need a portable bar. Have you ever noticed how a bookshelf resembles a bar? To make your own DIY truck bed bar or hatchback bar, take a two-tier used bookshelf (or make one yourself) and mount it in the back of your vehicle. When you reach your destination, stack it high with glassware and bottles. You're a mobile mixologist.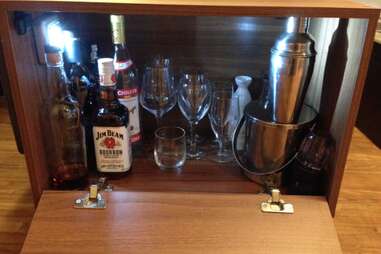 Not a truck or hatchback owner? No problem. Create a stylish mini bar out of a cheap, Ikea wall cabinet like these guys did. Fix it up by adding a knob, some furniture legs (optional) and a magnetic latch, and you'll have a cool mini bar that fits into the smallest smart car.
Your cocktailgate bar would be incomplete without garnishes, making this cheap condiment server an essential bit of gear. Fill the bottom with a little bit of ice, and keep your limes, oranges, lemons, cherries and olives fresh in separate compartments. Or hack a chilled serving tray together at home. Fill a large tupperware dish with ice and nestle an ice cube tray into it (preferably one with large molds like a King Cube ice tray). Fill the ice cube molds with your garnishes and get to hosting.
Home vs. Away Double-Decker Punch
Only thing better than a big bowl of punch? Two big bowls of punch stacked on top of each other. Not only is it crazy impressive, but it's also a great space-saver. For the price of two plastic bowls and a seafood tray rack ($23 in total), you can create an easy double-decker punch set-up. Customize the top punch for the home team and the bottom punch for the away team and have a showdown before the game even starts.
Complete your parking lot cocktail bar aesthetic with these ultra cheap bar caddies. Fill them with napkins, straws and football-topped skewers. We had to include these—they're incredibly useful when it comes to organization, and they're two bucks, for crying out loud.
All it takes is a few pieces of tape to transform any dark-colored drink into a portable football. The night before the game, stick some tape onto clear plastic cups to look like the stitching on a football. Then, on game day, fill the cups with Cuba Libres.