Pre-Made Cocktail Mixers That Are as Good as the Real Thing
Your favorite spirit is about to meet its match.
Pre-made mixers used to flood liquor store shelves, and the sticky-sweet, neon-hued bottles were go-tos for impatient party hosts and bars looking to push cheap cocktails on young, neophyte drinkers. Eventually, though, people grew weary of them, and the craft cocktail movement inspired pros and home bartenders alike to revisit using fresh fruits and preparing homemade syrups.
We're all for people getting crafty with their cocktails and love to watch bartenders mix up total magic at cocktails bars across the country, but we also enjoy the occasional happy hour shortcut. Luckily, there are now actually good mixers on the market made with real fruits, spices, and herbs. They don't come laden with sugar or hued bright green. And we couldn't be happier about that, espeically now that we're spending more time at home mixing up our own socially-distanced drinks. So here are some of the best pre-made cocktail mixers out there helping you make quality cocktails at home.
If you want top-notch cocktails at home and actually enjoy doing a little bit of the work, look no further than Cheeky Cocktails' online store. This line of syrups, juices, and drink kits has everything you need to make a perfect penicillin cocktail or daquiri at home without having to craft your own ingredients from scratch. They also give you the freedom to mix and match flavors, so you can buy the basics like simple syrup, lime juice, or ginger syrup and go to town experimenting with whatever else you have on hand using their online recipes as a guide.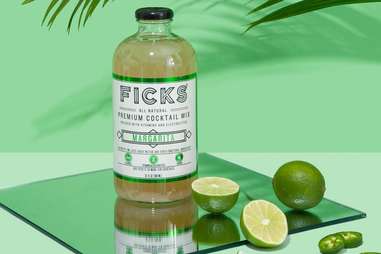 You may know Ficks from its hard seltzer, but don't overlook this company's mixers. With four flavors covering classics like palomas, margaritas, bloody marys, and moscow mules, you'll find a flavorful cocktail to complement your go-to spirit, no matter what it is. The best thing about Ficks is that these actually taste like what you'd get at your favorite bar. The bloody mary uses real roma tomatoes and the moscow mule features warm fresh-pressed ginger, so you can trust these mixers are as close to the real thing as you can get.
Frozen cocktails are typically reserved for sitting in a tiki spot or bellying up to a swim-up bar, but Kelvin Slush Co. is changing that. These slushy cocktails are easily available for purchase on Amazon and can be whipped up in a matter of seconds using your blender, some ice, and, of course, a little booze. The flavors come in classics you'd expect like piña colada and three types of frosé, but you can also turn cocktail bar classics like a negroni or french 75 into an icy summer drink using the mixers and online recipes.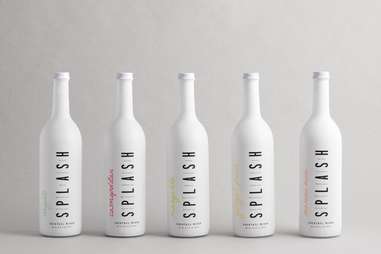 When I think about low-calorie cocktail mixers, watered down flavor and lingering artificial tastes come to mind. But Splash Cocktail Mixers has changed my perception. This collection of better-for-you mixers uses natural sugar and juices in its mixers, so your left with mojitos, cosmopolitans, and moscow mules that are a little lighter and more refreshing than normal, but still pack on the flavor. You can buy your favorite cocktail mixer individually, or opt for full-size and mini gift sets that let you sample the entire lineup.
This line of mixers is entirely tea-based. Made in Vermont, these cocktail-friendly teas come in flavors like wicked margarita (green tea, lime, and habenero), citrus sweet tea (English breakfast tea, lemon, and lime), and chai pina colada (chai tea, coconut, and pineapple). All of the mixers are designed to be shaken or stirred with two parts brew and one part booze or seltzer. These are perfect for tea drinkers, but the tea flavor is subtle so everyone will find a flavor to love.
This Brooklyn-based company is all about the fizz. Many of the mixers are designed for spritzes made with one part spirit, one part mixer, and two parts soda water, but the bottled elixirs can make all sorts of cocktails from light summer refreshers to stirred and boozy sippers. With five flavors plus mixers, rimming salt, and syrups, you can start your day with a tomato beet bloody mary, enjoy dinner with a pineapple lime margarita, and have a few other unique sips in between.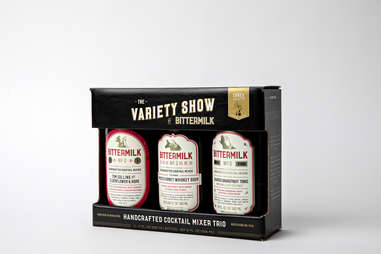 Created by husband and wife team Joe and MariElena Raya, Bittermilk is based on balance. Every one of their bottled mixers is made with a bittering agent, sweetener, and an acid, so that every cocktail is harmonious. Each bottle comes with a ratio on the back, dictating how much spirit to use with how much mixer, whether that be the smoked honey whiskey sour, Oaxacan old fashioned, a seasonal gingerbread old fashioned, or any of the other creative flavors.
If you love sipping on old fashioneds but are too lazy to make simple syrup or stir a sugar cube until it dissolves, then you need this line of pre-made syrups. Available in maple bacon, traditional, and pecan, these syrups are made with a base of aromatic bitters and oleo saccharum and they make old fashioneds a breeze. The traditional includes fruity notes of cherry (though no cherries actually go into the making of the syrup), reminiscent of the classic old fashioned garnish, and adds delightful complexity to what is often a one-dimensional drink.
What started out as a small operation funded by an ulta-successful Kickstarter has seriously expanded. Cocktail Crate is now available at Whole Foods Market, Cost Plus World Market, Sur La Table, and Williams Sonoma stores across the country, and you can order these mixers online. The line currently includes twists on classics like the cozy Maple Whiskey Sour, lightly spicy Ginger Bee and zesty, tangy Sriracha Margarita.
This grocery store favorite is made with real juice and sugar, so you can feel good about making classic cocktails at home with ease. The standard margarita mix is twinged with orange, while the peach bellini is mellow and floral. The true standouts, though, are the bloody mary mixes. The classic mix is hearty and savory with a noticeable kick of spice on the finish, and the sriracha bloody mary packs a serious punch with a fiery zest that lasts and lasts. You can try to make your own mix at home, but with pre-made bottlings like these available at the grocery store, why bother?
Sign up here for our daily Thrillist email and subscribe here for our YouTube channel to get your fix of the best in food/drink/fun.
Liz Provencher is an editorial assistant at Thrillist. You can talk to her at lprovencher@thrillist.com or see what she drinks on Instagram.
Justine Sterling is a California expat living in New York City. She is a writer/editor by trade as well as a professional drinker, amateur bartender and apprentice cheese enthusiast.