The Ultimate Guide to Backpacking With Booze
Few things beat the experience of climbing a mountain, taking in the breathtaking view at the summit, then treating yourself to a refreshing drink at the bottom. While you could choose treks based on which trails end at pubs (I have), longer hikes and overnight expeditions require a little more planning. You'll need drinks that are lightweight, durable, efficient and, of course, tasty.
Before we get to the good stuff, there are a few safety measures to keep in mind.
Remember, confiscated booze is wasted booze, so make sure what you're doing is legal. Not all outdoor public spaces condone drinking, and rules vary from park to park. Double check online or with a ranger beforehand.
Never mix water from wild sources with your alcohol—bacteria is likely lurking even if the water appears clean and running. Carry your own water or use proper sterilization methods.
Always wash fruity, sugary residue out of your bottles before hitting the hay, unless you have room in your tent for a bear or two.
Earn it. Drinking alcohol causes dehydration, impairs judgement and coordination, and makes acclimatizing to altitude harder. So don't drink while you hike. Save it for the campfire that night.
Leave no trace! Carry in, carry out. The earth thanks you.
OK, now that those bummers are out of the way, where were we?
Bring concentrated beer and carbonate on the go
Every ounce counts when you're backpacking, so bulky, low ABV beer is the enemy. If you must crack a cold one, try Pat's Backcountry Beverages, tiny beer concentrates that weigh around 2 ounces each. The special carbonator bottle can be used as a water bottle during the day, then, when it's time to take a load off, you can whip up a growler-full of pale or dark ale in short order. If the idea of beer concentrate turns you off, pack your favorite beer in a vacuum-insulated Hydro Flask Growler to keep the brew cold and fizzy.
Leave glass bottles of wine at home
Save that freshly uncorked Bordeaux for a posh picnic. Out in the backcountry, it's best if you embrace classless wine served in boxes, bags and plastic jugs like a real American. Simply get a box of Franzia (or any of the other burgeoning boxed wine, like Wineberry), take the bladder out and store it in your pack. Once you've slapped all the wine out of the bag, re-inflate it and use it as a pillow. The Platypus PlatyPreserve will also hold your favorite wine in a bag, if you can't stomach whatever "Sunset Blush" tastes like.
If you want to fill your Camelbak with actual water (you should), use the water bottle pocket outside your pack instead. Bandit Wines come in narrow, earth-friendly boxes, and Naked Winery's Outdoor Vino uses recyclable plastic bottles that resemble the real deal. If you're only going for a day hike, Stack Wine separates a bottle of California wine into four individually sealed, stackable, shatterproof glasses. Just snap off as many glasses as you want, or grab from different bottles if you and your partner can't decide between red or white.
Choose a pack-friendly container for straight spirits
Pack space is always tight, but a number of plastic pouches are available, such as the GSI Flexible Highland Flask or the Hydrapak SoftFlask, which will flexibly fit into spare crevices. Calhoun Bros. Adventure Spirits sells whiskey in resealable plastic pouches, and Pocket Shot sells a whole range of bagged spirits geared towards outdoor folk. You can also make further use of that water bottle pouch by packing KRÜ 82 vodka, which comes in a thin stainless steel bottle that will keep the spirit cool. Whatever you choose, avoid heavy, breakable glass.
Create a mini-bar kit to mix drinks at camp, or pack a pre-made cocktail
Travel toiletry kits make excellent bottles for single-serving spirits. Similarly, tea (with sugar as desired) and powdered flavorings from Kool-Aid to Crystal Light make for acceptable, if lowbrow, cocktail mixers in a pinch. Add some complexity by packing one of the teeny tiny bitters bottles sold by The Bitter Truth. There are even a few flaskable cocktails that you can make ahead of time that will taste good warm and won't spoil.
If you prefer to do as little mixing as possible, Malibu Rum sells a giant Capri-Sun style punch pouch, which can link to a carabiner outside your bag. If you have more time to DIY, freeze pre-made Margarita mix (sans-tequila) in a giant zip bag ahead of time. Keep it on ice on the way to the trailhead, then attach it to the top of your pack. It'll keep your neck cool hiking, and by the time you get to camp, it'll have melted into slushy Margaritas—just add a mini plastic bottle of tequila.
Chill your booze in running water in place of ice
Place whatever drink you've chosen to imbibe into a dry bag and seal it tightly. Tie a piece of string securely to the dry bag, and tie the other end to a tree/rock/trekking pole near running water. Submerge the bag in water and allow it to chill. If you're winter camping, of course, you can stick it in the snow.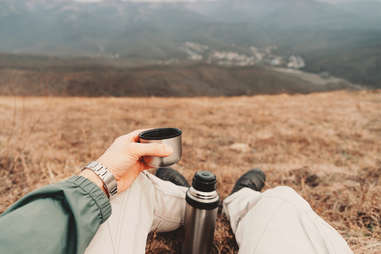 Just drink whiskey straight for god's sake
Pour whiskey into an ol' fashioned flask. Drink. End hack.