The Craziest Edible Shot Glasses
There are times that call for drinking a cocktail or slowly sipping a spirit neat. (We call those times most of the time.) There are other times that call for throwing back a shot, yelling "whoo!" and getting straight to partying. And then there are those very special times, when a standard shot, taken from a pedestrian shot glass, just isn't enough. For those times, we recommend making your own, edible shot glasses out of crazy ingredients like cookie dough, candy and ice cream cones. Here, a few great ideas to inspire your next round of absolutely insane shots.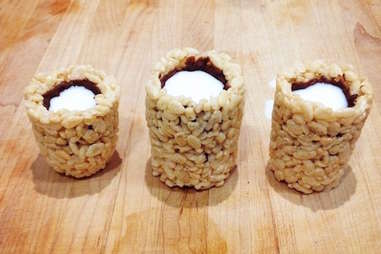 Cereal
While Rice Krispies work best, you can mix almost any cereal with gooey melted marshmallow and use that batter to form a shot glass. Lined with chocolate, these cereal treat glasses would be especially delicious with a sweet, cereal milk-esque liqueur like Rumchata or our Tootsie Roll Rum.
Ice Cream Cones
Reinforced with a chocolate-lining, sawed-off wafer ice cream cones make for excellent edible shot glasses. For a really festive feel, roll the rim of the cones in more chocolate and then rainbow sprinkles.
Cookie Dough
Cookies and milk are a classic pairing. But chocolate chip cookie shot glasses and milky cocktails like the White Russian are even better. If you own a shot glass pan (or are willing to drop $15 on one) and are capable of whipping up a quick cookie dough, then you're just a couple of hours away from a deliciously boozy all-in-one dessert.
Toasted Marshmallows
You may get a little sticky, but that's all part of the fun of making these toasted marshmallow shot glasses. Toast the marshmallows until golden brown over a fire or in a toaster oven, and then let them deflate, which will create a cavity perfect for a shot of BaileysIrish Cream. The combination tastes just like a s'more.
Bacon
If you love bacon and booze as much as we do, take your relationship to the next level with these bacon shot glasses. Simply create molds by wrapping sections of a paper towel tube in tin foil, wrap the bacon around the mold and bake. After removing the mold, pour some melted chocolate into the bottom of the mini bacon vessel—it will taste delicious and help the bacon maintain its structure once whiskey is added to it.
Melted Chocolate
If you're a chocolate fiend, melt some down to make these simple shot glasses. All you need to do is pour the chocolate into a shot glass mold ($8) and chill until it sets. Mix things up with white chocolate, caramel or, really, any other type of chocolate. Tequila and spicy Mexican chile-chocolate, anyone?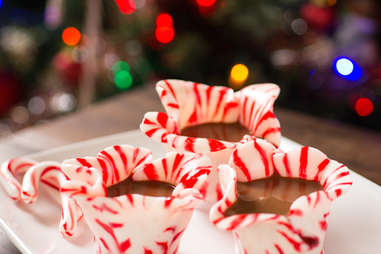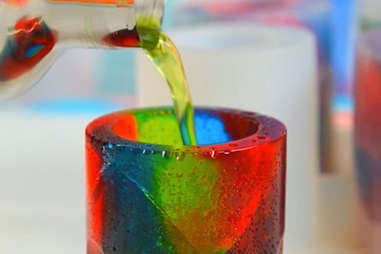 Hard Candy
Melting Jolly Ranchers into a shot glass mold creates a gorgeous stained glass effect. The glasses almost look like art—delicious, sugary art. You can achieve a similar rainbow appearance by melting any hard fruit candies.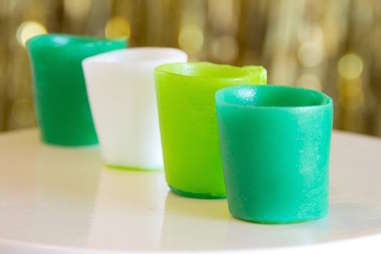 Chewy Candy
Soft, chewable candy also lends itself to the creation of some awesome shot glasses. Stacked Starbursts, melted into a shot glass mold, create a sunny, checkered vessel, while Airheads make for a smooth and shiny finish.
Hollowed Fruit
It doesn't get easier than scooping out the innards of a piece of fruit and pouring in some booze. Try making tasty fruit cups from strawberries, apricots or watermelon, or go savory by hollowing out cherry tomatoes or cucumbers—perfect for mini Bloodies.
Ice
Keep your shot nice and chilly by making the glass out of ice. Classic ice made from plain old water will get the job done, but you can also spice things up by adding bits of frozen fruit, fresh herbs or edible flowers to the mold.