Win at Winter
Sponsored by

The Human Hibernation Guide
Sponsored by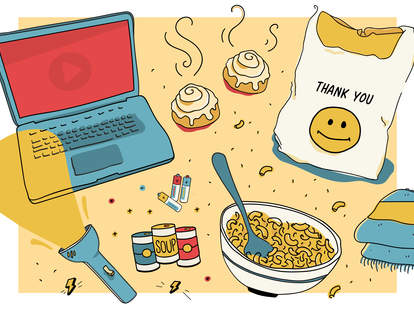 The dead of winter is full of challenges (to put it mildly), but one of its best perks is that it's the only time of year you can bunker in and drop off the grid, for weeks at a time, without arousing concern, or getting handed the title Misanthrope of the Year. Yes, in wintertime it is totally socially acceptable to go into social hibernation.
But that kind of freedom can be daunting: you can actually get overwhelmed by the options, paralyzed by cluelessness as to where to start first. We get it. You want to cocoon, but you don't want to just idle solo on the couch. With that in mind, here's a handy guide to help get you started on making the most of the season's lulls—whether you're bracing for bombogenesis or just clocking some long overdue "me" time.
What's that you say? You haven't seen The Wire yet? (Seriously?) Fallen behind on The Crown? Totally missed Unbreakable Kimmy Schmidt? We could go on, as we have clearly entered the age of Too Much Good Stuff to Watch, and no one could possibly catch up to it all. But now's the best time to have fun trying. Get a TV tracker app to help you sort through the multitude of options, and tee up some serious viewing to plow through.
We're partial to microplush fleece, but find the one that works for you. If you already own the World's Greatest Winter Blanket, now's the time for it to shine. This will be the centerpiece of your Human Hibernation spell.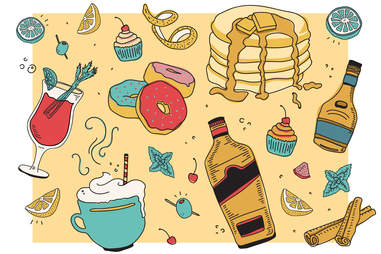 Emily Carpenter
Make a shopping list, and pack it with winter comfort food items
If you can't arrange for your Nonna to come cook for you for the weekend, do the next best thing and load up on the ingredients for your favorite comfort foods. That blizzard raging outside your window will seem much less intimidating.
Some ideas to get the ball rolling:
Mac and cheese
Stews and soups
Hot chocolate fixings
Chili
Grilled cheese and tomato soup
Slow-cooked braised short ribs
Shepherd's pie
Casseroles
Biscuits
Premade cinnamon rolls
Eggs
Cream
To be on the safe side, add plenty of water, some canned goods and other food that doesn't require cooking. Also—pick up toiletries and batteries for your flashlights (plural). Winter weather can get real, people.
Turn your kitchen into a winter cocktail lab
Step up your mixology game with some home bar experimentation. First, decide what spirits you want to focus on, stock up, and then launch your project or projects.
Some ideas:
Stock up on the appropriate seasonal ingredients/garnishes: cinnamon, nutmeg, ginger, brown sugar, cloves, citrus (oranges, lemons, limes), honey, chocolate, marshmallows, cocoa, tea, sweet and dry vermouth.
Break out the crock pot for big batches of your favorite winter drinks, like hot buttered rum, mulled wine, spiked hot cocoa, and hot toddies.
Create your own liqueurs, syrups, or infused spirits.
Start a cocktail journal for learning classics and making variations on them, as well as supplementary recipes.
Blend mixology and baking with some Irish Cream-infused pancakes, bourbon chocolate cupcakes, or whiskey donuts.
Other winter drinks to consider: Bloody Marys (they're good year round!), spiked hot chocolate, and peppermint cocktails.
Advertisement
Stocking up, staying home, and settling down in front of a crackling fire and your favorite show is definitely the most sensible response to winter's cruel onslaught. Your checklist of supplies would hardly be complete without Crown Royal Fine De Luxe Blended Canadian Whisky, perfect for winter's most classic cocktail, the Hot Toddy. Click here for a terrific, deluxe Hot Toddy variation featuring Crown Royal.
Exploit the full gamut of 21st century technology to not ever leave the house
You can achieve all of the above without ever leaving your house—or the couch, for that matter (except to answer the door)—through the magic of delivery apps. And if you're not the cooking type, you're also completely covered.
Optimize your winter staycation with tailor-made activities
The greatest thing about Human Hibernation is that there are no hard-and-fast rules. You can customize your cocooning. If things get too slow, if there's a lull in the lull, so to speak, you can step things up to your liking. And of course you can also take it down a notch—several notches—as needed. Pick and choose from the following to customize your staycation.
Sleep! And sleep well. We all need to catch up. This is the perfect opportunity.
Books, books, and more books. Ditto above.
Make sure your Wi-Fi is in good working order.
Or disconnect it entirely, and go off the grid for 48 to 72 hours.
Play an old-school board game like Monopoly or Risk, or dip into the burgeoning market of new-school board games.
Stage a themed mini-movie festival. Some ideas:

Best of Julia Roberts
Slapstick, Old and New (Charlie Chaplin, Laurel & Hardy, Home Alone, Something About Mary)
Screen Royalty (The King's Speech, The Queen, Queen Victoria)

Try cracking the hardest puzzle on the internet or do an old-school puzzle with friends and family at home. You'll be surprised at how committed to finish it people will get as the weekend goes on.
Emily Carpenter
Miscellaneous hibernation tools to have on hand
As always, it's better to have and not need, than to need and not have.
Copious amounts of your favorite snacks
Sweaters and sweatpants
Space heaters, as needed
Extra stores of firewood, as needed
Slippers—warm and comfy ones
Aromatherapy diffusers (to go next-level on the relaxation scale)
Friends and family (adjust to taste!)