This Rum & Coke Is Made With Champagne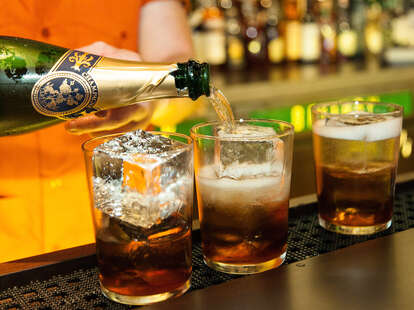 Sean Muldoon and Jack McGarry, the owners of New York's celebrated Dead Rabbit Grocery and Grog (aka the World's Best Bar according to Tales of the Cocktail) have created cocktail magic once again with their new bar BlackTail. While Dead Rabbit channels 1800s New York, BlackTail taps into Prohibition-Era Cuba. The name references the small seaplanes - whose tails were painted black - that ferried thirsty Manhattanites in search of rum and cocktails from New York to Havana during that time.
The cocktail menu is a substantial list of 50 Cuban-inspired cocktails divided into five categories: highball, punch, sour, old-fashioned and house cocktails. On a recent visit, we were particularly impressed by the diverse array of expertly crafted Daiquiris, which range from frozen to strawberry to banana. But our favorite drink was, unexpectedly, BlackTail's take on a Rum & Coke.
The Rum & Coke is a difficult drink to reinvent. There's just not that much wiggle room given the limited, essential ingredients (rum and Coca-Cola). But BlackTail head bartender Jesse Vida found a way. First, he dilutes Coca-Cola syrup (typically used in a bar's soda gun) with simple syrup and then adds Champagne for effervescence. "It just made sense to pair Champagne with cola," Vida says. "Champagne is dry and very bright, with hints of fruit and brioche—all things that pair well with the flavor of cola." Then, he mixes that high-low sparkling concoction with Dead Rabbit's Orinoco bitters, Fernet Branca and Facunda Neo white rum. The resulting cocktail satisfies both Rum & Coke diehards and cocktail geeks.
For those who can't drop into BlackTail to try this revolutionary take on the tried and true drink, we were lucky enough to score the recipe.
BlackTail's Rum & Coke
1 oz Bacardi Facundo Neo
.75 oz Cola Syrup (see below)
.5 teaspoon Fernet Branca
1 dash Orinoco Bitters
4 oz Champagne, chilled
Lemon twist, for garnish
Method:
Add all ingredients except for the garnish and Champagne to a highball or double old-fashioned glass and add cubed ice.
Top with Champagne and stir with a bar spoon to incorporate.
Garnish with a lemon twist.
Cola Syrup:
Add equal parts premade Cola syrup and simple syrup to a mason jar or sealable container. Shake to mix.
NOTE: For a refreshing and simple brunch cocktail, try a simple mix of Cola Syrup and Champagne. Pour one ounce of Cola Syrup into a Champagne flute and top with chilled Champagne. Stir to mix and garnish with a lemon twist.