How to Trick Out Your Tiki Bar
A tiki cocktail is delicious no matter where you are, from a gritty bar to a studio apartment to your parents' basement. But if you want the full tiki experience, the right décor goes a long way. Grab a few coconuts, tropical flowers, Polynesian masks and tiki torches—maybe skip actually lighting them if you are stuck in your parents' basement—and transport yourself and your friends to a tropical paradise, where tiki mugs and Scorpion Bowls filled with colorful concoctions look right at home. Trader Vic who? Your home tiki bar is all about Trader You.
Tiki Torches
Any good decorator will tell you that lighting is the most effective way to set the mood. If you're tiki-ing up your backyard, spear your lawn with a few torch stakes, pop in some torches and light the fuses. In the glow of the flickering flames, your yard will look just like Tahiti.
Frozen Banana Leaves
Here's an insider tiki hack: Swap your tablecloth out for frozen banana leaves. They're way cheaper and way tiki-er than any kitch cover you'll ever find, plus the leaves are available by the pack at your local Asian grocery store or by the caseload online, so you'll always be prepared for an impromptu luau.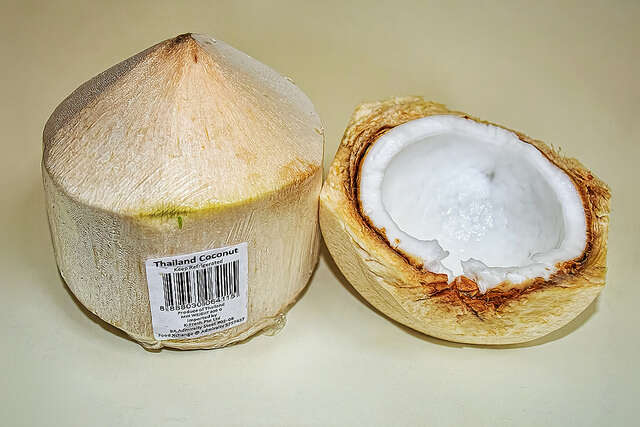 Coconuts and Tropical Fruit
If you want your guests to feel like they just stepped off the beach, strew whole coconuts, empty coconut shells and/or tropical fruit around. Use them as bookends for your back bar and pile them in the middle of a table as a tropical centerpiece. Aside from looking tiki-tastic, fruits like pineapples, mangoes, kiwis and papayas all make great snacks in case you get the drunchies after one too many Zombies.
Tropical Flowers
Vibrantly colored exotic flowers will add a necessary punch of color to your set up. While fresh flowers would look (and smell) best, fake flowers are an acceptable shortcut. Faux birds of paradise are especially striking, and you can add a floral rainbow to your tiki bar with various types of orchids.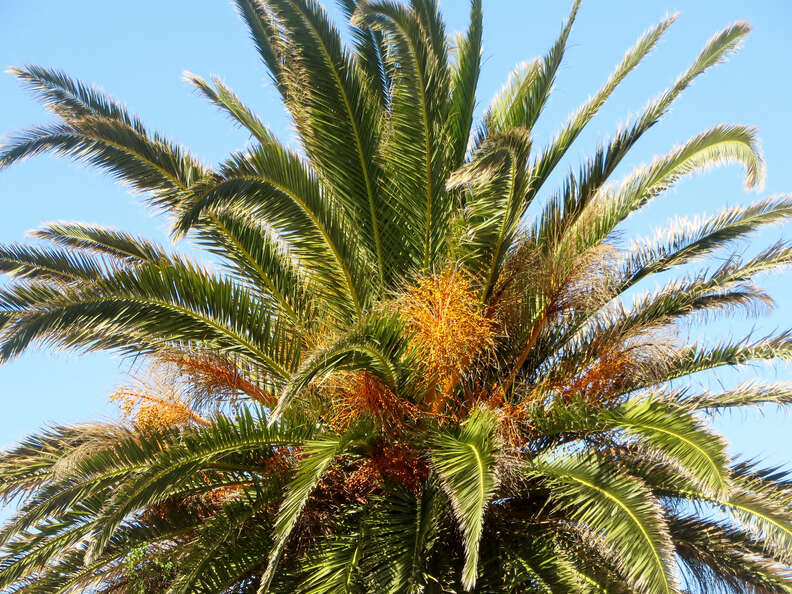 Mini Palm Trees
Whereas fake flowers make life a bit easier, real mini palm trees are an easy lift. Get a few, clump them together in the corner of a room or backyard and start your own tropical forest. Find them at your local garden center or online.
Tiki Totems
Individual tiki statues are good. Tiki totem poles are even better. Get the most bang for your square footage with a totem featuring multiple Polynesian gods. This one features Kuka, tiki god of prosperity, and Lono, tiki of love. If their magical powers don't work, just try a few Fog Cutters. They always make us a lot more loving.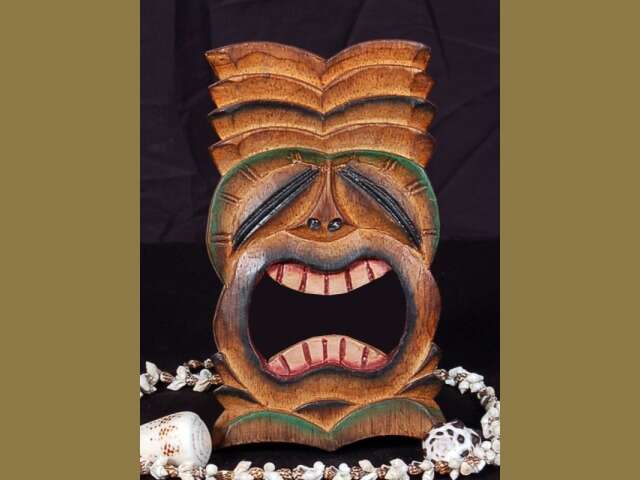 Wall Masks
The masks adorning your home tiki bar's walls probably won't be as magical as the singing ones in Disneyland's Enchanted Tiki Room, but they'll still help protect you from evil spirits—necessary after one too many Painkillers.
Bar Sign
When guests walk into your flower-draped, totem-bedecked tiki bar, they'll hardly know where they are anymore. Remind them with a classic tiki bar sign, or get a custom one carved with the name of your tiki bar. Ours is called the Supercall Island Super Tiki Super Lounge—it's a big sign.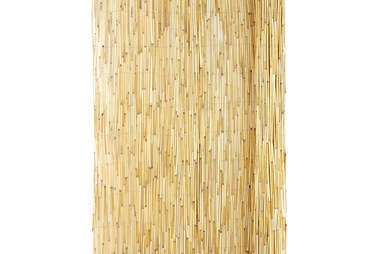 Bamboo (Rolled Reed Fencing)
Fencing your bar in with an in-ground bamboo wall is cool and all, but it's a serious décor commitment (plus it will kill your tulips). Opt instead for rolled reed fencing from the hardware store. It still looks legit tiki and you'll still get to plant your tulips.
Thatch Roofing
While you're picking up your fencing, grab some thatch roofing to convert your bar and create a full-on tiki hut. Strong enough to survive the torrent of a tropical storm or your next tiki rager, the wooden fronds will envelop guests in the '50s-era island illusion, at least until they step out into the bleary, modern morning.