Six Unexpectedly Delicious Brines for a Dirty Martini
Dirty Martinis: You either love them or you hate them. The cocktail gets its distinctively bold flavor from salty olive brine, which not everyone adores. So we got to thinking about other brines and how they would change the cocktail. After hitting the pickle aisle and hosting a couple of extremely salty tasting panels, we found six unexpected brines that are delicious in a Dirty Martini. Lovers of the cocktail might find a new favorite, and those who hate olives might discover a version they actually like.
Banana Pepper Brine
The Supercall staff dubbed this version the "Pizza Party Martini" and said that it would be perfect for pairing with your favorite pie. One even said it was like the "Pizza Hut salad bar in a drink," which is actually way more delicious than it sounds. Banana pepper brine works best with drier gins and gives the Dirty Martini a nice spice level and salinity.
Marisa Chafetz / Supercall
Dill Pickle Brine
We're going to guess that almost everyone has a half-empty jar of dill pickles lurking in the back of the fridge, which makes this crowd-pleasing Martini especially convenient in a pinch. Almost everyone loved the smell and agreed that it didn't overpower the gin. In fact, one person said that the drink simply tasted like it was made with a very dilly gin. Use a quality dry vermouth in this Dirty Martini, as the dill brine definitely highlights the aromatized wine.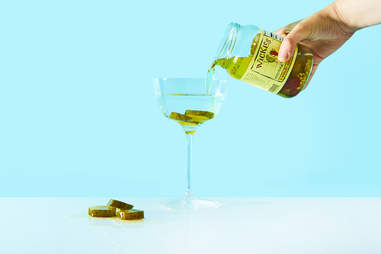 Marisa Chafetz / Supercall
Spicy Pickle Brine
Spicy pickles are the choose-your-own-adventure of Dirty Martini making because the flavors differ greatly from jar to jar. We sampled a brand that adds sugar to their brine, so it made for a sweeter Martini that some likened to a spicy bread and butter flavor. But if you spring for an extra spicy brand like McClure's, this Dirty Martini will have a more heat-forward bite.
Marisa Chafetz / Supercall
Pickled Jalapeño Brine
Almost the entire tasting panel agreed that pickled jalapeño brine made for their favorite Dirty Martini. The flavors of gin, vermouth and green chile pepper all pair very well together. It's not as spicy as you'd think upon first sip, but the heat builds nicely with each consecutive taste. While some of us agreed that this Martini would probably give us heartburn, its delicious flavor is totally worth the risk.
Marisa Chafetz / Supercall
Caper Brine
Salt lovers, this Dirty Martini is for you. The overly oceanic flavor that caper (or caperberry) brine brings to the cocktail is literally mouthwatering—the combination made us long for bagels and lox with all the fixins. There's a vegetalness to it that we didn't find with the other dirty variations. If you tend to like things on the extra salty side, mix up a caper Martini ASAP.
Marisa Chafetz / Supercall
Pickled Okra Brine
Newbies to the Dirty Martini should definitely try the cocktail with pickled okra brine instead of olive brine. The flavor sways more bitter and sour, which is good if you're not used to savory drinks. It makes for extremely easy drinking and is best sipped in the summer months if you're looking for a lighter Dirty Martini option.