The 7 Best Mixers for Tequila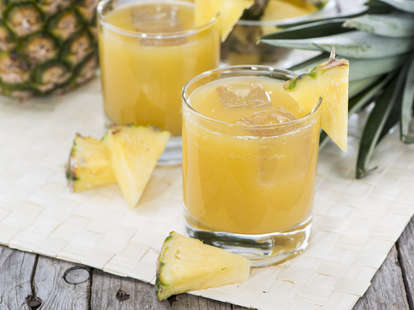 Handmade Pictures / Shutterstock
Handmade Pictures / Shutterstock
Unless you're taking shots or enjoying a top-shelf extra añejo, it's not likely that you're drinking tequila straight. If you're into sipping tequila cocktails and looking for new ideas on what to mix with the Mexican spirit, these seven ingredients are the absolute best mixers for tequila. Grab your favorite bottle of the agave spirit to make one of these easy cocktails in a jiff.
Tequila + Soda
This is the gold standard of two-ingredient tequila cocktails—besides the Margarita, it is probably the most popular. While any soda will work, we prefer using seltzer that has a high mineral content, like Topo Chico, or with salt added like Q. Garnish this cocktail with a wedge of citrus that you can squeeze into the drink, whether it's lime, orange or grapefruit.
Tequila + Grapefruit Soda
Essentially a Paloma, this cocktail is one of the most popular ways to drink tequila in Mexico (it's referred to as tequila con Squirt). It's bright, citrusy, subtly bitter and downright crushable. Depending on your preference, you can use a blanco or a reposado tequila for the base of the cocktail. A blanco tequila keeps the drink light and crisp, while a reposado tequila makes it richer and more decadent. For a garnish, we recommend a fat wedge of lime (which you should definitely squeeze into the drink) and a pinch of sea salt. Come summer, this Highball is essential drinking.
Tequila + Pineapple Juice
Pineapple juice and tequila were made for each other. Together, they harmonize to create a cocktail that is grassy, vegetal, tropical and peppery. While fresh pineapple juice makes the brightest and tartest drink, canned pineapple juice is a viable option (you just might have to cut it with a topper of seltzer depending on the sweetness). Best of all, literally any tequila—be it a blanco, reposado or añejo—works as the base of this drink. Our favorite bottling to use is Calle 23's blanco tequila, which lends its vibrantly tropical fruit-forward flavors to the juice.
Tequila + Orange Juice
Basically a tequila Screwdriver, this breakfast cocktail is even better than its vodka-based cousin. Regardless of whether you use fresh orange juice or the bottled variety, the drink is refreshing, light and highly quaffable. If you do use fresh orange juice, make sure that you whip air into it—either with a whisk or by using a high rpm citrus juicer. It will make the cocktail fluffy and almost creamy, a texture that pairs perfectly with the vanilla notes in a reposado tequila.
Tequila + Agave Syrup
Mix these two ingredients together, and you have a tequila Old Fashioned without the bitters. You just need a mixing glass, bar spoon, tray of nice ice, agave syrup (preferably two parts agave to one part water), and a bottle of your favorite tequila, and you're a twist of the wrist away from having yourself a delectable drink. While a blanco tequila will technically work as the base of this cocktail, it is best to use a reposado or añejo that has more depth, flavor and richness.
Tequila + Vermouth
Tequila and vermouth can be combined in a myriad of ways—the types of tequila and vermouth you use will create entirely different cocktails. For a vegetal riff on a Martini, you can use blanco tequila with either a bone dry dry vermouth or a semi-sweet blanc vermouth, which will produce a rounder, more velvety texture in the drink. For a richer, spicier take on the Manhattan, mix a reposado, añejo or extra añejo with sweet vermouth.
Tequila + Bloody Mary Mix
Forget making this brunch staple with vodka. You should have been making it with tequila all along. If you really want to take the Bloody Maria to a whole other level, you can add a spicy flavored spirit like Tanteo's jalapeño-infused tequila. Just scale back on the hot sauce or else your lips will burn for hours.