What to Wear When Hosting a New Year's Eve Party
Hosting a New Year's Eve party can be crazy fun, but it can also be crazy stressful. You need to clean and decorate, whip up cocktails, prep snacks so guests don't get too tipsy throughout the night, socialize and serve—all while looking stylish and festive. Your New Year's Eve look should be fashionable, functional and easy, so we enlisted the help of our trendsetting friends at Milk, a creative agency and editorial space specializing in all things art and lifestyle. Here, their top tips on how to dress and primp for New Year's Eve so you can focus on the party instead of worrying about wardrobe malfunctions.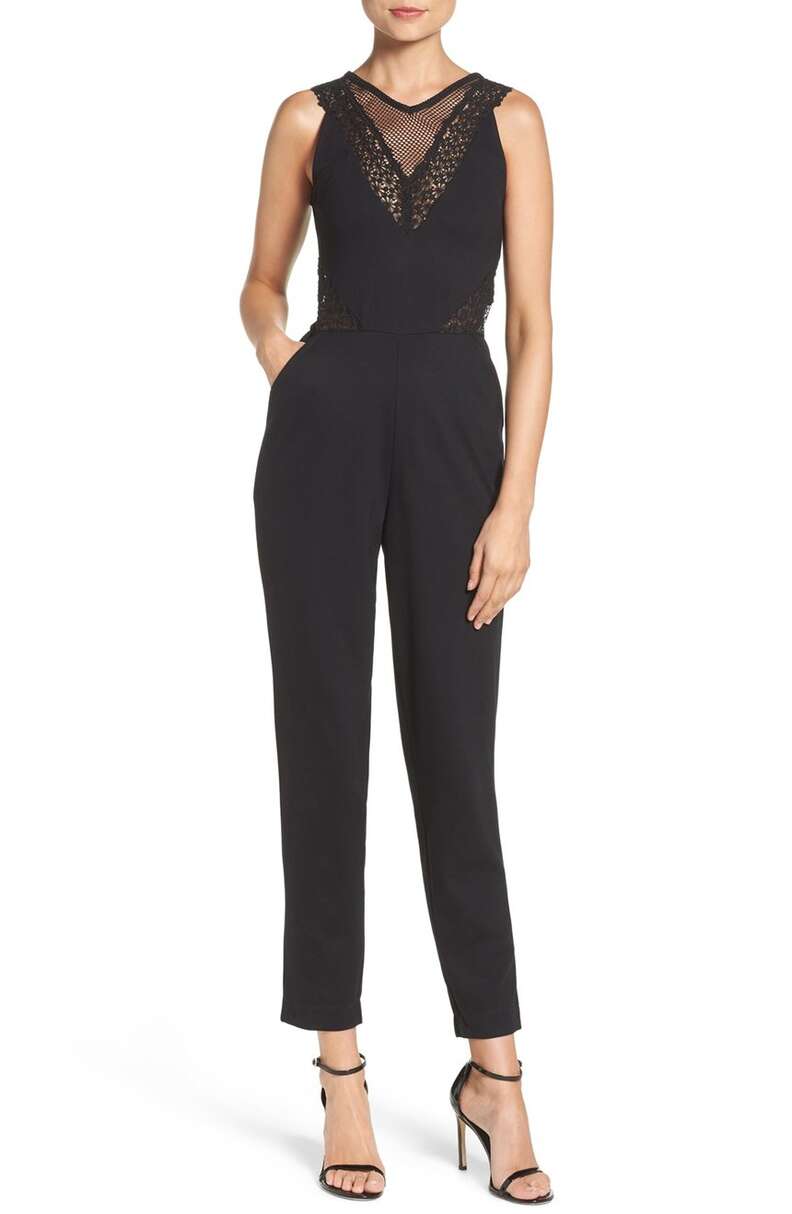 Wear a Jumpsuit
"A jumpsuit is the perfect outfit for the badass hostess," Samantha Lim, Brand Partnerships Director of Milk Agency, says. "It's a bold, full look that will grab the attention of your guests. And because you don't have to worry about a skirt slipping or a top untucking, you'll be ready for all potential party emergencies."
Choose a fabric with a bit of stretch so you can move freely around the room to refill glasses or grab supplies from hard-to-reach spots. We love the Savannah Jumpsuit from French Connection because its lace panels show some skin without being overly complicated or showy.
Sequins Conceal Everything
Sequins are the ultimate way to bedazzle yourself for NYE, or anytime for that matter. Not only do the metallic discs conceal any accidental spills, they're also easy to wipe clean if you fall victim to a sticky party punch. You'll look fabulous without needing to put in much effort at all.
This Club L sequin midi dress is not only perfect for the big night, it's versatile enough to wear time and again, for everything from weddings to cocktail hours.
Clear Heels Stay Clean
Any woman who regularly rocks heels knows that constant wear—especially if you live in a city where walking is required—can cause them to chip and scuff easily, which is why we're really into the lucite block heel trend. The lucite is more durable than leather, and is easy to wipe clean. Plus, the chunky design offers more support than a stiletto, so you'll stay steady from when the first guest arrives until the last one leaves.
These Lust for Life boots will work well with dresses or pants and have a cushioned insole for all-night comfort. Even though they have a lace-up design that looks complicated, a back zipper makes for easy on-off if you're running a few minutes behind.
A Great Manicure is Your Best Accessory
Jewelry can get in a busy hostess's way, so the experts at Milk suggest accessorizing in a different way. "Get a killer manicure or festive nail art instead of rings and bracelets so that your hostess hands are free and mobile to mix cocktails and whip up snacks," Lim says. A simple Instagram search will help you find a great nail salon in your city and can also offer inspiration if you want to get creative and do your own manicure. Check out Valley NYC and Finger Bang Portland for fun ideas.
Make Your Makeup Work Overtime
After shaking up a dozen Daiquiris, popping corks and boogying down, even the most collected host will likely suffer from smudged makeup. Camilla Mayer of Milk Makeup and Open Haus Collective has some tips on how to keep it working for you all night long.
"When deciding upon a beauty look for a festive night like New Year's Eve, I strategically go for a bold eye instead of lip because of all the eating, drinking and chatting I'll most likely be doing," Mayer says. "Use a long wear cream eyeshadow like Milk Makeup Eye Pigment in All Nighter to create a metallic eye that'll last all night without primers or touch ups, which is essential to feeling comfortable and fab."