Amsterdam's got more art per capita than any other city in the world (OK, it's museums per capita, but whatever, same thing). So naturally, you need to ruthlessly discriminate if you have limited time there. So we'll kindly break it down for you: here's the art you should definitely see.
"The Night Watch" statues
What they are: Rembrandt's "The Night Watch" in the Rijksmuseum is definitely the most famous piece of art in the city... and we're going to tell you to skip it. Don't get us wrong, it's great, but if you're not a Rembrandt fanatic looking to analyze the ink, there's a much more fun (and free) way to interact with this piece of art: in 2006, two Russian guys made life-size statues of all the figures in the painting to celebrate Amsterdam's main art man's 400th birthday.
Where to find them: Under the giant Rembrandt statue in the center of Rembrandtplein. Of course.
Why they're worth seeing: You can get right in there and take a selfie in the art.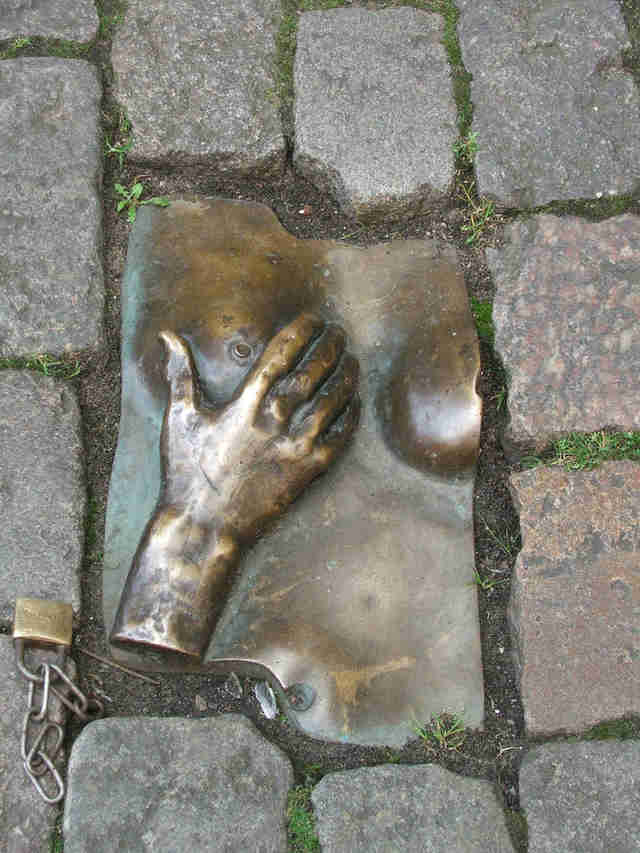 The bronze breast
What it is: In 1993, a bronze boob being caressed by a man's hand appeared in the sidewalk in the middle of the Red Light District. (Boob and hand used to be "chained together" with a padlock, now missing. Ponder that, man.) Who made this fantastic creation, you ask? Nobody's saying, but there are two popular theories: 1) it was an Amsterdam doctor known to make art in this exact style, or 2) it was (former) Queen Beatrix, also known to dabble. Obviously, we're going with No. 2.
Where to find it: Right outside the entrance to the Old Church. Look for giggling tourists taking pictures of the ground.
Why it's worth seeing: There's a boob in the sidewalk.
Bonus: From this spot you can also see Belle, the world's first monument to prostitution.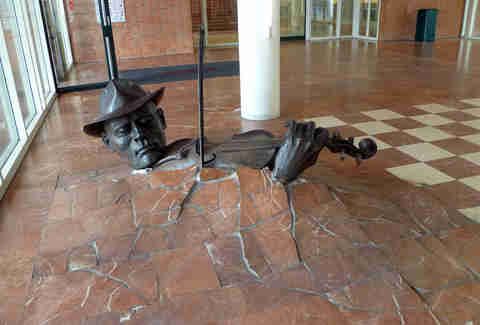 The destructive fiddler
What it is: A giant man playing the violin has been busting open the floor of the Stopera, Amsterdam's City Hall/opera house, since 1991. It's pretty awesome. Most believe this is part of the same series as the sidewalk boob -- actually, these are just two of the eight sculptures (six in Amsterdam) credited to "The anonymous artist". (Wink, wink, your majesty.)
Where to find it: Just inside the main entrance to the opera side of the building.
Why it's worth seeing: We all want to bust up city hall, but this guy actually did it. To music. (Word is it was no picnic breaking through that marble.) The aftermath is strangely satisfying... and a little intimidating. (Dude is BIG.)
Picasso's "deconstructed bird"
What it is: The title says it all... although most people call it "The Fish". Whatever. We know it's not the Spaniard's most famous work (for a reason), but it's pretty cool to have a master's sculpture just casually chilling in Vondelpark. Lots of locals don't even realize it's the real deal.
Where to find it: In a big field slightly below dead-center of the park, where it's been standing since 1965.
Why it's worth seeing: There aren't many places in the world you can picnic under a Picasso, and even lean right up against it.
The Anatomy Lessons
What they are: 17th century Amsterdam used to have an anatomy school. (Its "lobby" is now a restaurant. Yum.) The semi-public dissections of human corpses were not only popular with the medical crowd, but artists liked to watch, too. Rembrandt van Rijn lived just down the street, so he -- and plenty of others -- painted up a few of these spectacles so we could enjoy them centuries later.
Where to find them: They're sprinkled around the country, but there's a room of them in the Amsterdam Museum -- including one by Rembrandt. (Though his most famous, "The Anatomy Lesson of Dr. Tulp", is in The Hague.)
Why they're worth seeing: Do we really need to sell this? Go, you sick SOBs, go!
Bonus: While you're at the Amsterdam Museum, don't miss the free hallway of art with the giant David & Goliath statues and clashing, "city-celebrating" carpets.
The Spuistraat
What it is: This street, right in the Medieval Center, is the city's most famous squatting zone (that is: people have been living in previously unused buildings "rent free" since the '80s)... and since the tenants don't mind, it's also a favorite spot for taggers and street artists. The street is COVERED in paint.
Where to find it: The art is especially concentrated between the Snake House squat and the Magic Mushroom Gallery. (Yes, that kind of magic mushroom.)
Why it's worth seeing: It's colorful and kind of overwhelming in the best kind of way. Bring your camera.
Bonus: When the checkered doors of the Vrankrijk squat are open, you can grab cheap beers at the bar inside.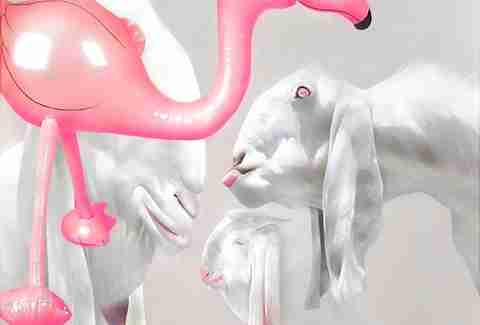 What it is: When street art grows up, this is where it gets shown. Of Amsterdam's many galleries, it might be the trippiest. (And the coolest.) No surprise as it was founded by the Dampkring coffee shop (of Ocean's Twelve fame).
Where to find it: Along the canal just behind the Spui square, at Singel 395.
Why it's worth seeing: If you think modern art is color-blocking and paint splashes (and you think that sucks), you'll be pleasantly surprised by the anything-but-minimal artworks on show here. Plus, they sell crazy bongs.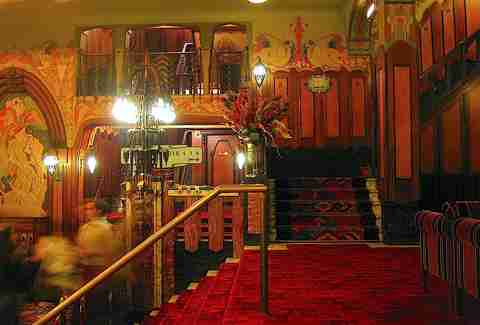 What it is: A Polish-Jewish immigrant opened this theater (and named it after himself) in 1921 -- there's still a stage for the live acts that used to play the "movie palace". When Tuschinski unveiled the elaborate mix of Art Deco, Amsterdam School, Jugendstil, and Art Nouveau décor, the city declared it an eyesore and passed a resolution that all building plans would have to be approved in advance from then on. (Way to go, buddy.) Tuschinski's story didn't end so well, and the theater was taken over -- and painted over! -- by the Nazis in residence, but it's long since been restored to its garish original condition.
Where to find it: On the Reguliersbreestraat -- the street that connects Muntplein and Rembrandtplein. Buy a ticket for a movie in theater one (the "Grote Zaal") to see the real spectacle. Then go ahead and get a little "lost" to find the cozy hidden (make-out?) rooms near the inner snack bar and downstairs bathrooms.
Why it's worth seeing: Most people these days think it looks awesome. Even if you don't, you won't have seen anything like it.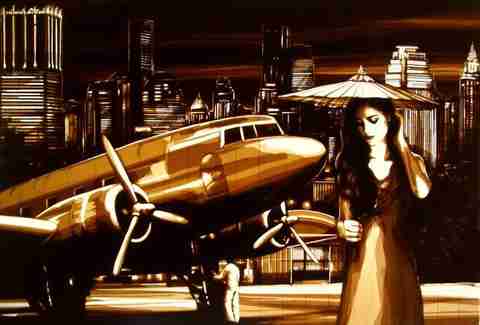 Max Zorn's tape art
What it is: This Amsterdam local creates and recreates masterpieces out of layered packing tape that come alive when lit up. He started out hanging his pieces on street lamps around A'dam, but now he's gone legit global. You can even help him out by hanging his stuff up in your home town. (Look under "Get sticker".) Or buy your own to keep.
Where to find it: He maps his street pieces here... although some do disappear into the night...
Why it's worth seeing: You won't believe the things this guy can do with tape.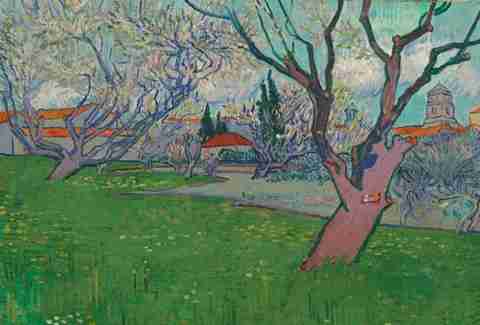 What it is: It's every Van Gogh painting you want to see (except "Starry Night" -- curse you, NY MoMA!) arranged chronologically by period: yellow, blue, and others you haven't heard of. What really makes this museum awesome is that it walks you through a story (don't skip the writing on the walls!) of sadness, madness... and awesome Dutch art.
Where to find it: On Museumplein. You can't miss it -- it's the one with the spaceship-looking extension sticking out into the square. (Walk around the other side to get in... and buy your tickets/museum card in advance to skip the gigantic line.)
Why it's worth seeing: This is one tourist fave that lives up to the hype. Even if you don't like Van Gogh, you'll feel like you get him after this. Just rethink visiting the "Magic Mushroom Gallery" before you go -- it gets crowded here.
Bonus: The spaceship-looking thingy tacked onto the main building is actually a whole other museum (usually included in the ticket price). Whoever schedules the procession of changing special exhibitions there deserves a raise -- they never miss.