As the old saying goes, if the house is a rockin', it's probably because you're staying in one of these houseboats and there's a slight eddy in the water. But that doesn't mean you have to go without all the luxuries of land -- here are nine Amsterdam houseboats that blow everything else out of the water...
Jordaan
Sleeps: 1 BR, 1 beds
Price: €106/night, €657/week
From the outside it looks like a speedboat, just way larger, while on the inside it looks like a really nice apartment squeezed into a yacht-shaped container. There's underfloor heating, Wi-Fi, and a pair of bicycles if you ever feel like venturing back onto dry land.
Herengracht
Sleeps: 1 BR, 2 beds
Price: €175/night, €1,000/week
From the outside it looks like... an old boat. A very cool old boat. You've got some rickety seating up top, and the captain's cabin is spiffed up nicely, with its natty steering wheel (not in use, bud, sorry) and "crystal" chandelier. But it's once you step inside that you really time travel... to the future, because the interior looks like a whited-out damn spaceship.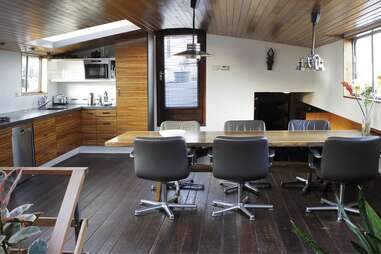 Zeeburg
Sleeps: 3 BR, 6 beds
Price: €250/night (+€25pp over 4), €1,750/week + €50 cleaning fee
It looks like a floating, light-filled man cave. (In the grey-tiled bathroom's case, we mean that literally.) The giant kitchen is covered in stripy wood paneling. The lounge-y living room (with pimp-ass fireplace) is separated by a wall of jungle. The sun deck looks stolen from Santorini. And the master bedroom has a giant water bed. That's right, a giant waterbed. On the water.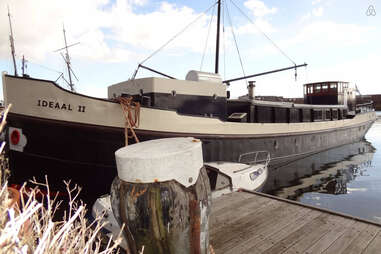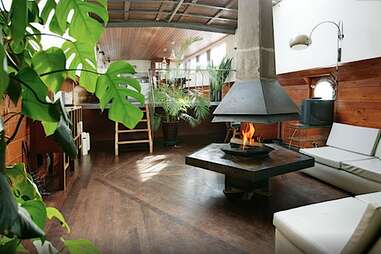 Zeeburg
Sleeps: 3 BR, 6 beds
Price: €200/night (+€21pp over 4)
Seemingly trying to one-up the last entry in man-cave-iness, this giant old boat from the same 'hood does its lady-and-gent pleasing in retro style. The stone-inset kitchen floor, circular tub, and wooden cave of a master bedroom are all fantastic. But the centerpiece is (literally) the open fireplace in the middle of the living room.
Jordaan
Sleeps: 2 BR, 2 beds
Price: €210/night
This cargo-boat charmer from the 1920s doesn't exactly scream Art Deco so much as Arabian Nights. The Jacuzzi bath under a tiled dome can be turned into a day bed if you're not into soaking. Don't worry, the equally ornate shower will still make you feel like a sultan. The OTT sensual touches continue through the "natural" wood kitchen sculpting to the "grass" carpet of the stylishly stodgy living room, capping off with a sprawling nose-of-the-boat master bed platform.
Nieuwmarkt
Sleeps: 1 BR, 1 bed
Price: €157/night, €1,049/week + €39 cleaning fee
The master bed is tucked into an alcove under the steering house, there's a tub in the spa-like bathroom, and there's a sweet wood stove. But let's be honest, people: this one's all about the wooden swing in the living room. Fun Fact: This is the houseboat featured on the front of the 1976 Beach Boy's album Holland.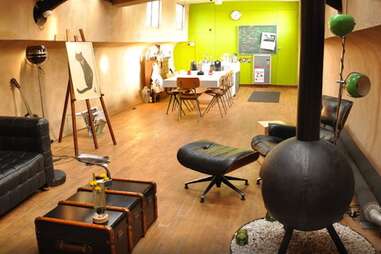 Western Islands
Sleeps: 2 BR, 2 beds
Price: €154/night (+€32 for more than 2 people) + €74 cleaning fee
Asian-themed luxury is the name of the game in this old beaut parked in one of Amsterdam's most scenic harbors. (Your neighbors are some of the most popular water-bound restaurants in the city, plus the ferry to artsy-industrial zone NDSM.) The cushy master bed draped in netting and lofted bathtub puts the "love" in loveboat.
Amstel River
Sleeps: 1 BR, 1 bed
Price: €180/night, €1,000/week, €3,500/month
Designer quirks in the form of meditative art and a winged-bulb chandelier play backup to the star of this boat: the floating terrace. Even in Winter, you'll want to christen this space on the water with a little light debauchery.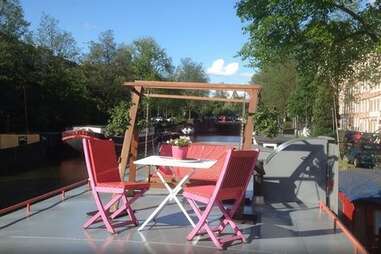 Westerpark
Sleeps: 3 BR, 3 beds
Price: €149/night, €750/week
There's a porch swing on the roof terrace, lofted beds, and a kaleidoscope of colors inside. The space feels somehow clean yet, crowded with eccentricities. But what makes this boat unlike any other is the drum kit inside, reminding the neighbors that they are indeed free to sail somewhere else.