Like any medieval city, Amsterdam is full of secrets. And like any secrets we get our hands on, we're spilling them to you. These particular ones are best discovered by exposing them to the balmy light of a summer's day -- here are the lesser-known outdoor spots every summer-savvy Amsterdammer needs to check out this season...
1. For €55, you can boat to the almost-deserted Vuurtoreneiland for a four-course meal
There's one gourmet meal (with one menu) per day, Thurs-Sat, and occasionally two on Sunday at "Lighthouse Island." Reservations open on the website two months in advance and go quickly. Very quickly. On the day of, you can call +31 (0)6 155 838 38 after 2pm to find out if there are any spots open. No refunds if you miss the boat from the Lloyd Hotel.
2. There are more spots for summer swimming in Amsterdam than Blijburg
While Blijburg beach offers a scaled-back beach area until its new IJburg location is ready in July, there are plenty of other "natural" (non-chlorinated, if man-made) swimming holes in the city. In the Amsterdamse Bos, the Grote Vijver offers all the official facilities (including showers), and the Nieuwe Meer plenty of spots for secluded dips. At the tip of Zuidoost, the Amstelland Nature Reserve offers a few more spots, from the Gaasperplas lake (with nudists on the north side) to the Ouderkerkerplas beaches to the De Hoge Dijk recreation area. If you're attached to beaching in the east, the Diemerpark beach is (since 2013) also officially open for swimming.

3. There are also a bunch of spots for people who want their dip a little less... unfiltered
The eastern Flevoparkbad heated outdoor pool is spacious and criminally underutilized (read: you'll get a chair), and the outdoor section of the Sloterparkbad offers sweet panoramic views of the lake beside it (which actually also has a beach). Bonus: the indoor area has a sauna and a waterslide. The Mirandabad (near the RAI) ups the indoor/outdoor action with a glass dome area with multiple slides, epic kiddie play areas, and a wave machine. And the Brediusbad offers another option just behind Westerpark.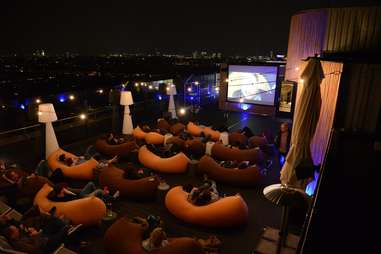 4. You don't have to wait until the end of summer to watch outdoor movies
Pllek's Films with a View and Rooftop Movie Nights at Floor17 (and sometimes other places) are already rolling. And if we're really lucky, Rooftop Movie Nights will plan another hot tub session so the rest of us can attend too.

5. You can join a "free" t'ai chi class every morning at Oosterpark
You'll find Sifu Chan (or one of his pupils) leading a group in chi gong and t'ai chi (and kung fu on weekends) next to the Linnaeusstraat/1e van Swindenstraat entrance bandstand every morning at 10am, whatever the weather. Yes, technically it's free, but don't be a jerk. Bring a small donation.
6. There's a better way to explore Amsterdam's canals
Skip the commercial tours and gather a handful of your nearest and dearest for a Rederij Paping tour. Skipper Paap knows everything there is to know about Amsterdam's nooks and crannies... not to mention its canals, as he lives on one. You can bring whatever you want to eat, drink, or smoke (no problemo), and can ask plenty of questions (no pre-recordings here). Plus, the boat is solar-powered, so you get to feel super ethical. Also an option: evening disco tours.

7. There's a free outdoor gym in Rembrandtpark
Half a dozen bodybuilding machines with built-in weights await in the city's greenest gym. You'll find it on the eastern side near the Corantijnstraat entrance.
8. There's an event space in the former storage/jail cells under "the Multatuli bridge"
The Torensluis bridge (or "brug"), also known as Brug 9, is Amsterdam's widest. Up top it used to be a tower, a market square, and now boasts a statue of "Multatuli" (the Dickens of Amsterdam and a father of Fair Trade, who chose an unfortunate pen name that sounds like suffering in Latin and orgasming in Finnish -- true story). But it's underneath the bridge -- in the former storage rooms and holding cells for criminals -- where the party is. Only occasionally. For private artistic and/or local events, mostly. Start making friends in the area to get an invite.


That marine base on Kattenburg island (the only pixelated part of Amsterdam Center on Google Maps and Ayaan Hirsi Ali's former hideout) is opening to the public... after 350 years, the marines have decided it's time to start moving out. It's happening in stages, starting with the southern Voorwerf area, the oldest part of the base, which has now been turned into offices and a park. Over the next few years, more of the military will move out to be replaced by cafes, businesses, and researchers. The first place to stuff your face, Pension Homeland, will open in the old officer mess hall in June, with a pool room and short- or long-term places for professionals to crash.
10. There's a house built around a tree in Zeeburg
The whole Scheepstimmermanstraat is worth an architectural stroll, but the highlight is No. 120, where architect Koen van Velsen designed and built a glass-roofed house around a huge acacia tree.

11. You can find a distillery and tasting room in an old mill deep into Flevopark
Distilleerderij 't Nieuwe Diep offers scenic libations every Tues-Sun from 3-8pm ('til 6pm in the colder months). Only reachable by foot or bike, the former mill sits between two pretty patches of water, with a terrace and gardens that would make a hobbit jealous -- plus plenty of beers and delicious boozes (jenever and liqueur). Come Fridays at 4pm for a free guided tour of the distillery.

12. Also in Flevopark: the largest Jewish cemetery in Western Europe
For your friends who are so over the Anne Frank House, it's an overgrown tumble of headstones covering about 100,000 bodies and the area of six football fields.
13. You're probably walking across a grave in the Begijnhof
This "secret" courtyard (to anyone who doesn't have a guidebook/smartphone) played a central role in the Amsterdam Reformation experience. Begijn "sister" (they were more of religious women than nuns) Cornelia Arens lived through the Reformation and was not going to spend her death (in 1654) in a Protestant graveyard... so she demanded she be buried in the gutter. Her sisters ignored her and buried her in the graveyard. Until she allegedly haunted them into digging her back up and putting her in the gutter next to the entrance, where you can still see her gravestone today.

14. There are more "secret gardens" you can visit
As they're not recommended by every website and travel book ever written about Amsterdam, the smaller "hofjes" (mostly in the Jordaan) actually feel like secrets. Some of our favorites are former Mennonite church the Zon's Hofje, where you can even picnic in the small garden just off the Prinsengracht; the Van Brienenhofje, also on the Prinsengracht on the site of a former brewery, with some old-school water pumps and a clock tower; and the Karthuizerhofje, the largest, built in 17th century for widowed women.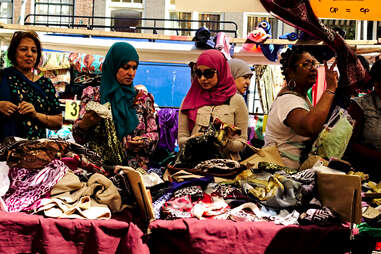 15. There are regular outdoor markets for more than just food, clothes, toiletries & souvenirs
There's a used-book market in the Spui every Friday (and an art market there on Sundays), but there's an even more charming almost-daily book market (plus prints and sheet music) in the covered arcade of the once-upon-a-few-centuries-ago home for the elderly called the Oudemanhuispoort. On Mondays, the Westerstraat turns into the Lapjesmarkt for fabric (and, okay, some clothes). Most niche of all, though, is a small section of the Nieuwezijds Voorburgwal that turns into the Postzegelmarkt, a stamp and coin market, every Wednesday and Saturday.

16. There's a rope swing between the wooden walkways snaking through the dry-docked boats of de Ceuvel office terrain
Because the ground is lava. Okay, not really, but the ground has been contaminated by years of processing heavy metals. Feel free to wander over from the cafe and take yourself for a swing.
17. While you're wandering, you can use an app to find the nearest toilet... with ratings
There are similar apps for other cities, but this one ("HogeNood," or great need) was developed by students at the University of Amsterdam.

18. Yes, there's an app to locate the nearest coffee shop, too
You're welcome. Now go to a museum.
Sign up here for our daily Amsterdam email and be the first to get all the food/drink/fun in town.