How Amsterdam's coffee shops work
If I say "Amsterdam", you think... ? It's possible the Red Light District popped into your head, or even the wholesome cheese from nearby Gouda, the booming flower export business, or the masterpieces of the largest number of museums per km2 in the world... Nope! You probably first thought about pot. So let's get to it: first, we're happy to assure you that the proposed and much-hyped anti-tourist "weed pass" is not going through. So, travelers are still welcome in the city's more than 200 coffee shops. But this quick how-to will help you pass as a local anyway.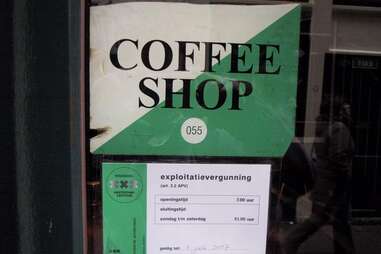 Licensed to Chill
First of all, on a completely unrelated note, you should know that marijuana, like the coffee shops where it is sold, is not legal here. It is merely "gedoogd", or "tolerated". Up to 5 grams at a time, anyway. Don't ask where those grams came from, though: each household may grow up to five plants, but it's not legal to sell them. Which is fine, because we're here to talk about coffee. The debate as to which was the first of Amsterdam's coffee shops still rages between the tourist-dependent Bulldog and bee-colored local fave Mellow Yellow. We prefer to credit the latter in a nod to their better "beans", friendlier tenders, and historic evidence. Official licenses were handed out in 1995 in the form of green-and-white stickers. Look for one of these on a window near the entrance.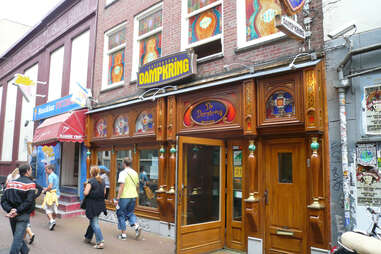 Let There Be Rules
Let's start with age: the minimum is 18. Especially in the current political climate, coffee shops WILL check IDs. Be prepared. Other key rules include no alcohol, max 1a closing time, no tobacco (not universally enforced), and -- most importantly -- NO HARD DRUGS. Some coffee shops have extra rules, too. For instance, the Dampkring (of Ocean's Twelve fame) has a 21 age minimum. And they're really serious about hat removal. (Same rules apply at De Tweede Kamer, the older sister shop around the corner, where you should be heading instead to sample the same stellar menu with more locals and less line.)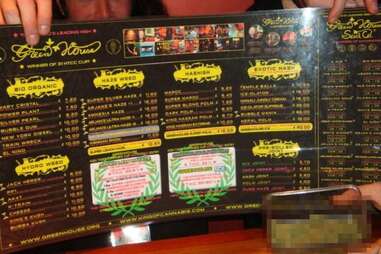 Decoding the Menu
Once inside the coffee shop, you need to locate the "barista" area, which may or may not be combined with or next to the (non-alcoholic) bar. The menu is sometimes deliberately hidden, so don't feel stupid asking the 'tender for it. Once you have it, take a step aside to let me the person behind you order while you study your options. Good menus, like this one from Green House Lounge, the famous fish-in-the-floor location of one of the most award-heavy coffee shops, will tell you a lot more, like taste and effects. However, any "barista" worth his salt should be able to give you the sommelier experience, especially at €10-15+ per gram for really good beans.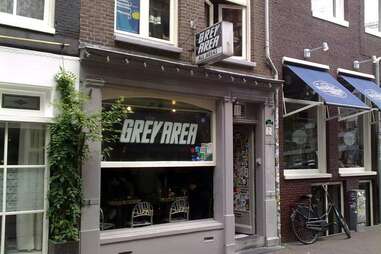 Oh, yes, about those tricky Metrics: if you're more used to buying eighths (of an ounce), tiny "American" shop Grey Area (another consistent award winner) will know what you're talking about.
Finding Food & Drink
Most coffee shops have a bar with a full range of soft drinks and some snacks... some have more elaborate menus. The most famous place to grab a bite and a buzz has long been (another award winner) Barney's coffee shop on the Haarlemmerstraat. Their laid-back breakfast was legendary. Now that the once-boho vibe has been renovated into stoner chic, the decadent all-day munchies have moved across the street to Barney's Uptown, which is one of the city's "espresso friendly" cafés; exploiting a beautiful loophole that allows you to inhale coffee purchased elsewhere, alongside a full bar of alcoholic offerings (Uptown specializes in cocktails). If the menu hits your wallet too hard, don't worry: coffee shops and cafés up and down the street have copied Barney's also added all-day breakfast-and-more menus. We recommend La Grotte for a good deal.
Caffeinated-edibles vary shop to shop, but generally come in the form of chocolaty "spacecakes". We, however, recommend the banana cake at Hill Street Blues for the sweetest sugar rush.
Bonus Fun Facts!
Quentin Tarantino wrote much of Pulp Fiction in coffee shop Betty Boop. He dug it the most.
While you may purchase and possess no more than 5 grams at once, the limit for private possession is 30 grams. Of coffee.
Pre-rolled, er, coffee filters generally come mixed with tobacco (and thus are nixed from most coffee shops).
Java-draining is technically allowed only inside and on official terraces of coffee shops and coffee-friendly bars, or on private property. Though rarely enforced, street drinkers could be in for a €50 fine (same goes for booze).
If the buzz hits too hard, sugar is the answer, and fruity juice is the ideal mediator.