We Ranked Every English-Language Movie Made in Amsterdam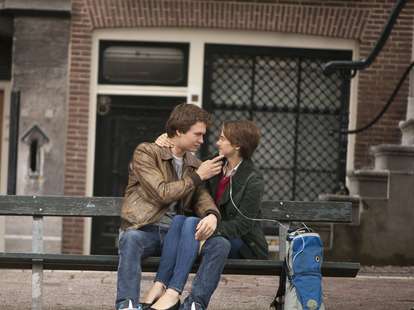 Amsterdam's idyllic canals look like ready-to-go movie sets... which is why it's so strange that more international movies haven't, you know, used them as movie sets. Ask any local to name a couple of flicks made here, and they'll probably stall after Ocean's Twelve and "that one James Bond film." As it turns out, there are a ton more, so we diligently listed -- and ranked -- them all to point you in the right direction.
The rules: it must be a feature-length, non-documentary film, in English, not made by a local studio (alone). It must have had a theatrical run outside the Netherlands. And it must have at least one prominent sequence showing off our incredibly lovely city. Let's get to it.
The Dutch looked to their British allies to collaborate on their first post-WWII film about, of course, the war (the title comes from a radio speech made by the exiled Queen Wilhelmina). It opened to mostly (though not unanimously) positive reviews, and was probably about as accurate as a war film could get, considering it actually incorporated war footage taken by members of the Resistance. But this one gets dumped at the bottom of the list because the film has been lost, so you can never actually see it. We know it's not the film's fault, but we need to start somewhere.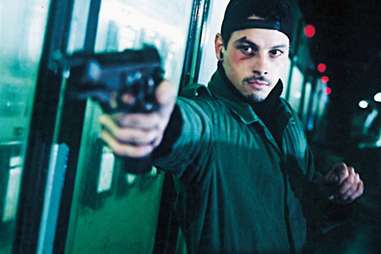 Oh Skeet Ulrich, let's just pretend you didn't. (But thanks for all those shots of A'dam after dark!).
Before anyone gets all hot and bothered by the rampant infidelity, it should be pointed out that this collection of six stories is a sequel to 1972's Suburban Wives, which is all about the ladies getting some extracurricular action. That doesn't make either a good film.
Includes the ubiquitous drug-running scene in Amsterdam, that's about it.
For being based on a novel by everyone's favorite Scottish shock writer, boy does this film suck. The story involves one love story, a little Red-Light-District time (obviously), and a lot of the stuff in the title.
A guy goes to Amsterdam in search of his father, and immediately descends into addiction and mayhem (as one does, apparently…) until he meets an Indian evangelist. Things get… preachy.
A couple of dudes party their way through a string of European VIP rooms, and it's exactly as original as it sounds.
Back to the Red Light District! This time, they're smuggling heroin! Is it original or exciting compared to the other films on this list? Absolutely not. The best part is a boat chase through the canals. Luckily, you can find that online.
Cameron Diaz commits suicide. Then her sister, played by Jordana Brewster, tours '70s Europe (including Amsterdam) to figure out why, getting involved with her sister's boyfriend (Christopher Eccleston) along the way. The journey is shockingly boring.
Liev Schreiber can't keep his pants on, despite being married to Jeanne Tripplehorn. Until one day he falls in love over the phone… with his wife, pretending to be a Dutch woman. Unfortunately the top talent and gratuitous Amsterdam scenery go to waste in this tediously paced "love" story aimed at female audiences.
The views of the city are amazing, but the movie -- about a mute child who witnesses a murder and is now on the run -- is not (maybe that's why they tried changing the name?). Better luck next time, Denis Leary, William Hurt, and Jennifer Tilly.
It's not that this sexy double-crosser is the worst movie; but the filmmakers treat the viewers like they can't tell the difference between German and Dutch in the Amsterdam scenes. To that, we say, nein. The art-forgery details, however, are fascinating.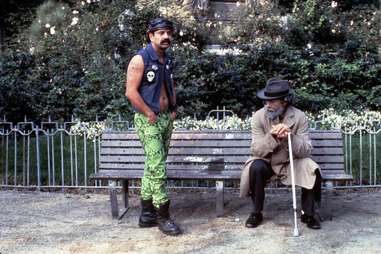 Cheech and Chong only made one movie in Amsterdam. It's unfortunately one of their weakest, with half of it just being a rehash of their live act of yore.
More gangster Brits, this time with diamonds and drugs. Zero points for originality. Some points for cool fight scenes.
Amsterdam North and a few other Dutch locations stand in for a remote island where some FBI profiler newbies must track down a serial killer. If only the results were as exciting as that description -- or the casting (Val Kilmer, Christian Slater, LL Cool J).
It's perhaps the most famous crime in Dutch history. Too bad the film sort of bungles the story with the standard Hollywood BS (and doesn't bother to cast a single Dutch actor... not that we'd ever object to Anthony Hopkins).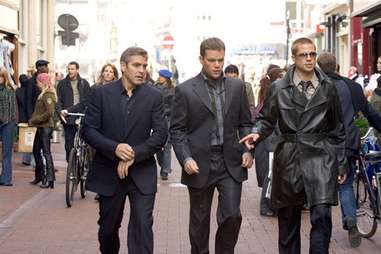 Before The Fault in Our Stars, this was probably the most famous movie filmed here. If you think sequels suck... this one isn't going to change your mind. But it does involve some serious coffeeshop time (at De Dampkring) with Brad Pitt, plus a bunch more Amsterdam scenery, so it's not all bad.
Purposely made to fly in the face of sexual censorship, this collection of artful erotica was unsurprisingly banned in Britain (though it was released elsewhere).
Two favorite Amsterdam themes are at play here: WWII and diamonds. The results aren't quite good enough to make this hard-to-find number worth seeking out.
Two orphans build a boat for themselves and their pets during the devastating 1953 flood and sail to Amsterdam to find their dad. The movie made an impression on the kids who watched its original release, but it hasn't aged well. However, the Dutch and American actors' attempts to mimic each other's accents are hilarious.
Laurence Fishburne and Ryan Phillippe put on bad accents to confront (without really resolving) stereotypes in this tense (but not tense enough) thriller about one supremely long and painful conversation between a Dutch pianist and a Moroccan "terrorist." However, the twist ending bumps this international effort up a few notches.
Campy international spy sexploitation in its full '60s glory. View it like an Austin Powers movie and you'll understand why it made the top 20.
John Cusack fans, rejoice -- here you have proof he's set foot in Amsterdam! Cusack apparently wanted this film made so badly he did it for free. Too bad he's not enough to save this tepid drama about the (fictional) Jewish art dealer who taught Hitler everything he knew about painting. Amsterdam is a stand-in for '20s Berlin.
Four Mormon missionaries from the USA try to convert the Dutch in this lighthearted and surprisingly accessible look at one of the Western world's least understood religions. It's mostly set in Haarlem (the city between us and the coast), but they come to Amsterdam, too.
This is "that one James Bond film." Too bad it's not the best one, but it does have the distinction of being Sean Connery's last (official) time playing Bond. In this one, Bond infiltrates a global ring of diamond smugglers to save the world from a giant laser beam, but you can tell Connery (and everyone else) has mentally checked out. Still worth watching for the canal-porn cinematography.
In this "buddy comedy," the buddies in question are two terminally ill patients (illegally) on the loose in Amsterdam. Par-tay. But it's got another one of the Bonds (Timothy Dalton).
From Amsterdam to internment camp, a little boy narrates his 1942 Jewish life. It's touching, poignant, and you'll totally cry. It's worth it though.
Of the (not?) surprising number of drug-smuggling movies in this list, this would-be stoner comedy gets some bonus points for getting in on the trend early and blending two genres. The Irish cast works hard to compensate for a clearly rock-bottom budget. Fun Lovin' Criminals fans will love the soundtrack, though.
The Oude Kerk gets some solid screen time here (since the filmmaker Peter Greenaway was banned from Cologne's cathedral because the archbishop thought his previous film was smutty) in a deliciously sharp and smutty indictment of religion and morality, starring a startlingly young Julia Ormond and Ralph Fiennes. Get ready for things to get weird, and naked.
An angel is sent to earth to get back the tablets because we keep effing things up, and Stephen Fry stars. The "humor" is so dark that you might forget to actually laugh. Also, check out the book -- it's even better.
We'll let you guess which title is British and which is American. Worth seeking out if you're a fan of classic film noir.
If you're Aussie, you might know this sequel about two small-town guys who take a road trip through Europe (getting into all kinds of shenanigans in Amsterdam on the way) while they leave their girlfriends back home to complain. If you're not Aussie, you probably don't. Visually, it's basically home-video quality, but that only adds to the realism -- and the entertaining characters more than make up for it (if you can actually get your hands on a copy).
Think of it as a much better version of Eurotrip (actually filmed in Amsterdam), with less guilt in your pleasure and a lot of neat retro lingo thrown in.
Here, a kindly Dutch police officer agrees to smuggle a Jewish woman into British Palestine after WWII. Under either name, it's unfortunately lost in the sea of WWII films throughout cinema history, but worth a watch if you can find it.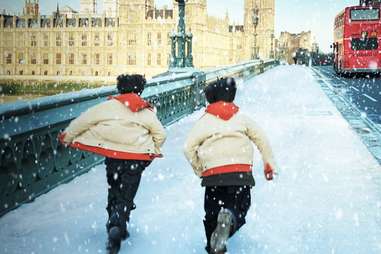 Though the story of psychic twin boys separated at birth (and now in trouble) may be set in London, a lot of it was actually filmed in Amsterdam. (Bonus: Ned Stark!)
An adaptation of the play (rather than directly from the diary), this is probably the most well-known film version of the young Jewish girl's Amsterdam tale.
Nothing Personal starts with a woman (the excellent Lotte Verbeek) giving away everything she has in Amsterdam, and then spends the rest of time in Ireland watching her flirt with giving up on her own rules. It's a slow burn, but a steady one you'll enjoy.
All the critics are wrong! This film is so bad that it starts to be really, really good (you know you can't look away). Our favorite scene? All of them. But especially, watching Deuce try to pronounce Nieuwezijds Voorburgwal.
This is by far the most beloved film made in Amsterdam these days -- so much, in fact, that the bench where Hazel and Gus have their heart-to-heart was stolen. Don't worry, it was replaced by the "same one" (which is now covered in fan grafitti). The film is moving, touching, and was obviously carefully crafted (by Vlogbrother John Green, in Amsterdam) to make you blubber like an idiot.
The story is set in (and mostly shot in) Delft, but Amsterdam makes some appearances (most notably the Dam Square). But since this is actually a good film, we're claiming it!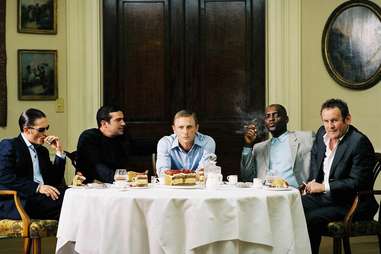 Finally, a film that gets the British gangster thing right, with some truly tense and tightly paced storytelling, a Dutch subplot, and a walking tour of the Red Light District thrown in. It also stars a pre-Bond Daniel Craig as a drug dealer with no name.
Sign up here for our daily Amsterdam email and be the first to get all the food/drink/fun in town.