The 15 best spots to spend NYE in Amsterdam
Yes, Trouw has predictably already sold out for her last NYE dance, but never fear: there are still plenty of places to see out the one night a year that fireworks are legal in style. Here are our picks for the best Amsterdam spots (five free outdoor fests, plus 10 indoor club parties) to bring in 2015 that aren't (yet) sold out.

Outdoors
Nieuwmarkt
What's on: A Chinatown celebration
The central square of Chinatown is easily the most impressive and the most dangerous place to pass the midnight hour. Firecrackers abound, but it's the bigger stuff you need to watch out for.
Don't forget: Your beverage of choice (and earplugs), but leave your own fireworks at home -- you're gonna wanna hang back from the violently exploding center of the square, and there are a lot of people here.
Oosterdok
What's on: The city's official celebration, with DJs and fireworks over the IJ
It's the city's biggest organized fireworks display, best seen (and the DJ is best heard) from the shores of the Scheepvaartmuseum (Maritime Museum). Like most of the outdoor parties, the festivities begin at 9:30pm and go through to the wee hours of the new year.
Don't forget: To get there in time for a good spot... and to plan something for after the fireworks, when the chilly waterside air starts to get to you.
Dam Square
What's on: Live shows, fireworks, and beer tents
The historic and literal center of Amsterdam and the one spot every tourist is guaranteed to see is obviously where the masses, well, mass on Oud & Nieuw (meaning "Old and New"). So thankfully, the city entertains them with music and explosive delights.
Don't forget: To play nice; this is is one of the most crowded places to hang outdoors.
Leidseplein & Rembrandtplein
What's on: More fireworks, ringed by parties
The city's two biggest party squares also have organized fireworks displays and hordes of people drinking until they're not cold. Luckily, these spots are stocked with "winter markets", which means plenty of oliebollen and mulled wine... plus a skating rink in Leidseplein.
Don't forget: To get there early if you want a spot outside. Or get a ticket to a party with a view.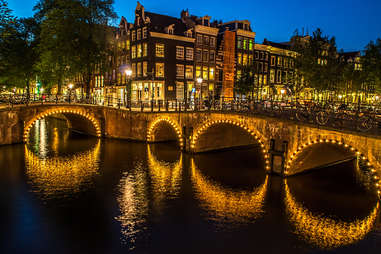 The charming bridge of your choice
What's on: A photo-ready view with loud and colorful entertainment
Bring your own or just watch others torch their stash: you can't stumble around Amsterdam on NYE without witnessing an endless array of amateur fireworks. Locals know the picturesque canal bridges are the ideal spot to light up.
Don't forget: To pick up your oliebollen (basically giant balls of funnel cake pastry doused in powdered sugar, with or without raisins) at stands around town to munch at midnight.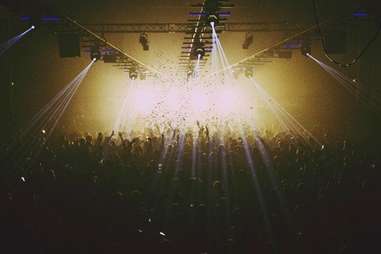 Indoors
Westerpark
What's on: Apenkooi's the Final Gym at WesterUnie & WesterLiefde, and Transformatorhuis (€42.50)
Awakenings in the Gashouder may be sold out for NYE and NYD (tickets for the 30th are still up for grabs), but let's be honest: you can catch an Awakenings Party any time. This, however, is your last chance to step into the "monkey cage". Apenkooi says goodbye after 10 years of driving the city's dancing feet with a party spanning three locations with three different themes: the Golden Cage, the Color Mob, and The Gym.
Don't forget: Your ticket! There's a high risk they'll sell out.

What's on: Loveland New Year (€47,50)
Loveland's annual winter fest is double big this year, because midnight not only brings in 2015... but also the party crew's 20th anniversary of existence. Technically, though, that's a separate party the next day: Loveland Live, where the usual DJs step aside for analog instruments and live on-stage compositions.
Don't forget: A bike... it'll be tough getting home from this new nightspot's watery corner of the city without it.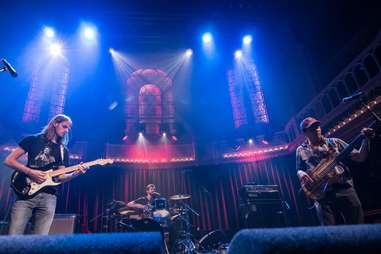 What's on: Het Groote Huisfeestje (€35, €40 at the door)
The Roest warehouse is getting decked out apartment-style for "The Big House Party". You can drink beer from a bathtub, adjust the music, take a dip in one of the hot tubs, chill on the couches, or (of course) dance. There'll be fireworks from the beach, too.
Don't forget: Your smartphone: this place can be tricky to reach, and sometimes unexpected gates block your way. Google Map Jacob Bontiusplaats and you'll get there.
NDSM
What's on: Era by Morse and Reaktor (€35, €40 late for the 31st, €65/75 both days) at the NDSM Warehouse and Scheepsbouwloods
Party organizers Morse and Reaktor have come together to offer two days of techno at this new NYE party at Amsterdam's favorite industrial-area-turned-(hipster-friendly)-entertainment-zone.
Don't forget: To bring a bike or make an all-night commitment, because the local ferry to Centraal closes for the wee hours here.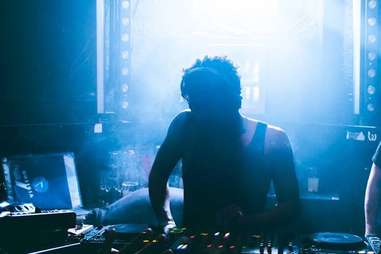 What's on: Studio 80's New Year's Eve (€30)
An international lineup of one of the club's favorite DJs -- their hometowns ranging from Adelaide to Zagreb -- is a sure ticket at a good price, all to kick off one of Amsterdam's consistently best club's 10th year dancing it up in Rembrandtplein.
Don't forget: To nab a ticket while the presale price is still on!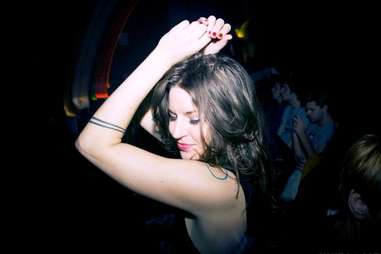 What's on: Spark NYE (€ 35)
This event is all about lowering expectations for the evening in the name of just relaxing, dancing, and having a good time -- which is what draws the regular crowds to this club in the first place. A great option for the group of friends that's trying to avoid the whole house hullabaloo.
Don't forget: To step/peek outside at midnight to witness the colorful, fire-powered chaos exploding on Leidseplein.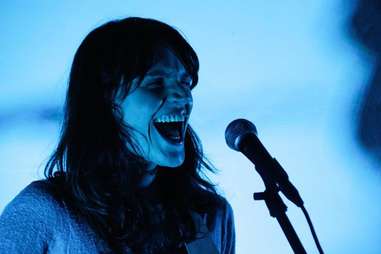 What's on: Fris & Fruitig: NYE by The Mixtup Project (€25, €35 late)
Another house-party theme, on slightly a smaller scale. This "Fresh & Fruity" NYE event is as much about chilling as dancing, for those looking for a quieter night out. Next to the DJs, expect old Dutch games, cult film screenings, and, of course, snacks and drinks.
Don't forget: Comfortable clothes... if you're looking to wear extremely handsome, un-broken-in shoes, this is probably not the party you're looking for.
What's on: Moulin Rouge New Year's Eve by Societé Bohème (€75, €90 late)
The most elaborate party on the list has also bagged the most scenic location of the night: the "Dome Church" near Centraal Station. Inside its five rooms you'll find a lavish spread of 1900-themed burlesque, can-can, circus entertainment, and absinthe.
Don't forget: To come in costume. You don't want to be that weirdo who looks like they're from the lame, square 21st century.
What's on: Hed Kandi's Amsterdam NYE (€45, €55 late)
If wouldn't be an Amsterdam event without a party on a boat, and this one is probably the biggest. The boat sails twice: you can choose a two-hour sailing window depending on whether you want to be on board for the midnight fireworks (11:30pm-1:30am) or just after (2-4am). The pacha-friendly DJs will be spinning all night.
Don't forget: To get there on time. The boat WILL leave without you.
What's on: Paradiso Noord presents Jungle By Night (€20, €25 at the door for concert and club night; €55 including dinner)
Paradiso and the Tolhuistuin have teamed up for a weekly Saturday club night called The Jungle starting in January, and this is the kick-off event. The music leans toward R&B, disco, and future soul and the look is appropriately tropical.
Don't forget: To get there in time for the live concert, which will set the mood for the rest of the night (and ensure you get your ticket money's worth).