10 things you didn't know about King's Day, Amsterdam's biggest party
This year is the first-ever King's Day (or Koningsdag, to the commoners/locals), and it's going to be the world's wildest, orange-est party; a country-wide outdoor festival when the whole of Amsterdam shuts down (um, forget public transportation) to celebrate the king's birthday, and it's coming up on April 26th. Here's what you need to know:
1. This is the first King's Day ever.
The party was started in 1885 to make the country forget they thought the king was a tool celebrate Princess Wilhelmina's fifth birthday. Princess's Day became Queen's Day when Wilhelmina got the crown, and stayed that way when her daughter and then granddaughter (Beatrix) took over. During last year's festivities, Queen Beatrix handed over the throne to her son Willem-Alexander, the first king in 123 years.
Willem-Alexander is popular enough, but many will be toasting his Argentinian wife, Queen Maxima, this year anyway. What would it take for this king to get more props than his old lady? A beard, obvi.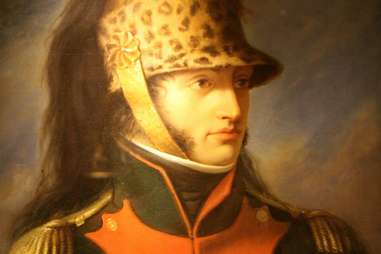 2. The first king of the Netherlands was Louis Bonaparte
Yep, that's Napoleon's brother. His most famous quote: "Ik ben uw konijn" -- "I am your rabbit." (He'd meant to say koning, or king... we hope.)
3. April 26th is not the King's birthday
The festivities are supposed to be held on the monarch's birthday, but as Queen Beatrix was born on guaranteed-terrible-weather January 31st, she was a good sport and kept the party on her mother's birthday through her reign. So, we've been celebrating on April 30th for 65 years. Now that it's Willem-Alexander's day, though, the party's been moved to his birthday... April 27th. How will we ever adjust??? (Since the party's never thrown on a Sunday, this year it will take place on the 26th.)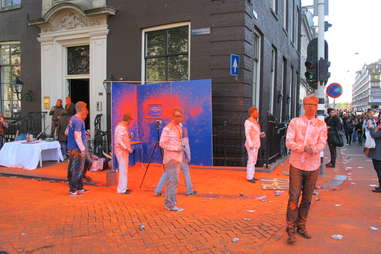 4. It's not Queen's/King's Day without oranjegekte ("orange madness").
It's a fun party color, and it is the way to show your love for the House of Orange-Nassau. The Dutch claim to royalty actually comes through that "Orange" – a principality in the Rhône (wine) region that Dutch revolutionary "William the Silent" inherited from a cousin in 1544. It was absorbed by France in 1713. So, the color orange actually celebrates an extinct state in France where the Dutch royal family never lived.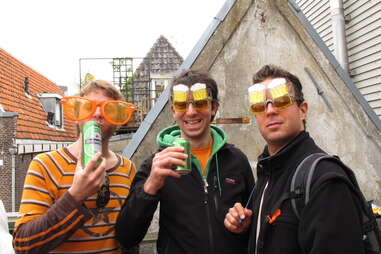 5. King's Day is the one day a year you can drink (and stuff) in public
The rest of the time you can get a €50 fine. There are new limits, though: one drink per person at a time. So don't let them see you with any six-packs this year, and no hard stuff.
6. You can see the king for yourself in Amstelveen
The royal family visits two different towns every year. This year, one of them is Amstelveen... which claims to be a different city, but is basically the southernmost part of Amsterdam. The king and queen will appear in the central Stadshart square from noon to 1pm.
7. On King's Day, the population of Amsterdam more than doubles
There are officially 800,000 people in Amsterdam (not counting Amstelveen)... which becomes more like 1.8 million on party day. This is why all the big, paid parties have been moved to the outskirts. Which is why we'll spend the day wandering around the center for free, stumbling upon awesome surprises like random concerts and the annual carnival on the Dam Square (all week).
8. The biggest parties often take place the night before
It's going to be the first ever Koningsnacht ("King's Night") too, and that's when the festivities will really begin. Many don't even bother with sleep. Most of Amsterdam's clubs get involved, and there are warehouse parties, at least one secret venue, etc.
9. It's running 24 hours this year
All through King's Night and King's Day -- the massive Vrijmarkt ("Open [flea] Market") will again take over the city's sidewalks (days in advance, actually, when locals begin reserving their spots in chalk). Anyone can sell, and many a woozy wanderer will buy under the influence.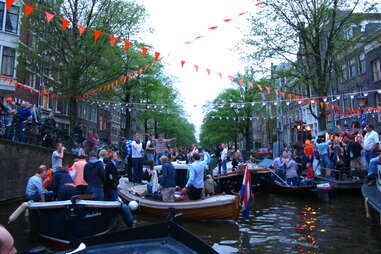 10. Some canals become so clogged with party boats that you can literally walk across the water on their decks
And, yes, people do. If you want a legal spot on one of these good ships, though, you better start making local friends -- these usually-private parties tend to book out well in advance!