Angelina Jolie and Brad Pitt Are Too Famous to Make Movies Together
Celebrities live under microscopes. Angelina Jolie Pitt and her husband Brad live under the Hubble. They are stars—a rare entity. Since a high-profile tryst ten years ago, the couple professed their love, grew a family, and became the Hollywood alternative to the Obamas—perfect and progressive. Tabloids are obsessed. When they adopt a child, we know. When they fly to Africa to defend social justice, we know. When they wed in a secret ceremony, after years of insisting an on-paper union wasn't vital (a proclamation tethered to the marriage equality issue, of course), we knew. Paparazzi stage SEAL Team 6 operations to snag a few photos of husband and wife, be it on the streets of Los Angeles or on set in Esztergom. The public picks up every headline, through gossip check-ins or grocery store osmosis. The Pitts read them, too.
By the Sea, Jolie Pitt's third outing as a director, is Bradgelina confronting that decade's worth of Bradgelinisms. A throwback to Euro-art movies from the 1970s (i.e. those erotic, monochrome pictures you saw through half-sleepy eyes in your one college film class), By the Sea stars Angelina and Brad as a beautiful pair dressed in beautiful clothing who fly away to beautiful Malta. The classic sports cars and catalog-worthy apparel make them look like, well, movie stars. But—twist!—life sucks. Brad's Roland is an alcoholic writer struggling to pound out a new novel. Angelina's Vanessa, a once-successful dancer, stews in memories of her past and pops pills to forget the present. No amount of chardonnay will save these two. If the trip doesn't end in straight up murder, the film suggests Italy's craggily cliffs will convince them to pull a Virginia Woolf.
Like their fictional counterparts, Brad and Angelina arrive to the quaint bungalow with baggage, aware of what we all whisper about them. To step down from blockbusterdom to a scope where intimacy and coarse emotion can flourish, Jolie Pitt, who wrote the script, riffs on her publicized private life. Did you indulge in recent rumors of the perfect couple's potential divorce? Well, here's your fucking wish. In By the Sea, mommy and daddy snip, slap, and sob away their golden facades. Evident in the stilted performances, this is not something the two experience on a regular basis. Maybe the couple does float vacant through creative malaise. But off-screen is a lovefest. "As artists we wanted something that took us out of our comfort zones," Jolie Pitt explained in an interview with Vogue. "Just being raw actors. It's not the safest idea. But life is short."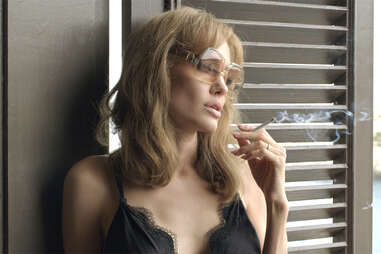 Yet By the Sea is deeply personal. The escapade starts with acknowledgement that the director and her husband star are cut from marble; most of the film's first half hour intercuts picturesque shots of linen-draped Brad sipping whiskey and Angelina sunbathing against blue water. A hot French couple (Mélanie Laurent and Melvil Poupaud) moving into the room next door provokes Roland and Vanessa. It's the old Hollywood tale: out with the old, in with the ingenue. An uncovered peephole to the younger pair's room turns the neighbors into aroused spies. Jolie Pitt is the woman who gushed about ravenous sex to Barbara Walters. Would we be surprised to learn her and Brad enjoy a good porn once in awhile? Watching two slinky Parisians screw is the rare moment when By the Sea lightens up, cranks up the heat, and abrades the melodrama.
Jolie Pitt takes it a step further. Like a pointillist painting, By the Sea's plot twist are dots with lines tracing back to her own timeline. The way Vanessa wallows in a sense of incompleteness, the way Jolie Pitt lingers upon her own reconstructed, bare breasts, traces back to her preventative double mastectomy in 2013, and the follow-up removal of her ovaries two years later. There's no guessing; the a-ha moment comes when a book cover reveals Roland's surname: Bertrand, the maiden name of Jolie Pitt's late mother, who died from cancer and inspired the actress to go under the knife. Famous people resist such blatancy. By the Sea puts it all out there.
What Jolie Pitt can't do is wrangle it all. The one thing the director and her husband aren't aware of how mega-fame dilutes the riskiest intentions. This wasn't a problem in their first team-up, 2005's Mr. and Mrs. Smith. In the assassin-vs.-assassin showdown, a steamy, illicit chemistry amplified action. Jolie Pitt wrote By the Sea to be raw, but really, it's just serious. The pair can't be themselves, so they play types. They're unsure how normal people function in existential situations, so they gamble on 100 years of movies to do the talking. They don't make every necessary sacrifice to express this harrowing, relatable life experience. They're public figures with public reputations to uphold. Being enigmatic makes them bankable, often electric actors. You don't play Maleficent when people know the real you.
The worst decision in By the Sea is casting, yet it's hard to fault the Pitts. The Hollywood machine leaves little room for passion projects. The duo used A-list star power to realize a movie no studio executive would ever willingly release. They wanted to test themselves. They'll inevitably take a beating for it -- expect By the Sea to be a major (and lazy) Razzies contender. The film earns an "A" for ambition. But Jolie Pitt's expresses herself on a sliding scale. "We are two very human, flawed people. And I think that's a good thing to show," she told the New York Times of her experience shooting the film. Flawed, but not flawed enough. That's what the tabloid life promises.
Sign up here for our daily Thrillist email, and get your fix of the best in food/drink/fun.
Matt Patches is Thrillist's Entertainment Editor. He previously wrote for Grantland, Esquire.com, Vulture, The Hollywood Reporter, and The Guardian. He believes the Gone in 60 Seconds remake is secretly one of Angelina Jolie Pitt's best performances. Yell at him about it on Twitter @misterpatches.