Bruce Campbell Sends 'Evil Dead' Off With a Bloody, Bingeworthy Bang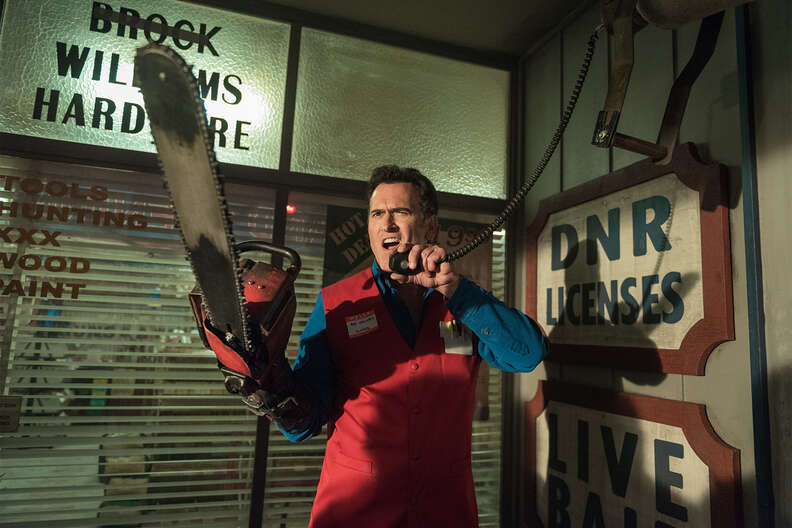 Starz
Starz
After three seasons of guts, glory, and more sick Deadite kills than you can count on a chainsaw's teeth, Ash vs. Evil Dead has met an untimely demise, cancelled in response to a decline in ratings. But Bruce Campbell -- the Ash Williams, genre film icon of the past 40 years -- isn't sweating it. Frankly, he's downright zen.
"I'm always philosophical about cancellation these days," says Campbell in a chat with Thrillist days ahead of the series' third season Blu-ray release. Is Ash vs. Evil Dead off the air for good? Sure. But did Ash vs. Evil Dead revive a dormant cult property for TV's Golden Age and do its particulars justice in a long-form narrative format? Absolutely.
If you're any kind of Evil Dead fan -- from the 1981 original to the myriad sequels to the reboot -- Ash vs. Evil Dead hit all the right notes, marrying crass, slapstick humor with over-the-top splatter effects. Layered beneath severed limbs and smeared viscera, of course, is character, something for the audience to hang onto when all the world turns crimson. If delightfully gruesome B-cinema is your jam, Ash vs. Evil Dead spoke to your inner gorehound, and if you count yourself among the Evil Dead faithful, every new episode on Starz was Sunday night appointment viewing.
Saying goodbye sucks, but at least Campbell saw the farewell coming. Granted he's one of the show's producers, along with his fellow executives -- including Evil Dead universe alumni Robert Tapert and Sam Raimi -- so they knew what the numbers were telling them about Ash vs. Evil Dead's future. Unlike other series Campbell has worked on in past -- say, The Adventures of Brisco County, Jr., which Fox axed as the writers were hard at work on its second season -- he had knowledge of impending cancellation, which eases the sting to such extent that he could walk away happy. "I feel good about how it ended because I've had shows get cancelled in the off season," explains Campbell, "and we've canceled before all the episodes of even aired. So to be able to show it, wrap it up, and reintroduce the character for three seasons, I'm good with that. Fifteen fresh hours for fans. Nothing wrong with that."
Campbell compares the inside baseball discussions of Ash vs. Evil Dead's curtain call to being "in on the joke." "We got that," he says. "We weren't surprised. We were surprised that the numbers were low, but that's when we also learned that platforms have to be found." If you weren't already tuning into Ash vs. Evil Dead, you probably didn't know the series existed, and if you didn't know the series existed, you were a lost cause. "I would tell people what it shows on -- Starz -- and the first question they had was, 'What's Starz?'" jokes Campbell, though that's one of many factors in the cancellation decision. As the authors, actors, and suits behind Ash vs. Evil Dead made moves to secure recognition for the show, Lionsgate purchased Starz. Acquisition deals shake-up the status quo -- and shake-ups do tend to have aftershocks.
But Campbell's kept a positive spirit. "None of it really bothers me," he says. If anything he's happy to have had the chance to play his best-loved role one last time. "I was most grateful for the fact that we could bring this character back," Campbell adds, "and be very, very successfully accepted again." That's that can-do Ash Williams attitude talking. Success, here, is a multifaceted term: The show might be finished but it went out on a high note, heaping generous doses of carnage and character development, giving Campbell's supporting cast room to stretch their legs, and giving him space to fully explore Ash's nooks and crannies. "I have experience now… so I can finally bring a seasoned actor's take to that character," he notes, referencing the great irony that he's best known for Evil Dead, a film he shot in the yearling stage of his career.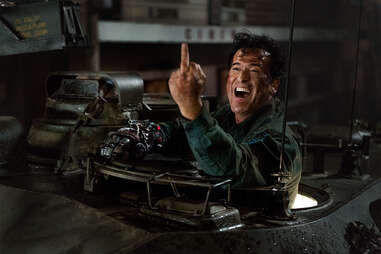 "Even though with Ash, we're never gonna know his deepest, darkest fears and thoughts, we got to know him a lot better," he says, a nod to the decades he's spent as Ash's flesh and blood proxy in the real world. "Before that, I was known as the guy from Evil Dead, where I was 21 years old, and never had any acting experience. You know, the first half of the movie, I would throw out," he reflects. "I like the second half because we were all figuring out what the hell we were doing. So the irony is that I'm sort of best known for when I was the least experienced, so it's great to come back now and go, 'Okay, suckers, let's do Ash now with a different point of view.'"
Damn right, we're seeing Ash from a different point of view. Ash vs. Evil Dead's third season added fresh, compelling depth to Ash's swaggering everyman persona. One such element was the introduction of his kid, Brandy (Arielle Carver-O'Neill), which he cites as one of Ash vs. Evil Dead's best gestures. "The fact that it gave him a daughter for Season 3 was perfect. It brings out a whole new side of him. We got to flesh them out and make them as three dimensional as you could." Brandy's dynamic with Ash, the dad she never knew, lets the viewer experience the show's end-of-humanity-as-we-know-it, world-gone-mad scheme from the perspective of the teen saddled with her absentee pop, who just so happens to be the world's unlikely savior in the eternal battle against evil. Hell of a family reunion.
The other facet at play is Ash's PTSD and sheer, frustrated reluctance he's built up over the course of the series' lifespan. Ash is just a normal guy, not the kind you'd pick as savior if you had a choice. Take his moment of despair in "The Mettle of Man," the show's final episode, where Ash, witnessing global Deadite armageddon in full swing, lowers himself into a chair and cracks a beer, reminding Brandy and his trusty sidekick, Pablo (Ray Santiago), that he warned everyone about the Deadite threat -- and no one listened. "It's a big moment," Campbell affirms, "because you realize he's like, 'I don't want this fucking job.' That was the last take that we did. So I just went a little crazier. Because Ash was losing his mind."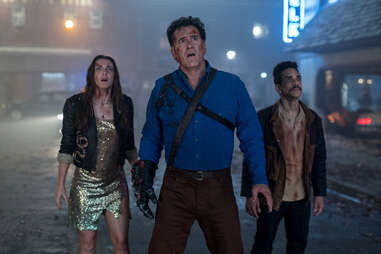 "Ash is..," Campbell pauses to think, "he is overwhelmed. And it was important at some point to go, 'I can't do this and this is above my pay grade. I'm not supposed to be that guy. I'm not the guy. This job sucks. You guys have no idea the bullshit that I've gone through.'" But Ash Williams is the guy. Nobody cuts down a demon like him, absorbing jaw-dropping amounts of physical abuse all the while. "I'd love to see Superman do that, you know," he muses. "That ain't going to happen. Iron Man? It's not going to happen."
With Ash riding off into the post-apocalyptic sunset in a souped-up Delta, accompanied by, in his words, "a beautiful cyber babe," who does the burden of fighting the Deadites fall to? Maybe to Carver-O'Neill, Santiago, and Dana Delorenzo, playing Kelly, Ash's other loyal, thoroughly badass second. Perhaps Jane Levy, who played an Ash proxy in Fede Álvarez's Evil Dead reboot back in 2013. But it won't be Campbell. He, Ash, and Evil Dead have come full circle. Saying bon voyage is bittersweet, but for him, it's time. "I'm 60 now," he says. "The part requires things that I don't either want to do or can't do anymore or shouldn't do, so it's pretty good time before he, before I am unable to play that character. Now's the time to stop because I tell you what, all these Star Wars movies are great, but bringing these folks back, they're all held up on baling wire and gum."
Is it better to walk away from the franchise you're best known for while the getting's good? There's no better way to say it than the way Campbell says it, with a knowing laugh: "Get out while you're still spry."
Sign up here for our daily Thrillist email and subscribe here for our YouTube channel to get your fix of the best in food/drink/fun.
Andy Crump is a contributor for Paste magazine, The Playlist, WBUR's The ARTery, Slant Magazine, The Hollywood Reporter, and Birth. Movies. Death., and is a member of the Online Film Critics Society and the Boston Online Film Critics Association. Follow him on Twitter @agracru.